The Geek Pub makes arcade build videos and arcade plans. Most of our customers are of course using a Raspberry Pi single board computer and running RetroPie in their Geek Pub arcade cabinets. On a daily basis we get at least 10 emails asking us "Where can I download RetroPie ROMs from?" In the past I've simply advised customers use search engines and "google for it". Well today, we're finally going to provide the answers to this incredibly complicated and legally sensitive topic.
How to Download RetroPie ROMs?
There are several ways to download RetroPie ROMs. We'll take you through the list and help you understand your options.
Buy a RetroPie Preloaded SD Card from Amazon

Probably the fastest way to get started is to buy an SD-Card pre-loaded from Amazon. For example, this card comes loaded with over 100,000 game ROMs ready to go. It would take a lifetime to build a collection like that. Of course this card isn't free as the sellers have to pay royalties and licensing fees. But it is no doubt the fastest way to get started.
Disclaimer
The reality is, much of what you find on the internet are links to download RetroPie ROMs from unknown and unlicensed sites. While many games are considered abandonware, it still doesn't mean you just download it for free legally. It just means the rights holder is not currently enforcing their rights. But they could change their tune at any moment and you could be prosecuted or slapped with a hefty fine.
The retro video game market is a very bizarre world of companies who vigorously fight piracy of their old games, to some who have made their games freeware. Don't get caught downloading a game you thought was freeware only to get a threatening letter in the mail.
The Geek Pub does not make any claims about the legality of anything you download, buy, or copy from others using this guide. It's up to you to obey the laws in your jurisdiction. We recommend that you do so! The Geek Pub does not provide ROMs to anyone under any circumstances.
Types of ROMs to Download
Before we go further, it's important to really important to understand that there are different classifications of ROMs. Let's break them down quickly.
Public Domain ROMs
You can download RetroPie ROMs that are Public Domain in many cases directly from the game developer. Many game studios have released their older games for free into the public domain. However, in most cases you are required to download the games directly from them, and not from some 3rd party or torrent site. Since these companies have shown good will, we feel like its a good idea to respect that agreement and download from their direct links.
Abandonware ROMs
This is legal grey area for sure. In some cases the legal rights holder doesn't even exist anymore. Either because they closed their doors and went out of business without selling their assets, through bankruptcy, or they just don't enforce their copyrights anymore for whatever reason. This isn't an area that's been tested in court, but many in the legal profession believe that it's just as criminal to download an abandonware game as it is any other copyrighted work. We feel its probably not that simple. Download at your own risk.
Copyrighted ROMs
Most game ROMs are still under copyright, and most game studios are still enforcing these rights. Downloading RetroPie ROMs of these games without legal permission is most definitely a crime and most definitely punishable.
Many believe that if you own the game already, then you're legal. And this may or may not be true. You are allowed to make backup copies of your material. But I suspect that the lawyers would argue in court that since you can and do use both simultaneously it is not a backup. One lawyer wrote that they simply bought a Pac-Man cartridge and put inside their RetroPie arcade cabinet not connected to anything, installed the game from a torrent, and then screwed it shut. No one knows if that would hold up in court, but it did clear his conscious! Again, its all a legal grey area.
Homebrew ROMs
Homebrew ROMs are a relatively new thing. Small teams or one man shows are developing games for retro computers. In fact my own brother has developed several retro games for old computers, such as Attack of the PETSCII Robots for many platforms, including the C64, Apple II, and others. In the case of homebrew ROMs, you buy them direct from the developer. Some developers have made quite good knockoffs of older games!
So where do we Download RetroPie ROMs then?
Well, it's tricky. And you have to decide what lines your willing to cross and what legal grey areas you're willing to test.
Free and Legal RetroPie ROMs
Let's start with the simple and legal way of downloading Retropie ROMs. MAMEDEV has put together a website where they have an archive of lots of free and legal games that have been released into the freeware realm by the original rights holders, game developers, etc. You can find their large library of ROMs here: https://www.mamedev.org/roms/
You can also find a list of public domain ROMs for most all platforms here: https://www.zophar.net/pdroms.html and a list of Homebrew ROMs here: https://pdroms.de/
Again, we're taking their word for it that these are legal. It is up to you to decide.
There are also other sites that claim their ROMs are legal. You can google for Cool ROM and ROM Hustler for example. But I doubt their claims of legality, hence I am not providing links.
Torrenting RetroPie ROMs
Another way of downloading RetroPie ROMs is to use a Torrent site and a Torrent program. You'll find many torrents on the web claiming to be free and legal RetroPie ROMs (and some of them are), but the truth is most of them are packed with illegally copied game ROMs. Again, it is ultimately your choice to decide if you want to download them.  We feel like working with game companies to make legal options available is always the best way to go, so that everyone can win.
If you do decide to torrent your ROMs, it is unlikely anyone will hunt you down and take you to jail. It is however possible (and likely) that your ISP will send you a Copyright Infringement Notice. It depends on your ISP how serious that actually is.
RELATED: Buy a pre-loaded RetroPie ROM SD-Card
Building your own RetroPie Arcade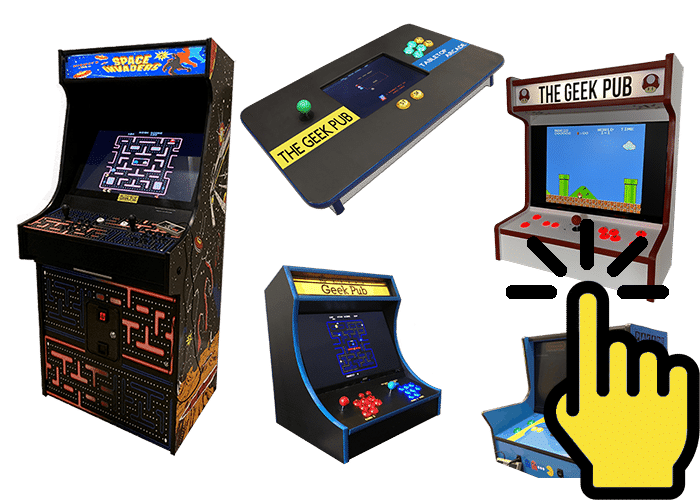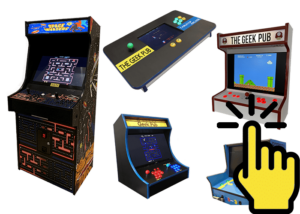 If you're looking to build an arcade, we have many arcade plans available. They're the best plans on the internet. We guarantee it!
Click the image to the right, or choose from one of these awesome designs:
Additional RetroPie Resources
Now that you know how to download RetroPie ROMs, you should also consider checking out some of our other articles on RetroPie: