If you're looking for Arcade Plans to build your DIY arcade cabinet, you've come to the right place! Many of us grew up in the era of arcades. That's the time when about the best gaming machines you could have in your home were machines like Pong, the Atari 2600, or in later years even computers like the Commodore 64.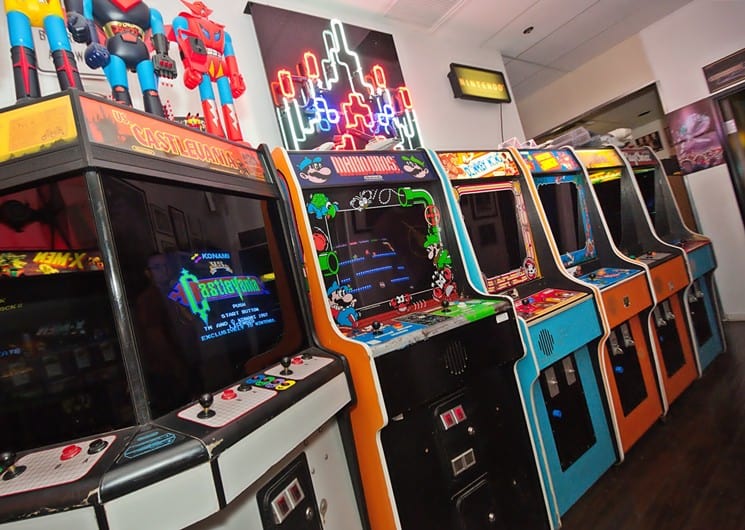 To experience the best of video games, you'd need to travel to your local arcade where hundreds of machines would be at your disposal. Games like Pac-Man, Galaga, Xevious, Pitfall, Zaxxon, and so many others were there to play! As a kid I would spend many hours (even all day!) at one of these arcades with my friends.
As an adult it became my dream to build an arcade cabinet for my home. So when I finally had the space to put one, I jumped at the opportunity and created my very own modernized version of an old-school arcade! I've even created arcade plans that you can use to re-create my arcade! These modernized arcade cabinets use LCD monitors, run on an incredibly simple to setup Raspberry Pi, and allow you to not just run one old-school arcade game, but literally thousands of them!
Learn About my Arcade Cabinets and Arcade Plans
Originally, I focused on creation of a full-size stand-up arcade cabinet for my game room. It was such a hit that friends started asking me to make cabinets for them. Of course, not having time to do that, I instead created plans that they could follow to build it themselves DIY in their own garage.
Later on I was challenged by a good friend of mine to build a smaller bartop arcade that could be used in smaller spaces. Eventually I created YouTube arcade videos and the rest is history. Over time I will be adding new and different designs for you to choose from including my most recent arcade cabinet I've named the "Pacade"!
The Original Stand-Up Arcade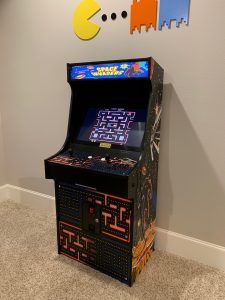 This is the DIY arcade cabinet that started it all! This is my full-size arcade that includes everything that a real arcade from the 70's or 80's would have had, only its much better! Some of the features include:
Lighted marquee to display your own artwork
Single or Two-Player controls
A coin mechanism for authentic coin operated gaming
Side paddle buttons for pinball and other games
A full-size slide out keyboard tray for PC based games and configuration
About half the depth of a real arcade to save space (though you can easily make it deeper if you like)
If you're interested in our full-size arcade cabinet and want to know more about it we recommend you watch our full-size arcade cabinet build on YouTube. If you'd like to make it yourself, get the full-size arcade cabinet plans here.
The Original Bartop Arcade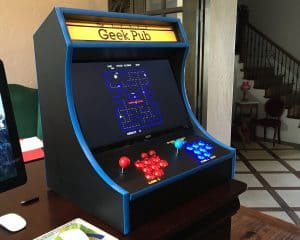 This was my follow-up to the full-size arcade. It's much smaller and can fit just about anywhere in your home or office. In fact, my bartop arcade sits in the conference room at my office. It's a great motivational tool for my employees and gives them some fun and excitement during downtime and coffee breaks! Some of the fantastic feature of this arcade plan include:
Smaller bartop lighted marquee to display your artwork or logo
Single or Two-Player controls
Runs off a Raspberry Pi and generates zero noise and almost no heat
Space saving design that can fit anywhere in your home or office
If you'd like to build a Bartop Arcade, you should check out our Bartop Arcade Build video and get the bartop arcade cabinet plans here.
Cocktail Table Arcade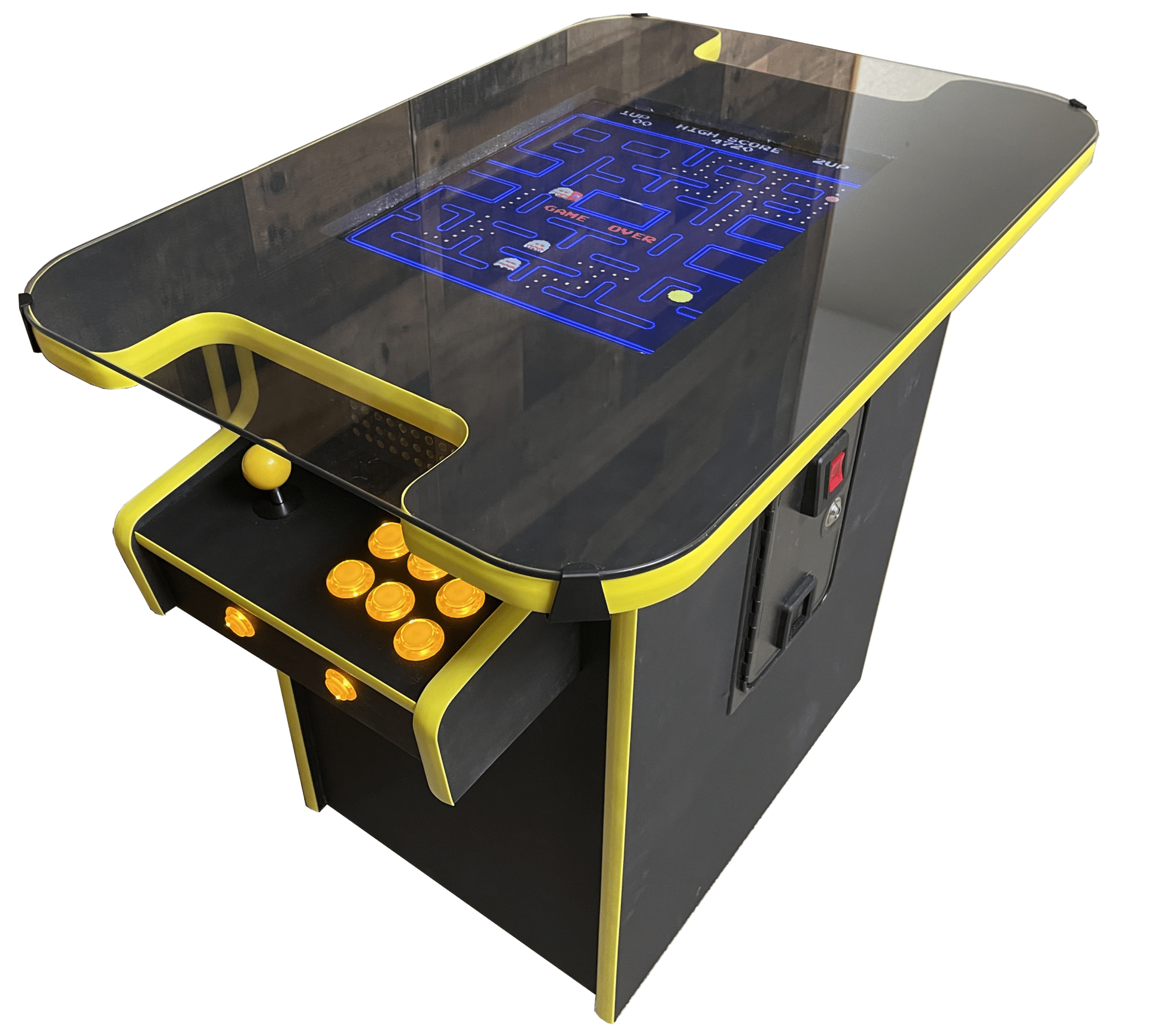 I finally did it! After many hundreds of emails and requests… I built the cocktail table arcade! It took me a long time to get around to building this arcade and I don't really know why. Because it is now my favorite arcade of everything I have! It's amazing. The glass top really makes it awesome.
Full glass top for safely setting your cocktails or other items.
Plenty of room for a large 19″ monitor, but still small enough to fit anywhere in your home.
Awesome two player goodness. The screen will flip for player two!
Dead silent using a Raspberry Pi.
If you'd like to build your very own, then you need these Cocktail Table Arcade Plans! You should also check out the Cocktail Table Arcade build video.
Wall Mount Arcade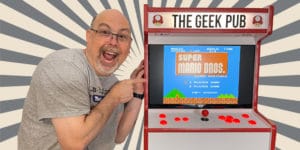 I'd been getting bombarded with emails for months to build a compact wall mount arcade. So I finally did it! A super cool slightly Mario themed version. This design is also perfect for those of you who want something that is out of the way, takes up little space, but is still full featured:
Small space saving design but still has 24″ monitor
Hangs on any wall and can even have plug mounted behind it
Keeps a cool lighted marquee like classic arcades
Just looks plain awesome!
If you'd like to build an awesome wall mount arcade, you can learn more about in our Wall Mount Arcade build, or get the Wall Mount Arcade Plans.
Defender Arcade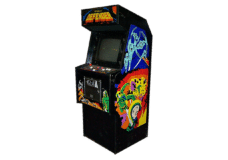 This has to be one of our all time most requested plans! This design is the one if you're looking for all of that retro look and all of the size to go with it.
Designed to match all of the dimensions and angles of the original "Defender" arcade
Can be used with a flat panel TV or with a CRT if you're designing a full old school arcade
Impress your friends like never before
If you'd like to build one, get your Defender Arcade Cabinet Plans.
Tabletop Arcade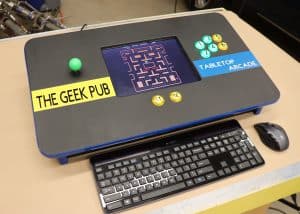 Due to popular demand we've created this awesome tabletop arcade cabinet! Many of our fans have asked for a smaller option than our other arcades. Something they could put away in storage (such as a closet, or under a bed) when its not in use. This design is perfect for that! Here are some of the features:
Super small space saving design
External power switch with fuse
Zero noise when running
Integrated panel option for the monitor
If you're looking to build a tabletop, check out the Tabletop Arcade build, and get the Tabletop Arcade plans here.
The Pacade Bartop Arcade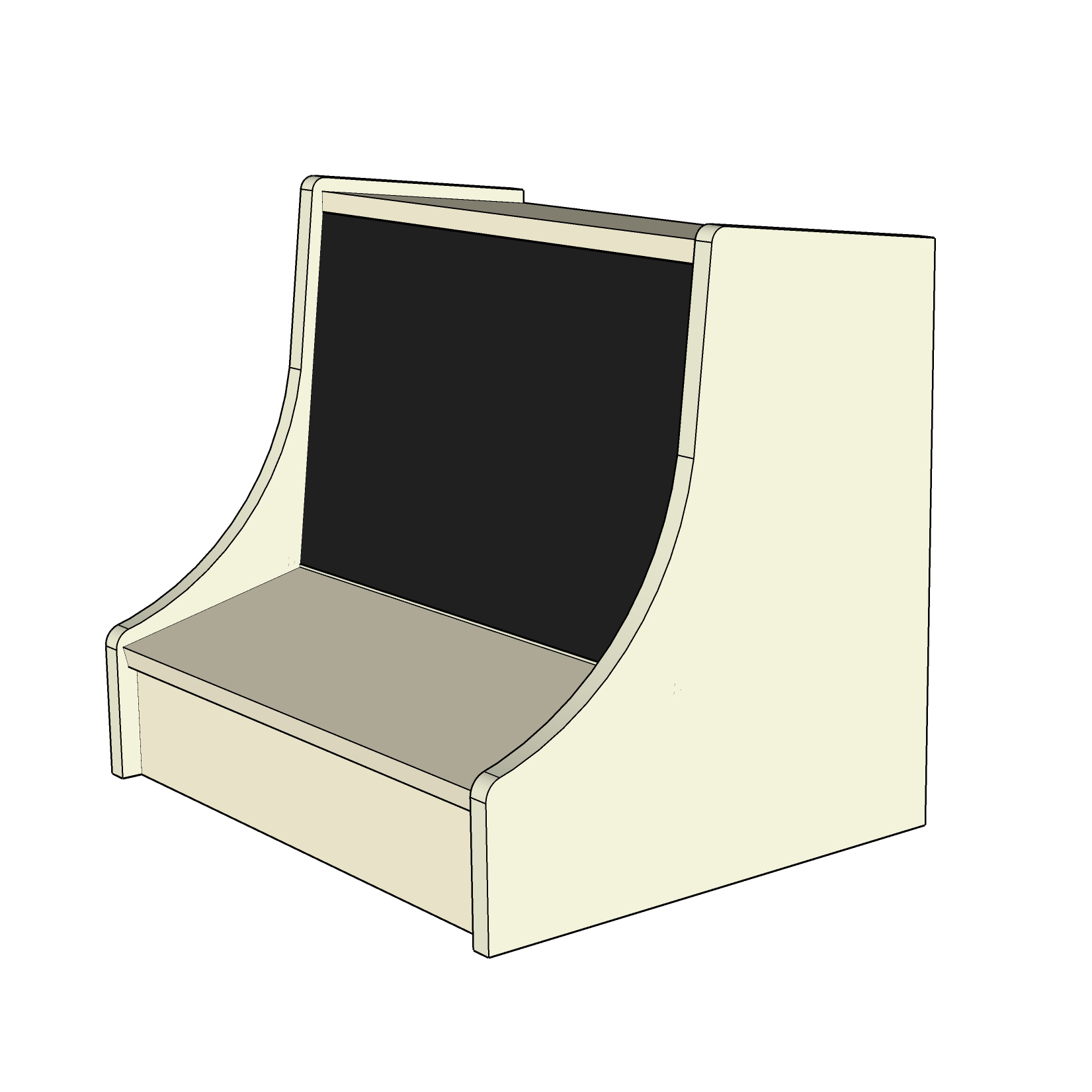 The Pacade Bartop arcade was created to resemble a very iconic bartop arcade found in many bars and casinos in the late 1970's. It adds the swooped styling of a 50's classic car. Additionally, many people asked for an arcade without a lighted marquee to make construction simpler and to add to eliminate the light in darker spaces (though you can always dim the marquee if you use an LED strip). Some of the great features of the Pacade include:
Smallest bartop arcade design you can find that still supports a 24″ monitor
No lighted marquee to simplify construction and eliminate light in darker locations
Single or Two-Player controls
Runs off a Raspberry Pi and generates zero noise and almost no heat
Space saving design that can fit anywhere in your home or office
We've recently updated the Pacade to make it a "Choose Your Own" arcade with four different side panel options!
If the Pacade is more your style you can check out the Pacade Bartop Arcade Build, and get the Pacade Bartop Arcade plans here.

Future Arcade Plans
We're fast at work on creating some future arcade plans to satisfy the many requests for different designs. If we don't currently have your DIY arcade cabinet plans, we probably will soon! Check back often as we will update this list as they become available. Also, its worth mentioning if you become a Geek Pub Premium Member, you get all of our plans for free, including future plans.
Why You Should Choose Our Arcade Cabinet Plans
There are other arcade plans available on the internet. There are even some free ones. By paying less than $5 for our plans you're getting a lot more than just a sheet of paper with some dimensions on it, which quite frankly might not even be accurate. Building a DIY arcade cabinet is easy with the right plans. You're getting real arcade plans that myself and others have built numerous times. This results in the plans being adjusted and refined over time to simplify construction and correct any small errors.
Instructional Videos
All of our arcade plans also come with numerous videos and other instructional help that you can watch before and during the construction of your arcade that show best practices and help guide you through the assembly process.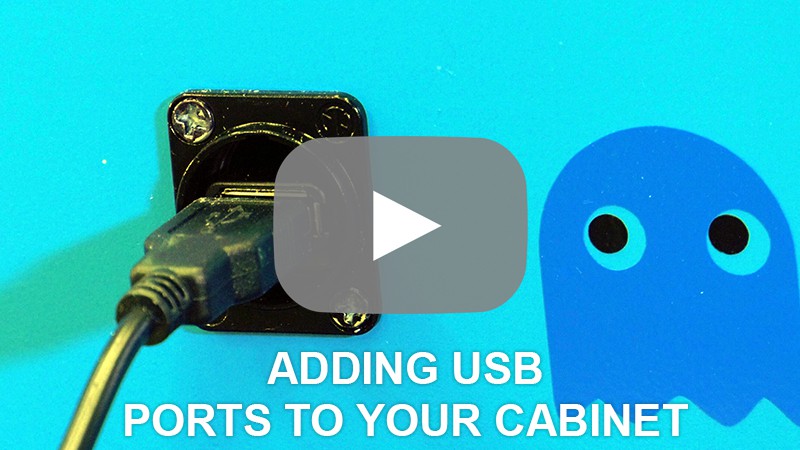 Drilling and Fitting Templates
Our plans also include printable drilling templates that you can apply to your components. These massively simplify the process of construction. No need to spend an hour or more measuring and marking for the arcade buttons, speaker grills, or optional cooling fans. Everything you need is included!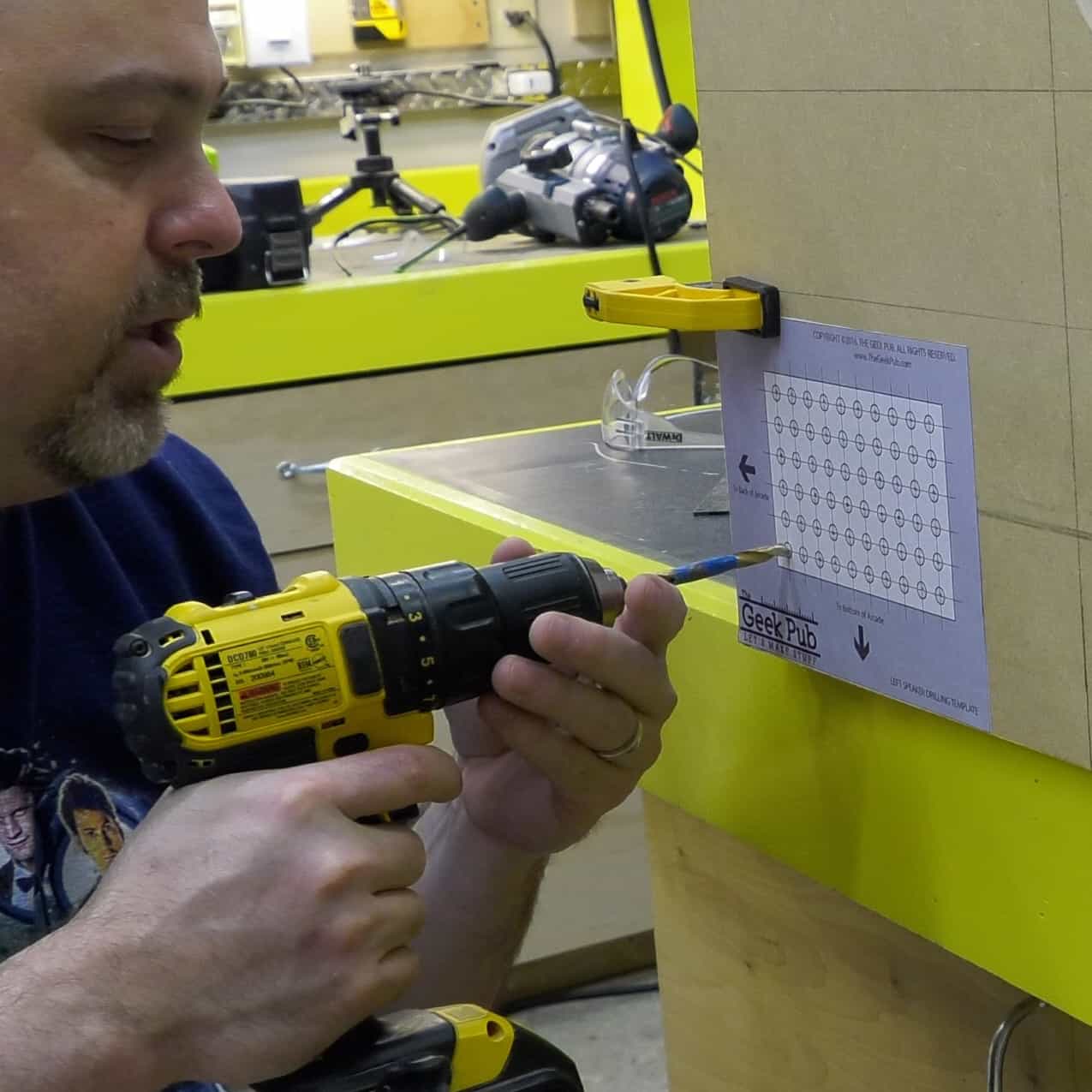 A Full List of Parts and Vendors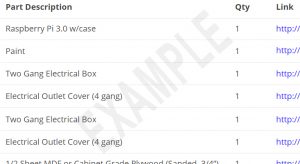 We provide a full list of vendors and exact parts you can purchase to build your arcade cabinet. No need to dig around the internet looking for the right sizes or components that work together! We've put it all in once place, and all of the components are designed to work together without any extra effort.
We include sources for buttons, joysticks, coin mechanisms, monitors/displays, artwork printing, and lighting.
Constantly Updated and Refined, Access for Life
Let's be honest: One of the challenges of building a DIY arcade cabinet is that sometimes things change. Sometimes parts are discontinued by the manufacturer or just redesigned. Sometimes mistakes are made. Our arcade plans are routinely updated to correct any minor errors and/or to take parts changes into account. When you purchase our plans, you get lifetime access to these plans, and any updates made to them over time. To access them just login to your account and open them: today or ten years from now!
And unlike those free plans, if you find something wrong in our plans we're just a support contact away.
Some of our Customer's Arcade Builds
Our customers love our arcade plans, and you will too. Check out some these arcade cabinets built by our fans! Be sure to send us a picture of your completed arcade. We love to share them here and on our social streams!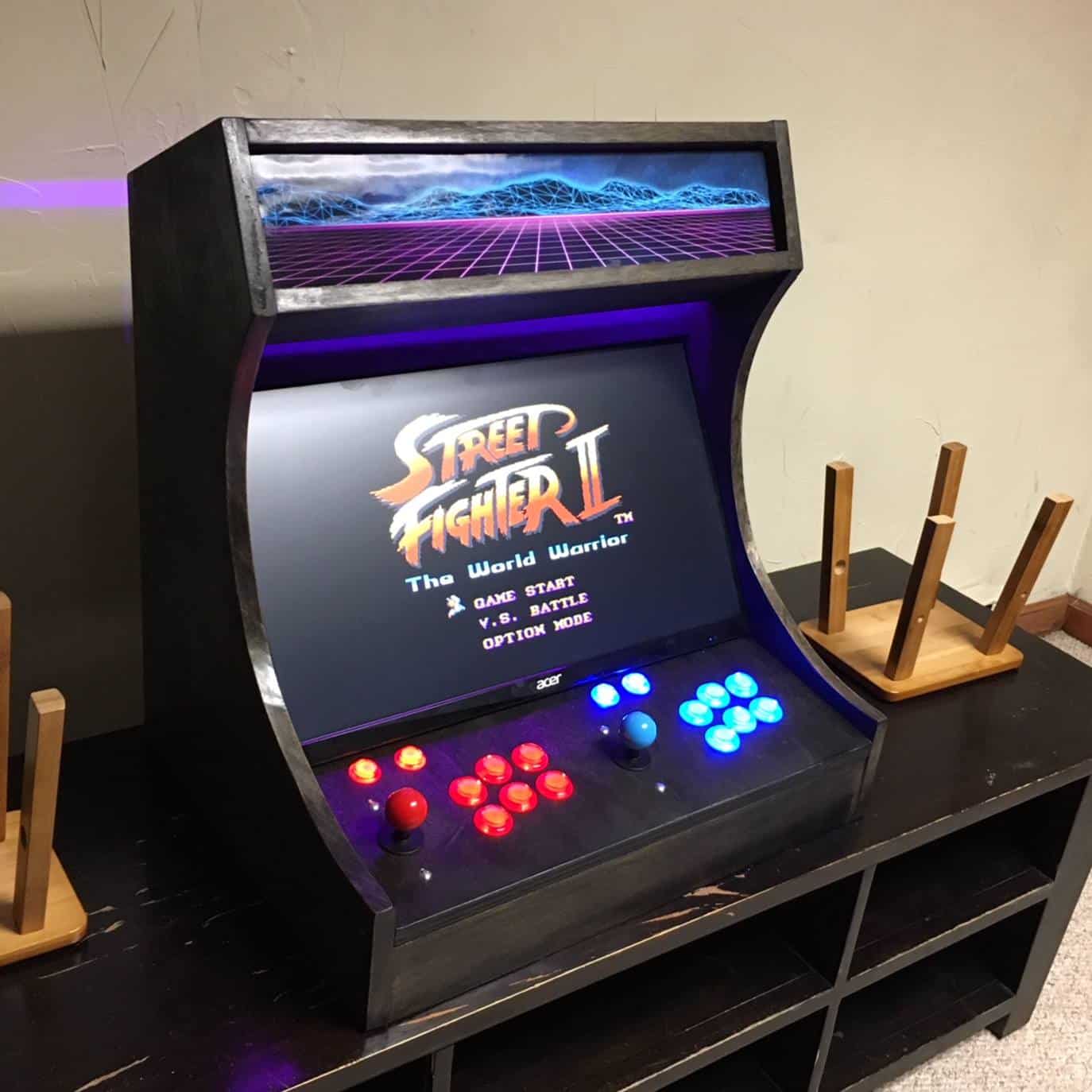 Start building your arcade today by visiting our store.