Description

All New Version 3.0 Plans as of March 2017! If you bought the version 1 plans, just log in to your account and re-download the latest version!
Have you ever wanted to build your very own arcade cabinet?  Well now you can with The Geek Pub's Arcade Cabinet Plans!  If you haven't already watched our videos and read about this project, be sure to check out the following articles and videos about these plans: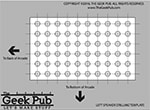 With these plans you will have all of the dimensions for each of the parts you'll need to cut from MDF or plywood.  Detailed drilling plans that include a paper template for all of the hole locations positions for the joysticks and buttons.  Just use some spray adhesive or masking tape to hold it in place while you drill them out.  There's also a parts list for the electrical components you'll need to power your PC and the lighted marquee. New version 2.0. of the plans include clarifications, more details, and breakouts.
You can get all of the details on installing MAME on your PC from the MAME website.
Includes the following spray and stick templates:
Single Player Control Panel
Two Player Control Panel
Left and Right Speakers Grills
Optional front USB Ports
Optional Cooling Fan Grill
Included is the complete SketchUp file that you can use to get a detailed dimension of any component, including any cutting angles (if you plan to miter your cabinet pieces, optional), etc.  You can also use the re-size tool within SketchUp to easily make the entire cabinet bigger or smaller, or resize any section of the cabinet.  The sky is the limit.  So grab these Arcade Cabinet Plans and get building yours today!  We can't wait for you to post pictures of your completed project on our Facebook page so we can share it with everyone!
Get the Arcade Two Plan Bundle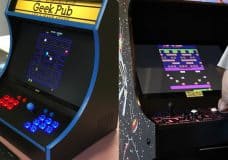 If you're interested in building both arcade cabinets, or you are not sure which cabinet you'd like to build and want to keep your options open you can also buy a discounted Arcade Two Plan Bundle that includes both the full-size arcade cabinet plan and the bartop arcade cabinet plan. If you're like me you'll want to build both!
Get the two plan bundle here.
Some of our Customer's Builds
Our customers love to build rad arcade cabinets. Check out some of their awesome builds!