Some friends and I recently went on an "Arcade Road Trip", with the goal to find the absolute best arcades in Dallas/Fort Worth! We visited as many arcades as we could in just a single day. Not only was it a blast, but we met a lot of super fantastic people along the way. Some cool employees and some cool patrons too! The best DFW arcades near me could be a long list, but we've narrowed it down to some our favorites.
When we originally started on this arcade road trip I had an idea in my head if what makes the perfect arcade. But I have to admit, after the road trip was over I had to change some of my pre-conceived notions. I learned that my tastes and what I found fun were not 100% aligned with my notions! That's not to say that I had a radical conversion or anything like changing religions. It's just that i slightly re-aligned my arcade-o-meter!
Planning our Arcade Road Trip to Find the Best Arcades
In order to find the best arcades in Dallas/Fort Worth we first had to make sure we used our time wisely. This of course meant making sure that we didn't tread over our own footsteps wasting time in the car driving. So we laid out a path that would take us to as many arcades as possible, with as little drive time as possible.
We also wanted to visit the best variety of arcades. The best arcades in DFW near me are all different, each with its own flair and style. These styles are not good or bad, just different! So you have to find what best suites your style and taste in a local arcade.
List of the Best Arcades in Dallas/Forth Worth, TX
So without further ado, here's my definitive list of the best arcades in DFW.
1. The Electric Starship Arcade – Haltom City TX
The Electric Starship Arcade in Haltom City is my favorite arcade in all of DFW. Hands down. The owner and staff are over the top friendly and helpful. They go out of their way to make sure you're a happy customer. The attention to detail in the arcade is amazing.
This cool arcade is themed towards the retro genre. With a ton of amazing retro games. They've got all of your classics. They also have some more modern games too though, such as Dance Dance. You'll find Pac-Man, and few rows away you'll find a Star Wars Battlepod. In addition they have some kick-ass pinball games such as Ghost Busters, and Mandalorian!
You'll find their beer selection to be quite good, with a nice lineup of beers, ciders, and seltzers. One of my favorite beers Dallas Blonde was on tap!
The Electric Starship Arcade is located just north of 820, on highway 377.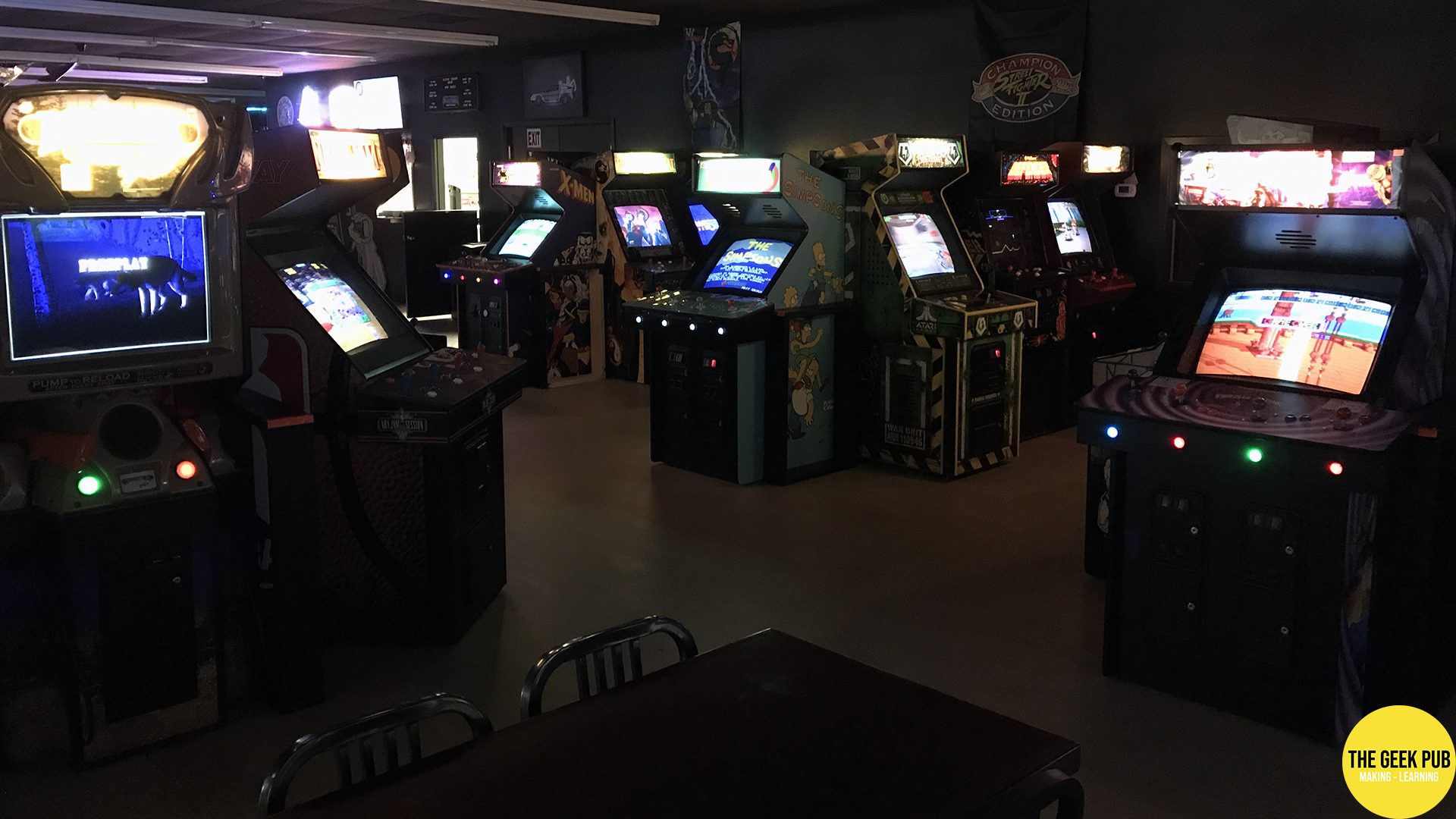 Things we LOVED: The atmosphere and staff were over the top. The owner has definitely spent a lot of time getting the vibe just right. Lots and lots of cool artwork, filled with retro themes. The food and drink items are priced incredibly low for such a venue, and they don't make that up on the entry fee. The fee is just $10 to get in the door, and you still get low priced food and beer.
We absolutely loved their dedication to making their machines awesome. All of the games have been restored, look amazing, and worked flawlessly. And Mike the owner, even goes out of his way to make sure each arcade is running genuine hardware and if they came with a CRT, they still have one where so many arcades today have switched to emulation and replaced the CRTs with flat panel LCDs.
Things we think could be better: Honestly, not much. Maybe a bigger selection of food would be about it.
If you're looking for the best arcades near me, this is the one to check out. Hands down.
2. Cidercade – Dallas, TX
Our next favorite arcade in DFW is Cidercade. Which honestly was a little hard for me to find because the sign out front was for their main business "Bishop Cider Co.". It took me a bit to realize that Cidercade was actually in the brewery.
Bishop Cider Co. has been making cider for many years. They eventually expanded their bar area to include arcades and the concept took off.
Today's Cidercade is a mix of retro, modern, ski-ball, pinball, and cider! And speaking of cider, I tried the Main Squeeze (lemon-on-lemon) and it was simply to die for. If we weren't driving all over the metroplex I definitely would have had a second!
Cidercade has a large section of pinball. Many more that we excepted to find, though we noticed they were mostly unplayed, rather the large format car games like Cruise'n Blast seemed to be the big hits.
If you love cider and you love arcade games, this is definitely the place for you!
Note: We've been in the new Cidercade Fort Worth that is under construction, but will not review it until it is open.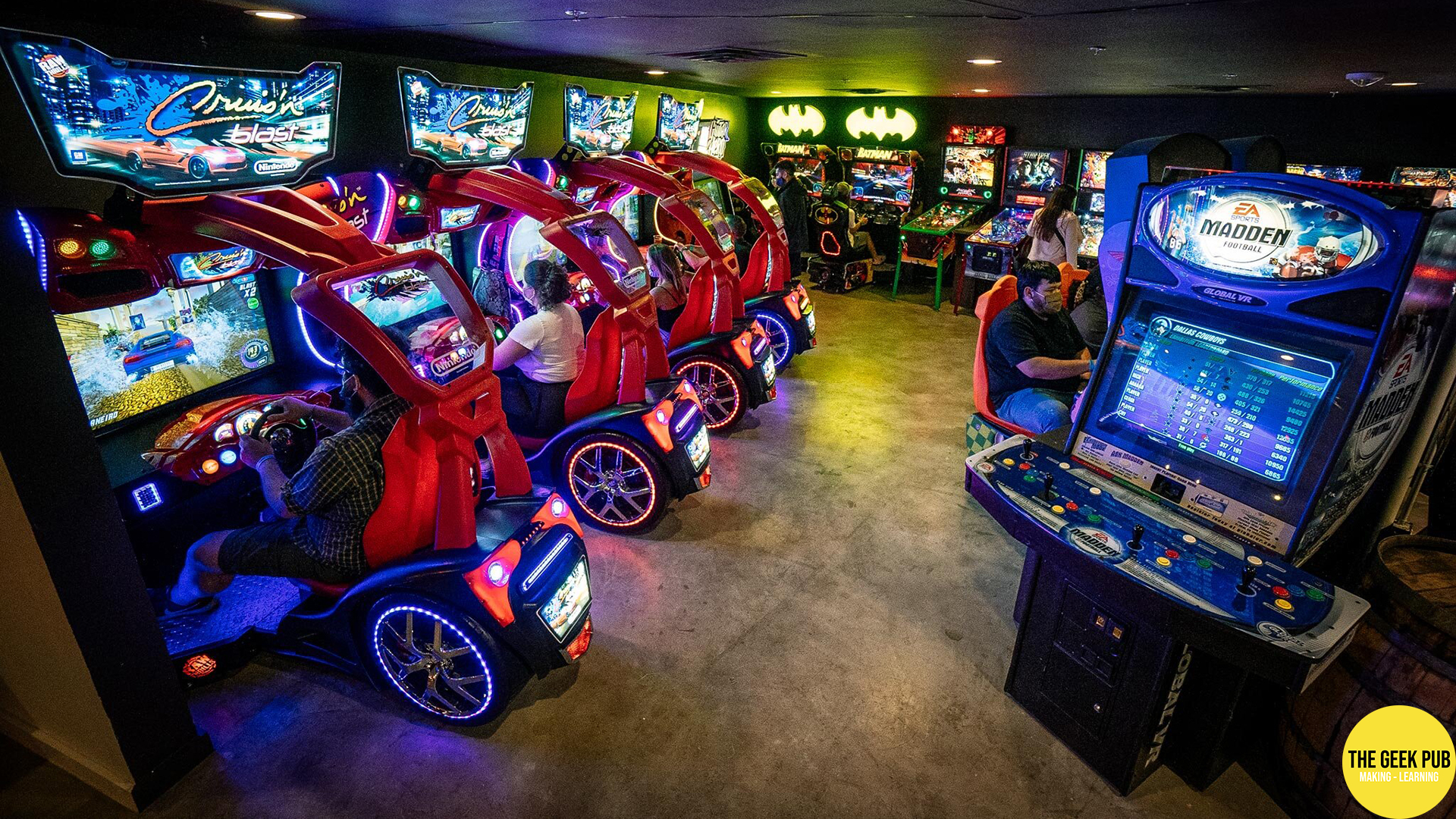 Things we LOVED: We loved the selection of cider. Delicious! We loved the big mix of retro and modern games, along with some ski-ball and other cool large games. We loved that they had four of the big racing games all networked together for some awesome team fun.
Things we think could be better: First, a better sign. If we had no idea about Bishop cider it would have been frustrating. Second, the staff was not very friendly. There was a guy repairing pinball and wouldn't even look at me when I tried to ask him a question. The entry fee/bar staff were just "doing their job" and man were they boring. No friendly greetings, nothing.
3. Round One – Arlington, TX
Next up on our list of the best arcades near me is Round One. And it is is just ridiculous. Seriously. It's just plain ridiculous. The place is so big it is a maze. They have so much room it's almost like they just started making things up to do with the space!
Round One is your typical modern scene arcade, and if you like that style of arcade it is definitely one of the best arcades in Dallas/Fort Worth. Round one has almost no retro-games though. So if you're looking for Pac-Man you're only going to find the modern re-makes on big flat panel screens. But hey those games are ridiculously fun too, just different.
Round One also has a huge (and I do mean huge) selection of crane and prize machines. Of course, these all work on the ticket redemption model. You have to buy credits at a kiosk and then swipe each game to play. Definitely not my preferred arcade style, but we had to put Round One at 3rd on this list just due to its shear volume of games, massive footprint, etc. Kids will love this place.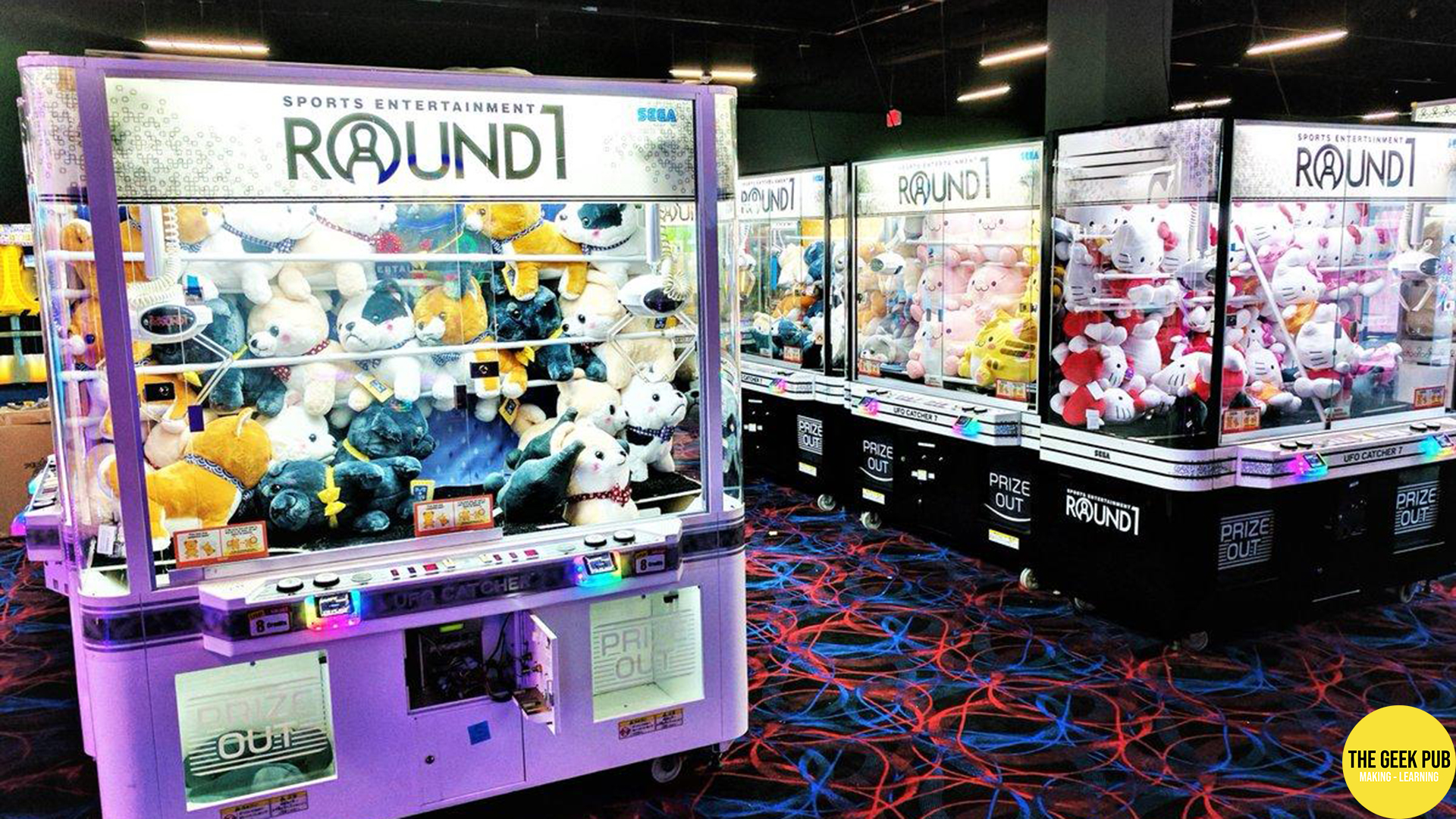 Things we LOVED: The size. Holy smokes its so big (queue Michael Scott jokes)! They have numerous party rooms, several Karaoke rooms, a Japanese game sections, crane sections, coin pushers, and more. There's something for almost everyone at this place. I don't think you could an arcade road trip without visiting this place!
Things we think could be better: Let's be honest, their pricing model is designed to stick a vacuum in your wallet and empty it clean. If you go here, you best take out a loan or line of credit. There are no free play options available here. We also hope they'll add some more retro games to their lineup.
4. Free Play – Richardson/Arlington/Fort Worth, TX
Next up our arcade road trip took us to Free Play. There is so much to love (and hate) about Free Play! Free Play's name sums up the concept. You pay $12 to get in and you can play every game in the house "for free" after that. Wouldn't the more correct name for the place be "Fee Play"? Sorry, I just couldn't help myself! All in jest!
Free Play to us felt like a bar. A bar that happens to have video games. But a bar first and foremost. We visited both the Fort Worth and the Arlington locations (though we've been to Richardson in the past). You enter the venue into the bar area, and then you sort of make your way over to the arcade. I don't like that disconnected feeling. And the arcade area of Fort Worth just feels like a dungeon. It's just a big dark box with rows of arcades with a floor so out of level that you feel like you might fall just walking around in there. The feel of the Arlington location is much better. In fact, Arlington is almost too bright and airy for an arcade.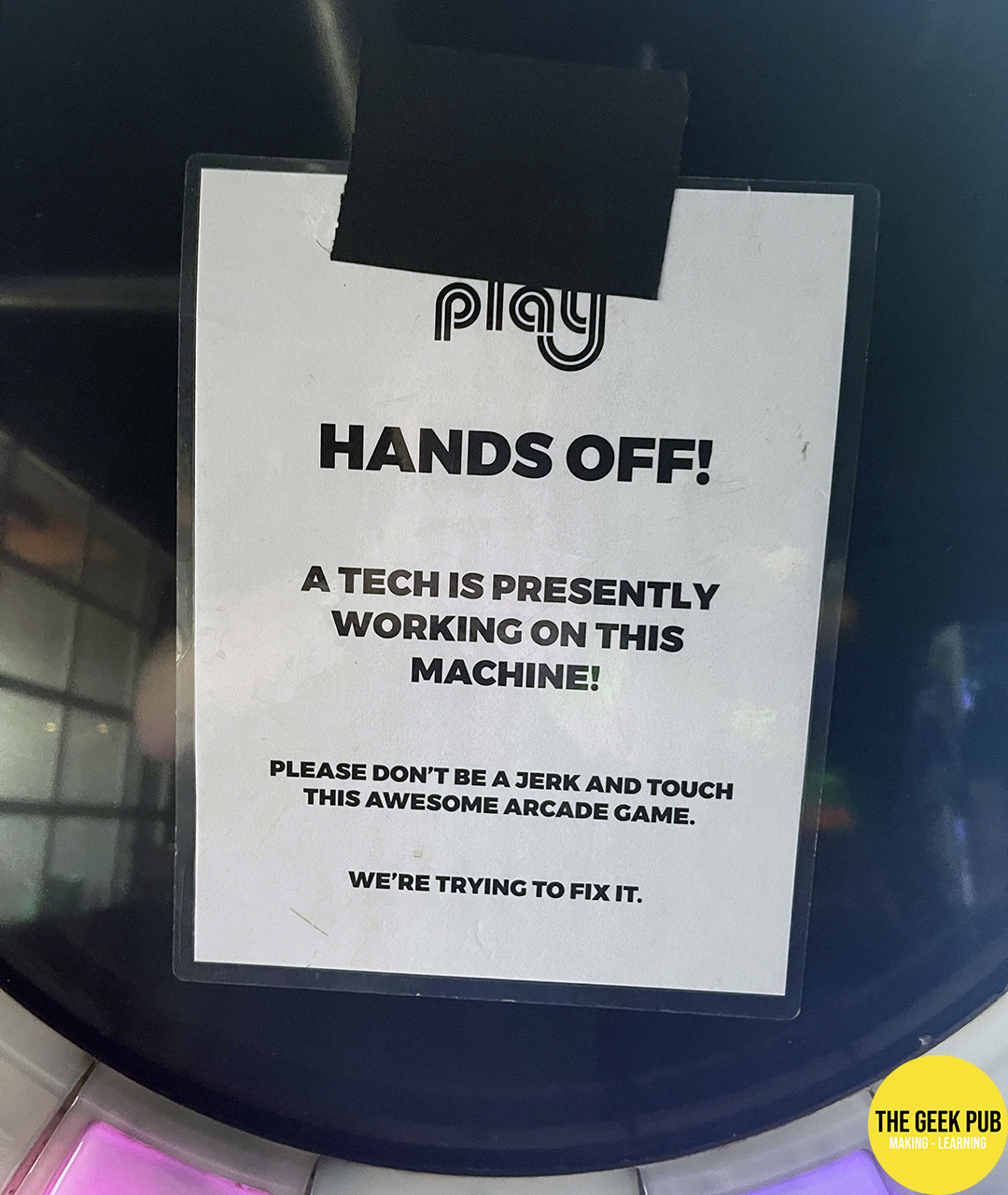 The other major issue I had with Free Play Fort Worth is the fact that many of the games were in disrepair. I counted four games that were almost unplayable due to messed up monitors. Several games with their marquee lights out. One game at Arlington even had a rather tacky sign on it calling their customers "jerks". The joke must have been lost in translation because I didn't think it was funny – at all.
The Fort Worth location almost makes up for the arcade section with a bad ass roof top and tiki hut. You can go up top and see for miles while drinking your favorite cocktail. But again, its just a bar up there. There's no arcade games on the roof, and not really any arcade décor either.
I know it feels like I am being critical of Free Play, and I guess I am. I mean, the place is amazing and you should totally check it out. Free Play is definitely one of the best arcades in Dallas/Fort Worth, but I wanted you to know the reasons it made #4 on the list, instead of #1.
Free Play has a great selection of arcades and games. All mostly retro-style.
Things we LOVED: The "Free Play" concept of all games being free after the entry fee. Good selection of food and drinks.
Things we think could be better: We with they didn't break up the bar and arcade area and rather had seating mixed in with the arcade games. We wish the floor was level in the Fort Worth location and the games were working. We also think some more décor- be an arcade first and bar second – would be helpful to bring a missing vibe.
The Best Arcades in Dallas/Fort Worth – Honorable Mentions
On our quest to visit all of the best arcades in DFW, our arcade road trip took us to a few that just don't make our list but we wanted to share them with you anyway. Just some quick blurbs to tell you what it's like.,
Quarter Lounge / Retro Madness – Bedford, TX
Quarter Lounge is another very different place. It feels like a an old house with a bunch of rooms someone turned into a business (and refaced the outside). It has very low ceilings and is just chopped up and cramped feeling. That said, all of the games were in tip-top shape and very clean. The customer service was excellent. I mean over the top friendly and helpful. They only have snacks. No alcohol of any kind.
Main Event
This place bills itself as the being in the best DFW arcades and has basically tried to be the Six Flags of arcade machines. Every game in this place is so big I image it being shipped in on a train and assemble by a team of rocket engineers. And the sad part is, they games aren't even that fun! The prices are ridiculously expensive, and everything is designed as a "ticket munching" redemption model. So many better options!
Tornado Terry's – Keller, TX
Tornado Terry's is different. It's in an old metal building in the north part of Keller. They have a small selection on their menu that only includes snacks (think bagged chips and candy bars), a canned sodas. They don't serve any real food, and no bar of any kind. They found a model that worked for them and don't seem to have changed it much.
They are the most expensive arcade on our list of "free play" style arcades, charging $15 for free play, however, about 1/3rd of their games (such as pinball) require additional payment. It's not a bad place overall. Just need to keep the cost difference in mind!
What do you think is the Best DFW Arcade?
We'd love to hear what your pics are for the best arcades in Dallas/Forth! Leave us a comment below!
We plan to keep updating this list. If you have an arcade you'd like us to visit let us know! Note: We only rank arcades we've actually been to. So we won't add it until we've been there. We'll visit it on our next arcade road trip!