Sale!
Description
Description
These Ultimate Cat Tower Plans are from The 8-Bit Guy's "Kitty Rocket Tower".

Ultimate Cat Tower Plans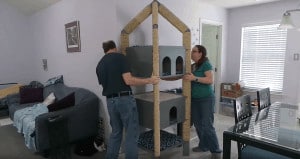 The Ultimate Cat Tower Plans, also known as the Kitty Rocket Tower, is a design and creation by David Murray (The 8-Bit Guy).  David designed this ultimate cat tower as a way to show his appreciation to his cats by making them a tower that would last forever.
As you know, cat towers sold at the local pet store are made from cardboard tubes and the cheapest carpets imaginable.  It's all about shipping weight and keeping the tower light.  The Ultimate Cat Tower is made from real wood, with high quality components.  It will last your kitties a lifetime and they'll have lots of fun using it.
The Kitty Rocket Tower also includes separate rooms for each individual cat to call his or her own, in addition to dedicated feeding areas.
The Ultimate Cat Tower plans include a jpg version of the plans with dimensions, as well the original Sketchup file that you can use to modify the kitty rocket tower to look or function any way you like!
(This is for the plans only, Ultimate Cat Tower is a product you build from the plans.)