The world is changing. Technology is invading the home like never before. Builders are even including structured network panels in smaller homes, and dedicated network closets in larger homes.  These dedicated spaces often include a shared space for audio/video gear for things such as whole home music systems and theater rooms. It's not uncommon for home audio and video to be distributed through the home over Ethernet.  This makes the home network front and center. All of this gear (firewalls, switches, HDMI matrix switchers, amplifiers, etc.) need a place to live. The best place to put that of course is a home network rack! So today let's cover the best home network rack for your application and talk about some reasons why you might want one.
Deciding Which Rack is Right for You
You're probably already guessing based on this introduction that the the best home network rack for your home depends on the type of space you have. If you have some wall space in a clothing closet you need a completely different kind of rack than if you have a dedicated structured wiring closet in a 10,000 square foot home. In fact, I've seen some mega mansions that have as many as four or five racks.  And the rumor on the street is that Bill Gates has an entire data center in his Xanadu home!
So let's break it down into the three categories.  The tiny home network, the medium home network, and the large home network.
The Best Small Home Network Rack
Let's start with the small home network. If you only have a small closet, maybe a clothing closet or laundry closet then this is where you'll land.  There are couple of ways to go.  One is a structure wiring enclosure that mounts inside the wall (between two studs).  The second is to use a small wall mount rack.  These are very different solutions, but they both have pros and cons.  Let's break them down.
The Structured Wiring Enclosure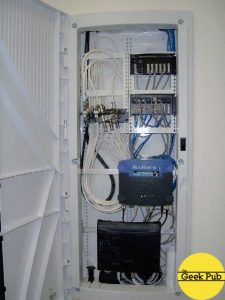 For those who are not techies, and just need somewhere to put a switch and router: This is the way to go.  Structured wiring panels provide a single place for termination of wires for network, audio, video, cable television, and more. In addition they usually provide a couple of locations for mounting your network switch and/or firewall.
In fact, having one or more of these in your home may be a good idea even if you have a larger network as it provides a convenient place for non-networking gear. Structured wiring panels generally mount in-wall between two studs.  For stone or concrete walls found in some countries, they surface mount as well.
Another great bonus of these types of panels is that they usually come with a locking door that closes to cover the wiring and equipment from prying eyes or kids.
Most of these manufacturers also offer custom mounts for equipment. This is super handy as there is no guesswork in how you mount things and everything just works together.
The Small Wall Mount Rack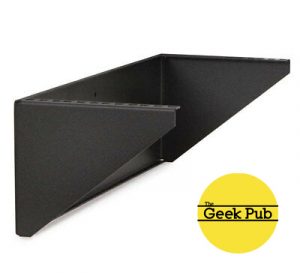 For the techies among us with super small spaces, this is the way to go.  Most people I know have done this.  This is a fantastic way to mount enterprise 19″ rack mount gear in your home.
These mount on the wall and allows your 19″ rack gear (switches, firewalls, or even a server) to hang vertically on the wall. This is great for saving space and they hold from 175lbs to 250lbs depending on the method of mounting.  It is of course highly recommended that you use lag bolts to connect them directly to the studs (and anchors for concrete walls).
The Best Medium Home Network Rack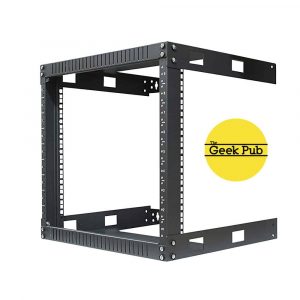 The best home network rack for medium sized installations is generally a 19″ open frame wall mount rack. This is what I chose in my network.  They are 18″ deep and provide for between 4U and 25U depending on the size.  These are perfect for installing lots of home theater amplifiers and matrix switches on the larger end, and just a switch, firewall, and small server on the smaller end.  If you're considering this type of setup you should check out two resources of mine:
I really like these racks!  They offer fantastic access to all of the equipment, slots for hook-n-loop style cable management, solid mounting positions for anchoring to 16″ on center wall studs or to concrete anchors used in some countries.
When properly anchored open frame wall mount racks can carry an enormous amount of weight. Additionally, depending on your install you place a shelf on the top of these racks to place non-rack-mountable gear such an HD Homerun, AppleTV, or Rokuu.  If mounted high enough, you can even put equipment underneath them on the floor.  This is a great place for a home UPS or small air conditioning unit.
The Best Large Home Network Rack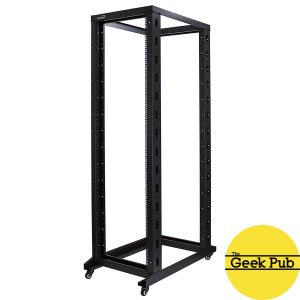 The sky is the limit here.  In fact, I am almost hesitant to recommend a rack because the best home network rack for a large home is going to be dictated by the type of installation you're going with.  I've seen large homes with 12′ x 12′ structured wiring closets in place that have as many as four complete 48U racks.  Many times these racks are provided by specific vendors and custom designed for their solution.  In this section, we're going to assume you're still in the DIY arena and are looking for a home network rack you intend to install and maintain yourself, but on a large scale.
In this case, I still personally prefer the open frame rack.  As this should be in a home and otherwise secured from people, unlike a rack on a shop floor of a manufacturing plant.  If you need a locking cabinet, the CyberPower Carbon cabinet is fantastic.
What I like about this rack is that it can hold an absolute gargantuan amount of weight. You can load this up with large servers, theater room amps, and the like with no concern for how much weight (other than the floor your sitting the rack on, beware of second floor installations or peer and beam installs if you plan to go overboard).  This rack holds up to 881lbs!  It also sports a deep 37″ (94cm) equipment depth, (17″ (43cm) depth on the shallow version if you need to save some space).  For those who want to go really big, you can join these racks side by side to grow as needed.
This rack also includes lots of slots for hook-n-loop cable managers.
What I think also makes these the best home network rack for large installations is that they come with casters.  People often don't think about how important it is to have these. Imagine you need to mount a 25″ deep server and you only have 12″ between the wall and the rack.  With casters, no problem! Just roll it forward or backward a few inches, even if its full loaded!  Of course, the casters can be removed, allowing the rack to be bolted directly to the floor for those who want that additional protection (for both tip and theft).
If you have any questions, leave a comment below and we'll do our best to help you out! If you'd recommend another option, post it below!