As you guys know I am a huge fan of pfSense. I've been running it in my environment for several years and its just rock solid and reliable. My brother and I even have a VPN running between our houses with pfSense! The biggest issue is that although pfSense is community based and open sourced, it is ultimately still owned by Netgate and they are pushing their own hardware to pfSense users at what I feel is a steep premium (and unnecessary). So with that in mind what is the best pfSense box for the money? Updated Feb 2021: This article has been updated to reflect our latest hardware choices.
What is the Best pfSense Box?
We're going to assume for the purposes of this article that we're talking about home networking. If you're interested in a business pfSense box check out our article on the best enterprise pfSense boxes for business.
Understanding AES-NI: Why it is important!
A quick technical detail we need to cover.  There are a lot of boxes out there that claim to be pfSense compatible.  Technically any x86 device or PC is a compatible pfSense firewall.  They may not however be the best pfSense box if they lack support for AES-NI.  Simply put AES-NI is encryption hardware included in the die of most new processors.  This functionality drastically speeds up cryptography processes for SSL and VPN services.  pfSense regularly recommends using hardware that supports AES-NI and at one point threatened to only support AES-NI hardware for future versions.  Although pfSense will still work on chips without AES-NI support, in this rundown we will only included boxes that support AES-NI.
The Best pfSense Box WITHOUT AES-NI Support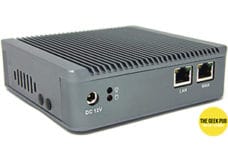 So… you don't care.  You just want a box without AES-NI support?  Then we'd definitely recommend the Protectli.   It's not going to run lots of VPNs or do SSL decryption/encryption for squid proxy or anything.  But if you just want a solid little firewall to protect your family this one should check most people's boxes.
#1 – The No-Name Micro Firewall Appliance from Amazon

I've deployed many of these little boxes for friends and family and they work excellent. It's got all the specs where it counts. It is ideal for Gigabit and Fiber ISPs because it packs the horsepower to route and filter on the fastest networks, along with full support for AES-NI. Something every pfSense box should have.
For 2021 we still feel this is the best little pfSense box you can get for the money. Hands down.
Many times when I recommend this box people look at me like I am nuts.  Really?  A no name box?  Yes! These boxes work great. They are highly reliable, and they are silent.  I've deployed at least 25 of these over the last two years and they have worked flawlessly.  And the Amazon reviews show the same, over 90% positive feedback.  You can't go wrong with this box.
They include the following specifications:
Intel Quad Core Atom E3845, 64 bit, 1.9GHz, 2MB L2 Cache
Full AES-NI hardware support
4x Intel Gigabit Ethernet NIC ports
4GB DDR3L RAM
32GB mSATA SSD
1x USB 2.0
1x USB 3.0
1x RJ-45 COM (serial)
1x VGA
My favorite thing about this little box is that it is 100% solid state and fan-less! It doesn't make even a tiniest noise during operations.  It's perfect for home use and very affordable.
#2 – The Firewall Appliance

Next on our picks for the best pfSense box is the Firewall Appliance is a beast of a little firewall for home users. Its a little more expensive than our first choice, but it comes with a quad-core Celeron processor. Additionally it drops the VGA port in favor of two HDMI ports.  Additionally, it has a barrel lock connector to keep unauthorized access out of the box, protecting the hard drive from access. Here's the spec rundown for this little guy:
Intel Quad Core Celeron J3160, 64 bit, up to 2.2GHz

Full support for AES-NI

4GB DDR3L RAM

32GB mSATA SSD

4x Intel i210 Gigabit Ethernet ports

2x USB 3.0

1x RJ-45 COM

2x HDMI

Solid State, Fanless Silent Operation
This device combines the power of pfSense in a small fully consumer friendly device.  It will also route and filter at close to Gigabit speeds for even the fastest ISPs.
Runner Up – The Netgate SG-3100
Some of you are going to want to stick to Netgate products since we know they will most likely remain 100% compatible through their usable life. There are examples of course where manufacturers dropped support for their own products before they were truly end-of-life (I am looking at you Apple!), the chances are pretty low.  The Netgate box while overpriced and under spec'ed is a solid box that should perform reliably enough.  It's specs include:
ARM v7 Cortex-A9 @ 1.6 GHz Dual Core
2X 1GB LAN/WAN ports
4X 1GB Switched only ports
2GB RAM
8GB Storage
1X USB
So that wraps up my pics for the best pfSense box for ordinary home users!  Happy pfSensing!
If you have any questions or need anymore help, just let us know in the comments and we will try to answer them for you!