I talk to people every day about computers and electronics. From friends and family, to business colleagues, to vendors selling equipment. There is one statement I hear constantly and it drives me crazy. "The Wi-Fi [here/there/at home/at work] sucks!" This is so frustrating because in this day and age (it is now 2021 after all) Wi-Fi should just work. There is no excuse to not be using one of the best Wi-Fi access points on the market rather than the garbage most people install. Even the best Wi-Fi access points are affordable these days.
If you're looking to upgrade the Wi-Fi experience in your home, office, or even at your friend's house follow along as I list the top Wi-Fi access points available Feb 2021.
The Best Wi-Fi Access Points of 2021
If you want to skip straight to it our top pick for the best Wi-Fi access point of 2021 is still the Ubiquiti 802.11 DUAL AC PRO.  It's still packed with all of the latest features, and Ubiquiti has continued to refine the firmware and software suite for them (and all of their products).
Even the Best Wi-Fi Access Points still Suck When Installed Incorrectly
Before we list them off, let's talk about something very important! A bad install of a good Wi-Fi access point won't solve connectivity issues, and might even make them worse. Yes, a bad install will make the best AP suck!
Direct Wiring vs Wireless Repeaters
The most common misconception we see is that "all you need to do is add another access point somewhere in your home" and let it wirelessly talk to the one your ISP installed at the other end of your home. This is a terrible idea, and often makes the situation even worse and resulting in even poorer connections for those connected to the wireless "repeater".  Garbage in garbage out is true here too!
Consider this: If you're laptop has trouble connecting to your main access point from the far end of your home, then why would you expect a wireless repeater to have better luck? All you've accomplished is adding a middle-man between your laptop and your main wireless AP. This adds additional latency and slowness.
"But my laptop now has four bars signal strength! Before it only had one bar!!!"  Of course it does! It has four bars to the repeater. You just moved the one bar connection to the repeater middleman!  Lipstick on a pig!
Always direct wire all of your access points. Yes, this means running a CAT5 Ethernet cable from your router to the second (or third) access point in your home. In some cases this might mean a wire up the wall and through the attic. A qualified cable installer will generally do this for less than $100.  This is the key element that most people are missing. Another fantastic option is to use my favorite powerline network kit. This kit will transmit an internet signal over your home's electrical wiring.
List of the Best Wi-Fi Access Points of 2021
So now that you understand some basics of how not to make the best Wi-Fi access point into the worst performer, let's list our top pics for wireless access points in 2021 (updated).  Note: None of these access points are WIFI6.  We've purposely not picked WIFI6 access points as the technology is still fairly new and all of the kinks have not been worked out.  Our pick for the best WIFI6 access point would be the Ubiquiti Unifi6.  And as that market evolves will likely replace our top pick here.
#1 – The Ubiquiti Unifi Dual AC Pro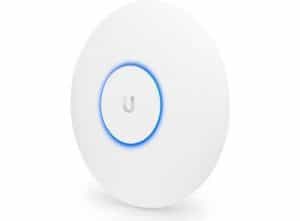 The Ubiquit Unifi Dual AC Pro is still hands down our top pick for 2021.  Ubiquiti has been developing wireless products for business and home use for some time now, but the equipment was first tested for carrier grade applications for long range transmission of data from cell towers. These devices are rock solid and provide dual 802.11AC radios, MIMO technology, power-over-Ethernet(PoE), and many other enterprise class technologies that can be used at your home and/or small business.
3 Dual-Band Antennas, 3 dBi each
802.11 a/b/g/n/ac
Max. Power Consumption: 9W
Dual 10/100/1000 Ethernet ports (supports PoE)
Controller Manageable or Standalone installs
Weatherproof design allows for outdoor installs
If you choose to go with the Unifi and also like tinkering with the Raspberry Pi, check out our Raspberry Pi Unifi Controller tutorial.
#2 – Netgear R6700 Nighthawk AC1750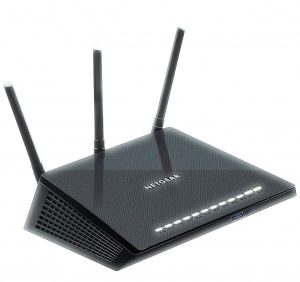 Netgear has really stepped up their game recently. For a while it seemed every product that left their assembly line was simple cheap low quality junk.  Well times have changed!  The old Netgear is back and we couldn't be more excited about it.  The Netgear R6700 Nighthawk AC1750 is a very well rounded high performance Wi-Fi access point and router combo.
One of the best things to come out of this update is the App.  You can now configure your AP, check speed, troubleshoot connectivity and packet loss all from the screen of your smartphone.  You can even set parental controls, limit kids access to screen time, and more.  All at the tip of your fingers.
Additionally, all our speed tests have been rock solid and reliable with this device thanks to its dual band wireless capabilities.  This Linksys is a win folks!
1GHz Dual Core Processor
AC1750 WiFi—450+1300 Mbps speeds
Automatic prioritization of  bandwidth for gaming, streaming videos, or music
Smart parental controls let you filter content, manage screen time, and monitor usage on any connected device, anytime, anywhere
#3 – TP-Link C1200 Archer AC1200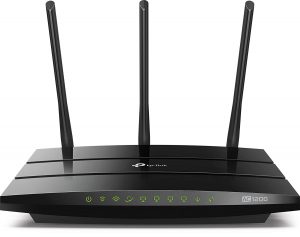 The TP-Link Archer C1200 Dual Band Wireless AC1200 Gigabit Router finds its way at number three on our list. TP-Link has been making rock solid gear for several years and has become one of the products I can reliably recommend to friends and family. Their APs don't have as many features, but they are reliable and generally easy to setup.
Dual band 300Mbps for 2.4GHz + 900Mbps for 5GHz
Gigabit Ethernet
USB Access – Share your USB drive content wirelessly!
TP-Link Tether app – Easily set up and manage your home network at home or remotely.
#4 – TRENDnet N300 2T2R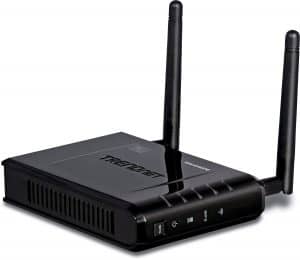 Sometimes you just need a reliable access point that's affordable.  If you're on a budget, but still want a rock solid reliable access point then the TRENDnet N300 2T2R is the probably your best option.  In our test it was rock solid reliably, albeit much slower than the access points listed above due to its lower specs.
2.4Ghz 300Mbps
802.11a/b/g/n (dual band)
Compact and versatile
Reliable and affordable