Since my home network tour a lot (and I do mean a lot) of you have asked for more details on certain parts of my home network. The most asked question is of course
why I chose a Core i7 over a XEON
. Followed right behind that was to ask why I chose the
Synology RS2416+
over other products like the
QNAP TS1253U-RP
. Some even questioned why I would use a NAS at all and not just use internal storage. Followed right behind that there was a list of "What is iSCSI?" questions.
The truth in almost any situation is that there is more than one solution to a problem and there is more than one device that can work in any given situation. I try very hard not to get into religious or holy wars when it comes to product selection. To me Apple makes great products, but that does not mean every one else makes junk. I love the Microsoft Surface for example, and I am huge fan of what Microsoft has done with Windows 10.  So if you're coming here looking for "Synology is the best and everything else sucks" review then you've come to the wrong place. I will be telling you why I chose it over other products though if you'd like to follow along with me.
My Server Environment Needed Help
Before we get into my Sysnology RS2416+ review it might help to have some background on why I chose a NAS in the first place and what problems I was trying to solve. My entire home server install was running on a single Gigabyte Brix with Windows 10. Attached to it was a Mediasonic four-bay USB drive chassis with four 3TB Red Drives. This was working fine, but it was becoming increasingly difficult for me.  I had an array of apps running on it, include PLEX, HomeSeer, and Observium. I got into a situation where every time an app needed an update, it would reboot the entire box.  Updating HomeSeer would take PLEX offline in the middle of a movie. This was not optimal. In addition, PLEX is a real CPU hog and made the rest of the applications perform like molasses. It was time for an upgrade.
Finding a Server Solution
The first solution many of you are likely aware of. I built (eventually two) a Bad Ass 1U Server. This became the compute platform for my home server and network setup. That alone still left me with a problem.  Having a stack of drives hanging off the USB port was neither aesthetic or resulted in optimal performance. Additionally, I wanted to run ESXi and be able to move virtual servers live between my two 1U servers using VMware's VMotion. This would allow me to take a server down anytime for maintenance without taking any of my applications offline. It also gave me a backup in case of a physical server failure.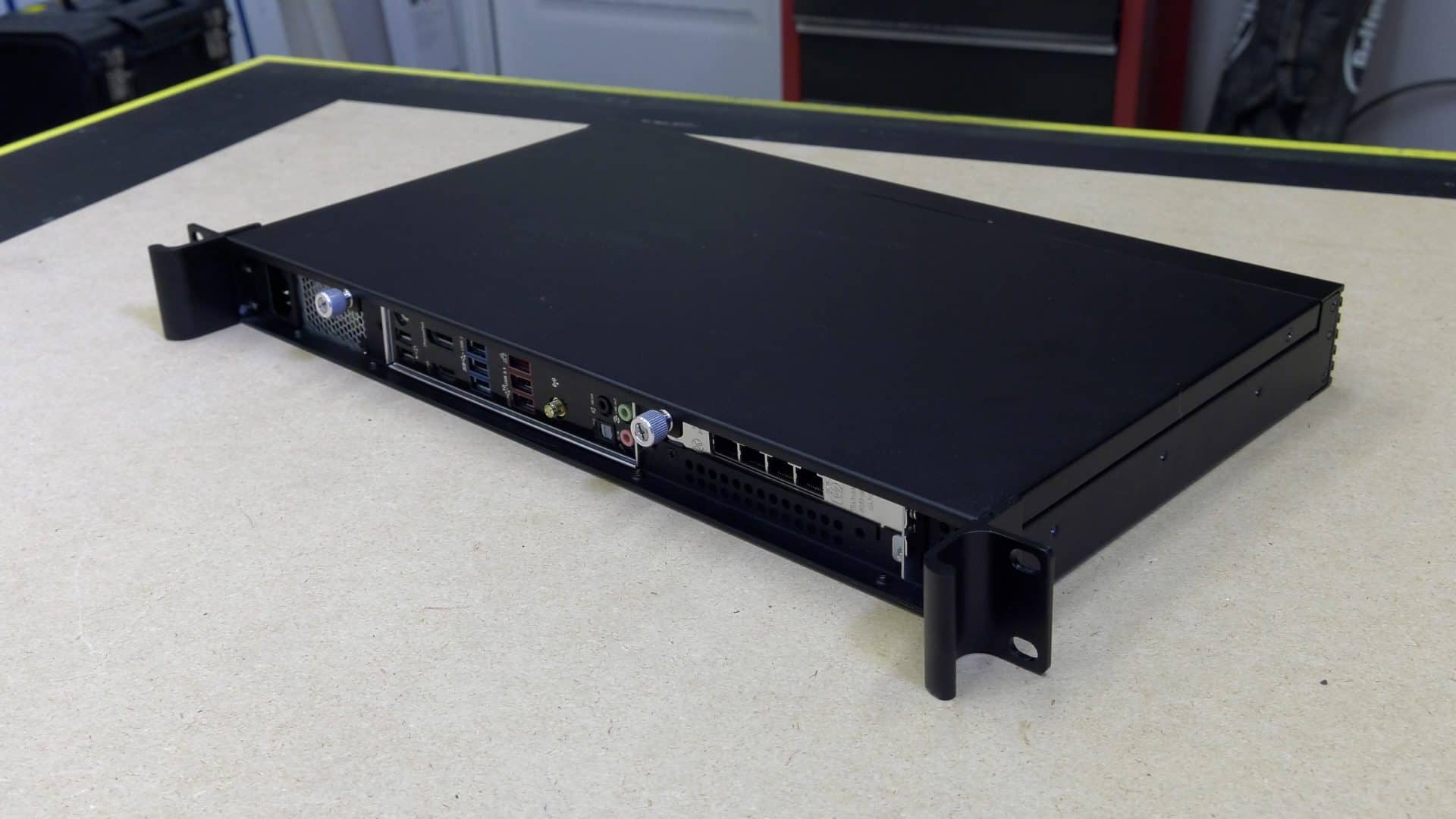 Deciding on a NAS
Before deciding on the Synology RS2416+, I had to decide on a technology. There are several ways to connect storage to multiple servers. In fact, you can even share storage across EXSi boxes using VMWare's VSAN technology. However, that would have required a large investment in internal disks, in addition to the requirement of a third server. That just didn't seem optimal to me. I didn't really need a third server, and I didn't want to purchase that many SSD drives at a huge expense. More on that later.
By going with a NAS, connected by one or more Gigabit Ethernet ports I would be able to not only share disks with my two ESXi servers, but also share the storage with any device or PC in the home. Most NAS appliances also offer the ability to sync their data to a cloud storage provider such as Dropbox or Amazon.  This is fantastic because in the case of a burglary or house fire, you would be able to recover all of your data quickly and seamlessly from the cloud. With that in mind I set out on picking a NAS and endedup with the Synology RS2416+.
Review of the Synology RS2416+
The Synology RS2416+ is a 12 bay rack-mountable NAS designed and targeted at small to medium sized companies.  It's got some pretty powerful features built-in, that don't require a bunch of add-on licenses and such other nonsense. Additionally, there's an entire appstore full of what Synology calls "packages" that allow you to extend the functionality of your RS2416+ NAS.  As with all Synology systems, this unit runs DSM or Disk Station Manager, the standard Synology operating system.  The RS2416+ is packaged in a slick form factor. It's 2U height allows it to hold twelve 3.5″ (or twelve 2.5″) drives, either your standard spinning disk, SSDs, or any combination of that including using your SSDs as cache acceleration in front of standard mechanical drives. This can get you up to 450MB/s read and 400MB/s write in a device that is only 27 inches deep (692mm).  By the way, if you're looking for a non-rackmount unit, Synology does offer several desktop units as well, such as the DS1817.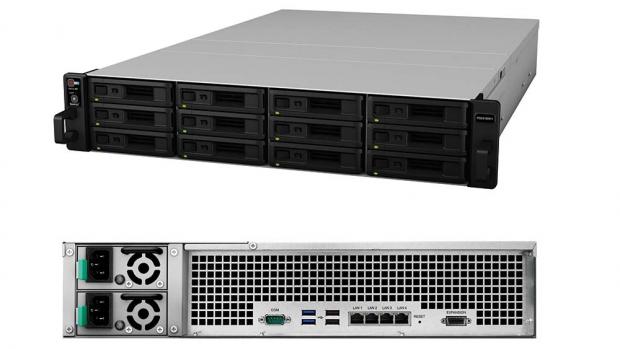 The Synology RS2416+ is also available as the RS2416RP+ with Dual Power Supplies if you're looking for a little more redundancy.
The Synology RS2416+ Specifications
The RS2416+ and RS2416RP+ are packed with features that are fantastic for small and medium business, but also for the home power user.  In fact in many cases the Synology RS2416+ could operate as "one stop shop" for your home server needs. The Synology device can be your NAS, server, router, firewall, VPN server, backup appliance, and more! So lets go over some of those juicy hardware specs that make it so powerful:
Quad Core Intel Atom C2538 (64-bit)
Up to 6GB DDR3 RAM
12 Drive Bays (up to 24 with expansion chassis)
Four Gigabit Ethernet Ports
Support for 3.5″ or 2.5″ mechanical drives or SSD
Up to 120 TB raw (240 with expansion chassis)
Supports RAID 0,1,5,6, and 10
Only 41.5 dB noise level
So why the Synology over the QNAP?
So why did I pick Synology over QNAP (or even Drobo)? The answer for me was very simple.  Both products are very well made, reliable, and are packed with features. However, the Synology had a wide array of software support you just won't find elsewhere. For example, Synology has Surveillance Station built right in and it is a phenomenal NVR for recording video footage from surveillance cameras. In fact, many people pick Surveillance Station as their NVR before they ever realize they'll need a Synology NAS to run it on. It's really that good!
So in my case, it was simply that DSM, the Package Center apps, and the incredible amount of supported packages that swung me over to the Synology side. That being said, I am sure the QNAP would have done me service as well.
How the Synology RS2416+ Fits in my Setup
I specifically wanted a rack-mountable NAS for my environment. I have wall mounted racks in my Home Theater A/V Network closet and it just makes for a clean and simple install.
I connected my Synology RS2416+ via its quad Gigabit Ethernet ports to a Netgear M4100 switch using link aggregation (LACP). This delivers up to four gigabit per second speeds from the Synology to my home network and provides redundancy should a port or cable ever fail.
Inside my RS216+ I installed four 3 TB Red NAS 5400RPM drives. These drives become the volume for my PLEX media library.  You don't need a lot of speed or performance for PLEX, just a lot of space. Additionally I installed six 4 TB 7200 drives for my main volume. This is also the volume my ESXi host's operating systems will live on. Because I am looking for a little more performance on this volume, I also fronted it with two 120GB SSDs as a Synology cached volume. This made an incredible performance difference in the snappiness of my virtual hosts running on ESXi.