We've tried many ways of creating arcade button labels over the years. Originally we used a Cricut hobby vinyl cutter and made our labels, then someone mentioned we could try a P-Touch printer and that worked OK. And of course we tried ordering arcade button labels from the internet and that turned out to be a complete waste of time.
In this post we're going to take you on our journey of testing various arcade button labeling methods and our eventual journey to offering our own high-quality labels.
Labels can come in an amazing array of designs and fonts to suit your own style, but they also need to be functional. It may seem like a neat idea to have a bunch of Simpsons characters on your buttons, but if no one can intuitively understand what button to press, then you're sort of defeating the purpose!
So let's explore our journey. After all, if you've bought your own set of arcade joysticks and buttons, you're going to need some labels for them!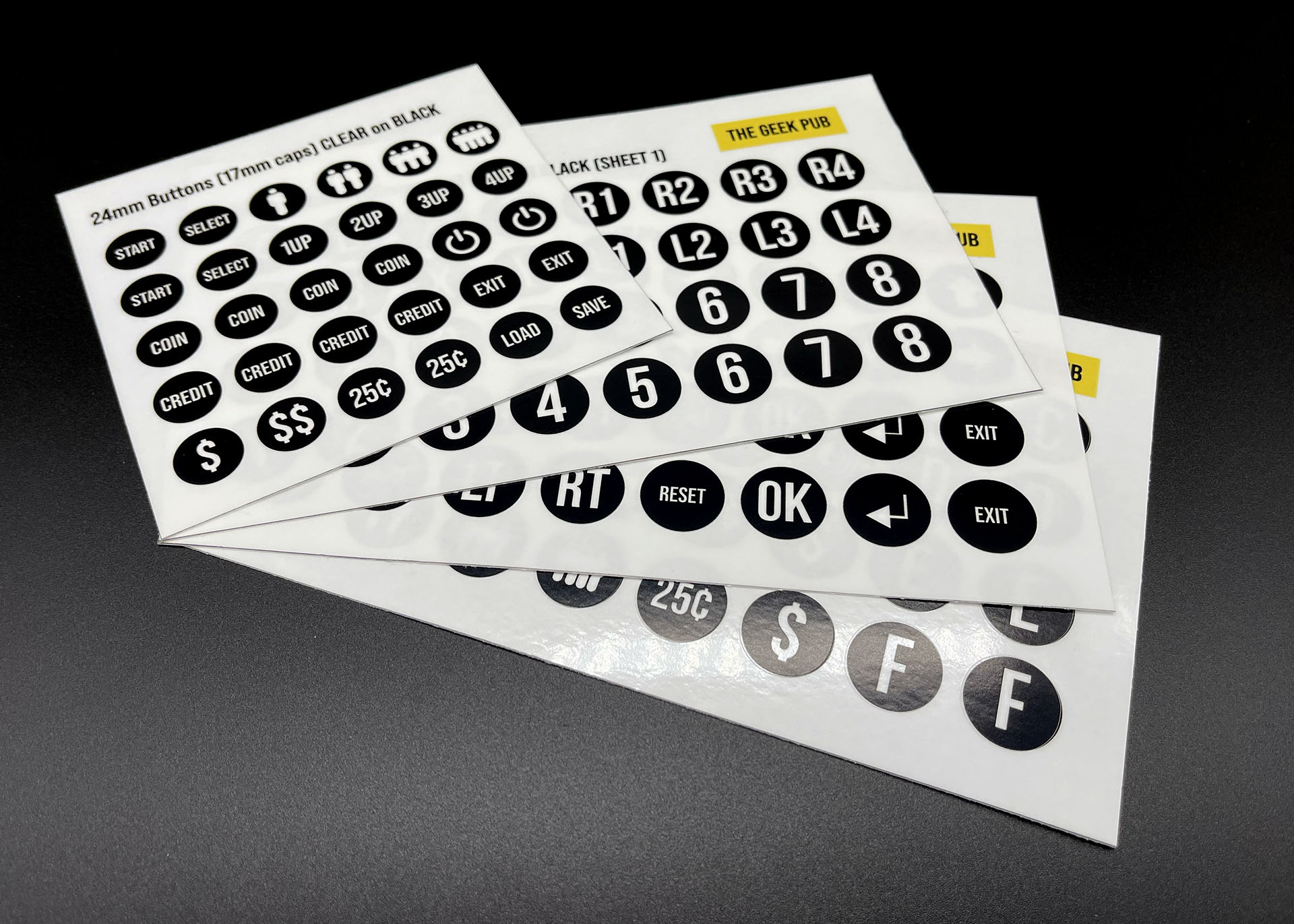 Die-Cut Arcade Button Labels (Black)
Making Your Own Arcade Button Labels
Let's start with talking about the various ways to make your own arcade button labels. It's not as hard as you think, but the results can be hit or miss depending on the level of time you are willing to invest (and of course the amount of money you are willing to spend).
Cutting Labels on a Vinyl Cutter
We started first by making our own arcade button labels on a home hobbyist Cricut Vinyl Cutter. This is actually not a bad way to go. You can get vinyl super cheap from Amazon or Micheal's. You can design the buttons in their software and then cut them out.
Some things to consider here:
Products like Cricut use a cloud system and most things cost money. If you're not a good designer you are going to wind up spending a lot of money buying assets from their store.
There's a limit to the designs you can make. When things get too small or too intricate the cutter is just going to screw the material up and shred your backing board. Designs made like this need to be rather large and plain to come out right.
You'll need to use transfer tape to get the vinyl off the backing paper and onto your buttons.
In our Wall Mount Arcade Cabinet we used the vinyl cutter for not just the arcade button labels, but our entire design and it turned out super cool. We did a Mario theme and even used it to make the graphics for the lighted marquee.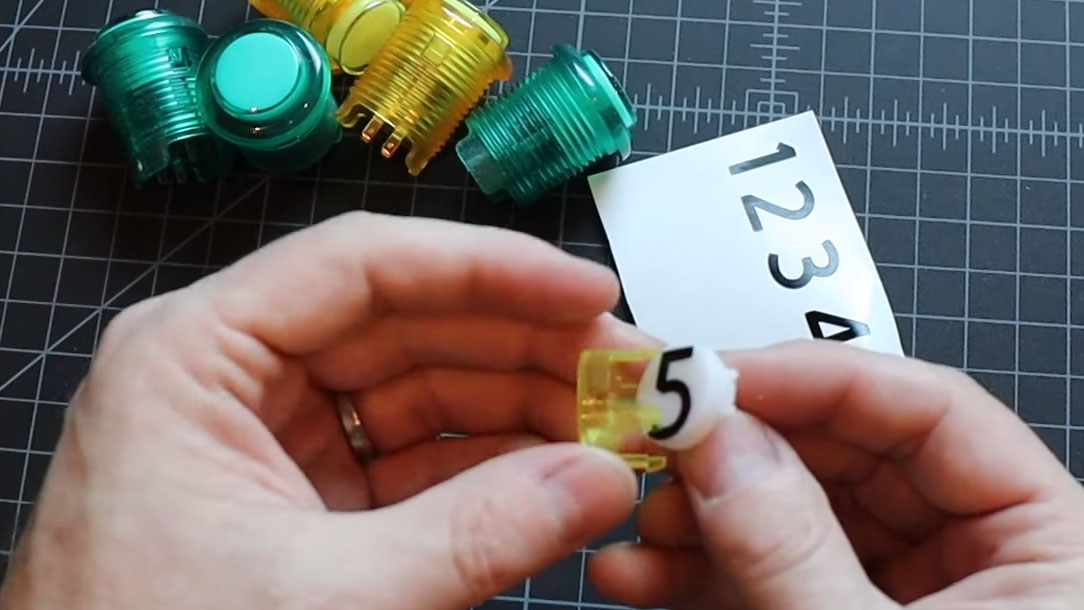 If you're a little creative and have some patience, this is definitely a viable option.
Printing Your Own Labels
Another option we've tired with some success in printing our own labels. You can buy lamination sheets from Amazon and print your own button labels.
In our Cocktail Table Arcade Build, we also tried a similar approach using a label printer. This was suggested by a viewer and it actually turned out to look pretty good.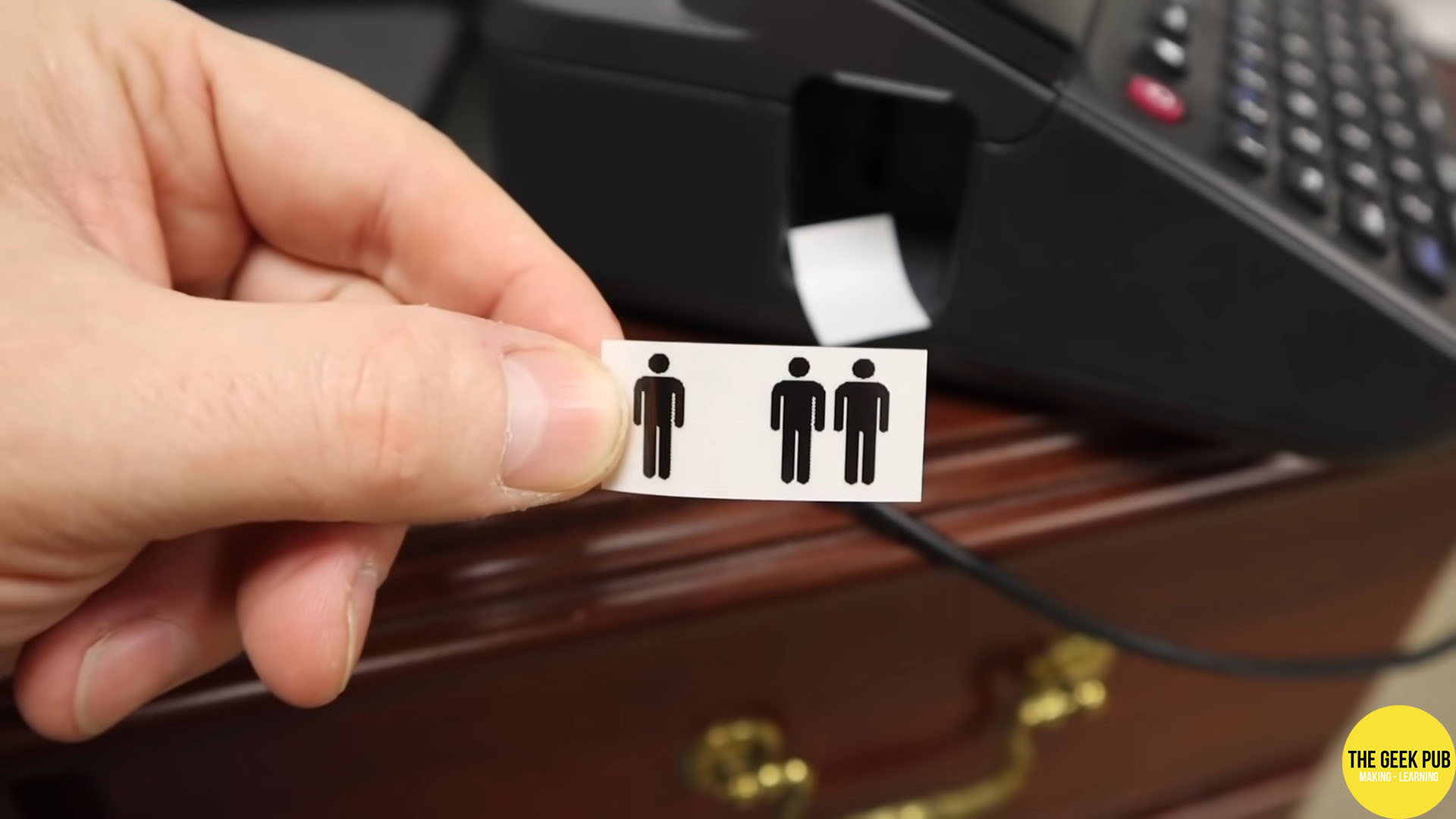 The biggest annoyance with printing your own is that you're going to have to cut each and every one of them out by hand with scissors or a razor knife. This will be highly time consuming and highly annoying. We know. We did it. Twice.
Buying Arcade Button Labels on Etsy and Ebay
One of our subscribers recommended we just buy them pre-made on Etsy. What a great idea we thought. But after ordering several arcade button label packs from different listings on Etsy and eBay only to be delivered stickers printed on plastic sheets from a laser printer that had to be cut out individually with scissors, we were fed up! This was a complete waste of our time. Not only did we pay a fortune for them, they were no better than what we could have printed outselves.
Creating our Own Arcade Button Labels Sets
With that it was time to make a difference. And the timing was perfect. We recently purchased a huge large format printer from HP. It's a printer from their Latex lineup that takes large 54″ rolls of paper, vinyl, or other materials. Along with that we bought a massive robotic cutter that could die-cut just about anything we could think of. We affectionately call these two machines "Big Bertha" and "Mamba Jamba". Because… well… they are big!
We originally bought this printer for printing premium-quality arcade artwork for our customers. One day we were standing around talking and someone said to Mike "Why don't you finally solve the arcade button label problem? You have the tools and technology to do it now!" And that was it. Printing our own premium die-cut arcade button labels was born!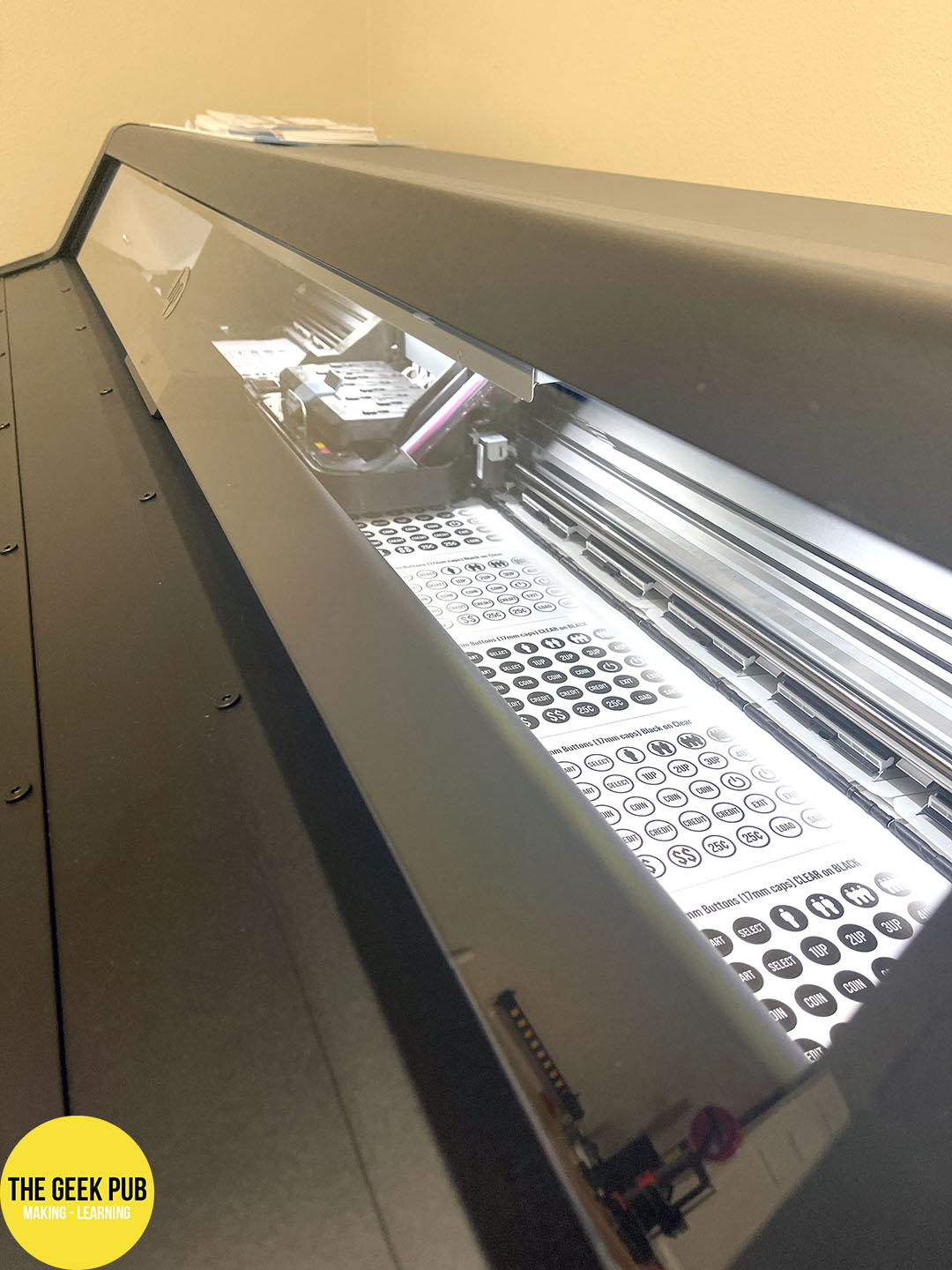 We print these arcade button labels on premium transparent gloss vinyl (the paper backer is white) using high-quality eco-friendly latex inks. We then run them through the cutter and "kiss cut" each and every button. This means that no scissors or razor knife is required. Just peel the labels off individually and press them onto the button caps of your favorite arcade buttons.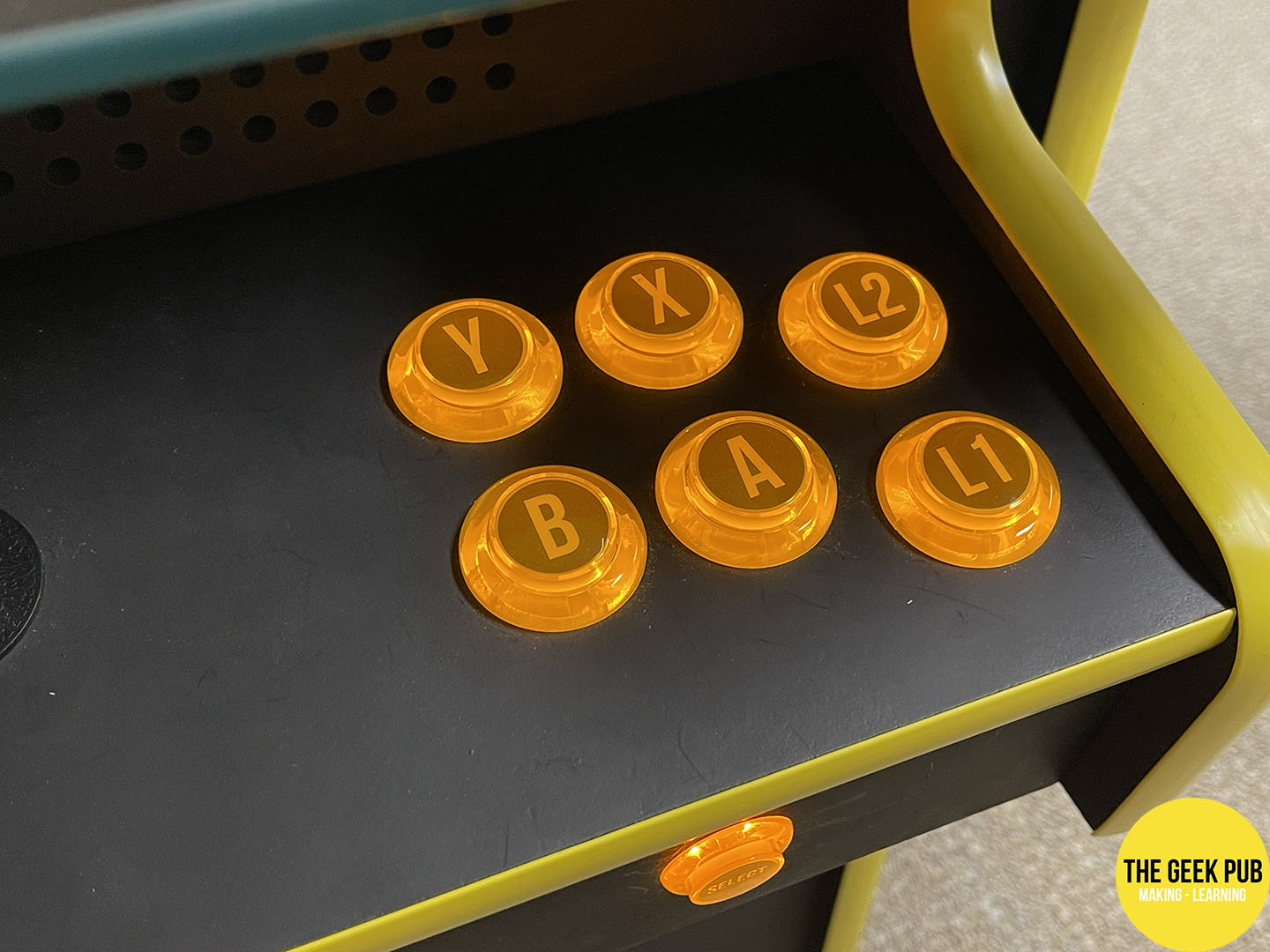 And man do they look nice! We're currently offering them in our own style and font, but the goal over time is to add more variations of fonts and designs to the store.
The sets include several sheets with many different icons ands styles to choose from for both 24mm and 30 mm buttons.

Grab them in the store at the link below: