This GBS-8200 manual covers the configuration, operation, and troubleshooting for the GBS-8200/GBS-8220. It converts CGA, EGA, and YUV (component) to VGA. This allows you to connect older equipment to VGA TFT monitors or to new HDTVs that have a VGA input.
You can buy the GBS-8200 in our online store.
GBS-8200 Features
Supports CGA, EGA, and YUV (component) signal input
Supports VGA at

640×480
800×600
1024x768
1360×768

CGA and EGA signal auto scan at 15, 24,, and 31 KHz
YUV (YPbPr) signal auto scan at 480i/480p, 576i/576p, 720i/720p, and 1080i/1080p
On-screen display supports English and Chinese
Adjustable position zoom controls
True digital 24-bit A/D converter for true 16.7-million color conversion
Supports all VGA monitors, including CRT, LCD, PDP, and projectors
PACKAGE CONTENTS
In addition to this GBS-8200 manual, the following items are included in the box:
The main GBS-8200/GBS-8220 PCB
Power Cable (2 pin, +5V)
TGB Cable (8 pin, 6 wire)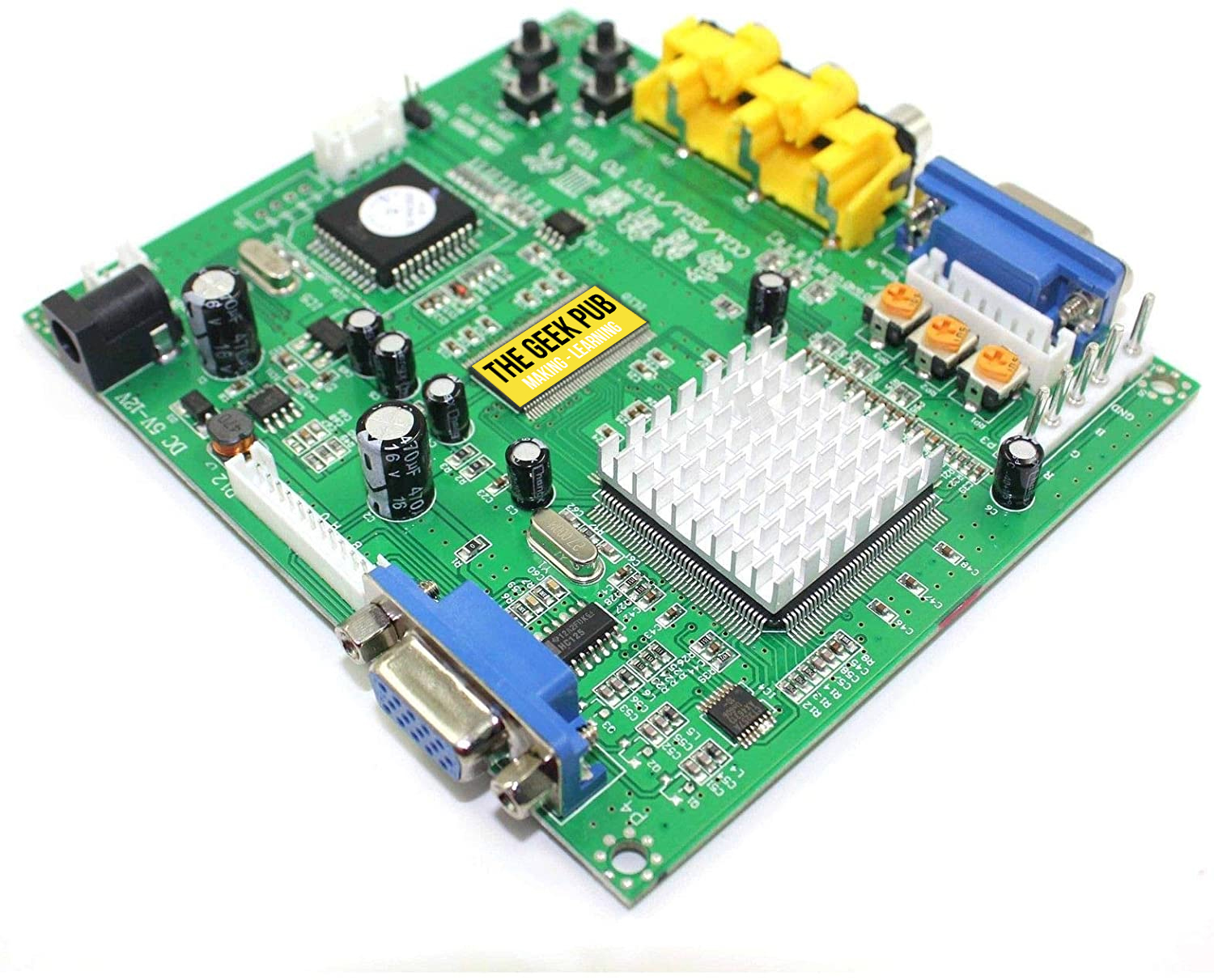 GBS-8200 CGA/EGA to VGA Converter
This is the latest revision GBS-8200 CGA/EGA/YUV (component) to VGA converter for arcade machines.
GBS-8200 Menu Control
MENU ITEM
DESCRIPTION
MENU
Opens the on-screen-display (OSD) and works as the "enter" key.
UP
up / increase
DOWN/AUTO
down / reduce

When not in the OSD menu:
Press this key to auto scan for a CGA or EGA signal.
Press and hold for 5 seconds, then release to reset the system.
SW
When not in the OSD menu:
Switches input signal between YUV / RGBS / RGBHV.
Clamp sp / Clamp st
This is for adjusting the output if your picture has black spots or discolorations.
Power Supplies
Power cable (2 Pin Connector)
Multi-Voltage Power Supply:

Switching Power Supply (Center Positive)
Input: 100-240VAC
Output: 5V DC 2.0A
GBS-8220 Board Layout and Diagram
No GBS-8200 manual would be complete without a board layout and diagram! The board is laid out as follows: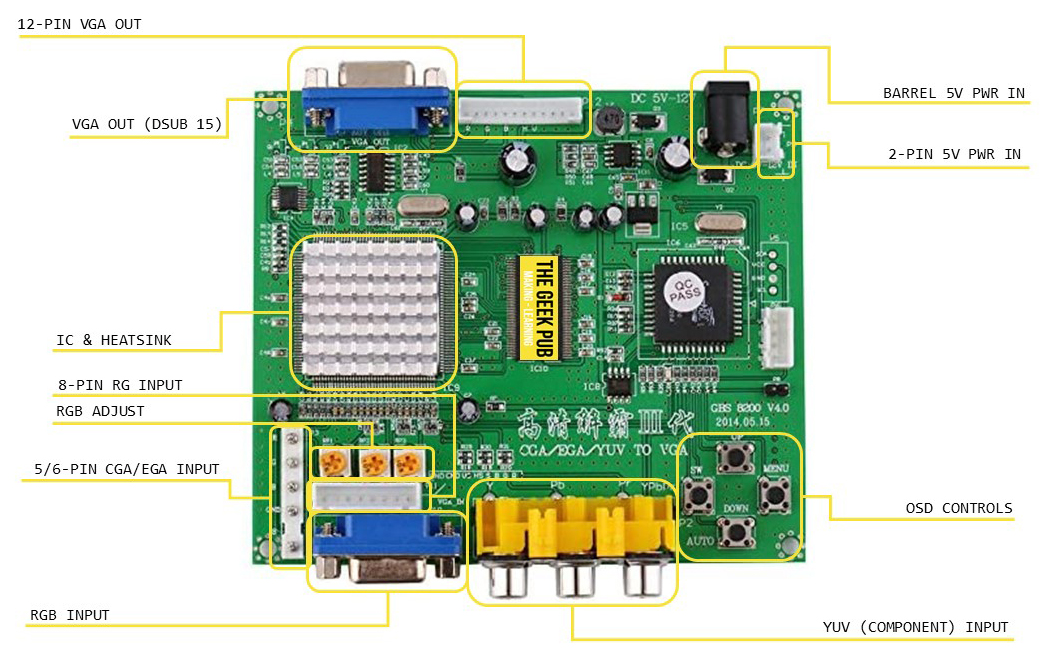 GBS-8220 Manual: Basic Configuration and Installation
Connect the output monitor (your VGA monitor) to:
The VGA OUT connector (sometimes labeled P4), if your monitor uses a 15-pin DSUB connector.
To the 12 pin VGA header if your monitor has a ribbon cable.
Connect the CGA, EGA, or YUV output from your JAMMA connection to:
The 5 pin RGB input header if your JAMMA connector already has one wired up (most common).
Or, use the included 5 pin RGB adapter cable and make the following connections:

Red Video to Red Wire/P11 (R)
Green Video to Green Wire/P11 (G)
Blue Video to Blue Wire/P11 (B)
H. Sync to Gray Wire/P11 (S)
V. Sync to Yellow Wire/P11 (VS)
Ground Ref to Black Wire/P11 (GND)
For more information on the JAMMA Pinout go here.
Connect the GBS-8220 PCB to your +5VDC Power Source:
Connect the RED wire of the power cable to the +5VDC source and the BLACK wire to the DC GROUND source. connect the 2-pin.
Connector the power cable to P9 on the GBS-8220 converter PCB.
Note: The power requirement for the GBS-8220 is +5VDC +/- .5VDC @ 2A. If the power supply is unable deliver 2amps, the GBS-8200 will behave erratically.
Power up the GBS-8220 Converter
Power up the GBS-8220 converter and wait 5 seconds.
Press the AUTO button on the GBS-8200/8220 PCB. This should self-adjust and lock-in the picture on your VGA output monitor.
If you don not see a picture:
Remove the P11 wire harness from the converter P11 connector.
Move the GRAY wire over one position on the connector (so it is next to the YELLOW wire).
Connect back into the converter and power up then try the AUTO button again.
GBS-8200/GBS-8220 Troubleshooting FAQ
In addition to providing a GBS-8200 manual, the following are some common troubleshooting questions and answers:
Q: No signal displayed on monitor
A: Check that both the input and output cables are connected and that the power to the GBS-8200/8220 is on. Try pressing the SW button to change input sources.
Q: "Input not supported" is displayed on the screen.
A: Your monitor may not support all resolutions. Lower the output resolution. You can also reset the GBS-8200 to its default 800×600 resolution by pressing DOWN/AUTO for 5 seconds and releasing.
Q: Image does not fill the screen.
A: Use the position and zoom controls to adjust.
Q: Image shakes or freezes
A: Press DOWN/AUTO to initiate an auto scan. This should restore the image.
Q: Black area on the screen, screen is too dark, or colors are not correct.
A: Adjust "Clamp sp" and "Clamp st" while keeping "Clamp st" less than "Clamp sp". Generally "Clamp st" set to 3 and "Clamp sp" sett to 4 will be optimal.
Q: Image color not right
A: Use RGB ADJUST potentiometers to correct colors.