In this review and tutorial we're going to walk through the best oscilloscopes for hobbyists and home users and discuss some of the basics of oscilloscopes to help you make the best decision for your next oscilloscope purchase.
What is the Best Oscilloscope?
Answering this question takes some basic understanding of oscilloscopes and making sure you buy one that is best fit for how you work and what you plan to do with it. If you want to skip to the chase, our pick for the best all around hobbyist oscilloscope is the Siglent Technologies SDS1202X-E.
Oscilloscopes (sometimes called O-Scopes) are test bench instruments designed to help troubleshoot and measure waveforms in electronics.  This could be for projects you are building, or it could be for troubleshooting a broken consumer electronics device such as a computer, radio, or television.
Oscilloscopes have a screen that display various feedback to the operator. The most used feature is to understand the waveform of the voltage being created by a circuit.  Since these events happen very fast it is very difficult to capture them on devices like multimeters. All oscilloscopes display a waveform on the screen that humans can understand.  More advanced and modern oscilloscopes will also capture and store this data over a period of time allowing the operator to playback the data and zoom in to check a specific point in time. We highly recommend this feature if you have a little extra budget.
RELATED: Picking the Best Multimeter
The Best Oscilloscope for Hobbyists and Home Users
Let's list off our top three oscilloscopes.  After the reveal you can read on below where we will step through what is important when buying an oscilloscope and why we made the choices we did.  We' will discuss topics such as bandwidth, rise time, channels, and much more!

Our first choice for the best oscilloscope remains the Siglent Technologies SDS1202X-E 200Mhz 2 channel! This oscilloscope is in the sweet spot of price and performance and can handle the demands of most hobbyists. It's also the primary oscilloscope used in all of our videos, including our oscilloscope tutorial video.
This 2 channel oscilloscope is really a first class unit. It's quite capable in most of the ways that count, and fits in a budget that most hobbyists can afford (we list a lower cost option below though). 
The 7-inch display looks great and and has a nice contrast which is good, as this unit does not support HDMI for using a larger screen.
The device weighs in at only 7.2 lbs. Not too bad, but probably not suitable for people who need a portable oscilloscope. Thought to be fair, its not advertised as such either.
Lastly, Siglent has unlocked all features on this device. No licenses or firmware hacks needed to use all of the features on this device. That's a big plus!
All functions unlocked
Very fast refresh rates
Big 7 inch display (18 cm)
14 million point accuracy
Capable history system
No HDMI port for bigger screen
No Wi-Fi
Menu is slightly confusing

Our second choice for the best oscilloscope is the Siglent SDS1104X 4 channel! This oscilloscope is slightly more expensive, but moves up to four channels.  Something many home hobbyists will appreciate.
This 4 channel oscilloscope is also a first class unit, although at a higher price than our first selection.  The 7-inch display looks amazing! (Warning, the HDMI connector on the front is for SBUS logic analyzers rather than video output).
At 8.3 pound its a pretty hefty unit for its size, but portability again is not its design.
Even with all the great features included in this scope, Siglent has chose to lock some of them out (in order to offer them on a higher priced scope).  That means that the scope is capable of 200Mhz but will only operate at 100Mhz. There are some ways to unlock these with a little bit of work.
SBUS support
Very fast refresh rates
Big 7 inch display (18 cm)
Includes four quality probes
14 million point accuracy
Capable history system
Not all features unlocked
Supports Wi-Fi, but only via USB
Menu is slightly confusing

Our third choice for the best oscilloscope is the Hantek DSO5072P 70 Mhz 2 channel! This oscilloscope is the budget friendly version that will still work well for most hobbyists and home users, albeit with some lower specifications.
This very affordable 2 channel oscilloscope is a decent unit. The price point makes it perfect for beginners on a small budget, but still want a decent set of features for their lab. 
At 4.19 pounds it is incredibly light and easy to transport.
Our main complaint with this unit boils down to the build quality. It's simply not as clean from a fit and finish perspective as our first two choices.  The unit also lacks in the bandwidth department. It's only capable of 70 Mhz, something more advanced users may become irritated by.
While it doesn't support Ethernet or Wi-Fi network connections, its saving grace is that it does support USB connections for external operations using a Windows 10 PC.
Very affordable
Light weight
Decent set of features for price
Only 70 Mhz
Only 2 channels
Fit and finish not great
No Ethernet or Wi-Fi
The Geek Pub Oscilloscope FAQ
We get asked a lot of questions about oscilloscopes.  Let's quickly cover some of the most common ones:
Q. Are oscilloscope probes interchangeable?
A. Most likely yes. However, you should check the specifications and make sure the probes are compatible and electrically the same between both scopes.  They are occasionally different.
Q. What is the difference between frequency and bandwidth in oscilloscopes?
A. Frequency is a measurement of oscillations in a circuit.  Bandwidth is the amount of data transferred.
Q. What is a trigger when talking about oscilloscopes?
A. Sometimes there is a one shot event that happens in a circuit you are testing. The trigger function allows youto stabilize repetitive waveforms or one shot waveforms by repeatedly displaying similar portion of the signal.  This makes repetitive waveform appear to be static (even though they are not).
Understanding Oscilloscope Bandwidth
The next thing you should understand is that some oscilloscopes are capable of measuring larger bandwidth circuits that others.  This best oscilloscope for hobbyist and home users probably doesn't need to be all that capable, but its still something you should at least consider and understand.
Bandwidth is an indication of the "size" of an analog signal that an oscilloscope can accurately read.  If you're reading the output of a serial transmission circuit operating at 20Mhz, you'll want an oscilloscope capable of at least 100Mhz to accurately read this waveform and record it.  The rule of thumb is five times the bandwidth you need to measure.  There are several reasons for this, but the main one is accuracy.  Generally higher bandwidth oscilloscopes measure lower bandwidth applications more accurately.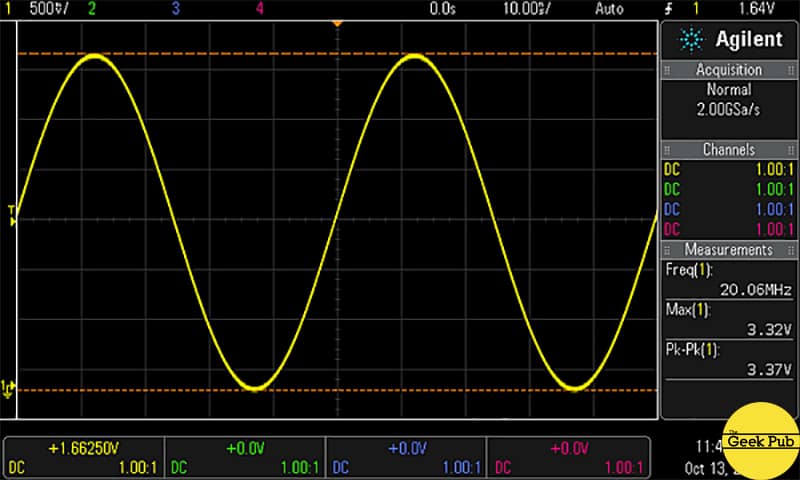 Understanding Oscilloscope Rise Time
While bandwidth is import, so is rise time. Many oscilloscope users are focused on measuring the time it takes a signal to rise and fall.
Oscilloscopes that are cheaper may miss glitches in your circuits completely, or present them as something expected when it is not.  Look for oscilloscopes with more capable specifications.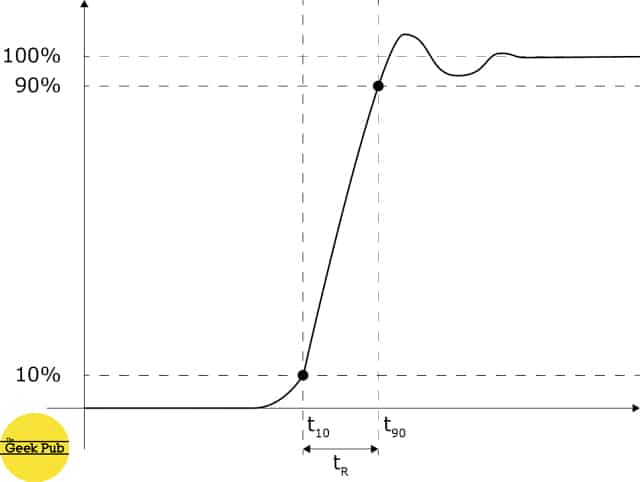 Remote Software and Network Connections
The best oscilloscopes will support PC, Mac, iOS, and/or Android applications for controlling and managing the scope. This is important for many users!  Scopes with remote management are able to download and then do in-depth analysis of of a circuit that my be difficult to do on the scope itself.  Adding mouse and keyboard support for example is much more user friendly than pressing buttons on the scope.
Additionally, having Ethernet or Wi-Fi support on your scope allows for placing the scope somewhere convenient, which may not be near a computer! You might be surprised how much this helps.  Some scopes do not support any remote connectivity, while some only accept USB.
Some Final Thoughts
As mentioned before, my choice for the best all around scope is the Siglent SDS1202X-E for hobbyists and home users. It supports most of the functions you'd expect at a price point you can't really beat.  The Amazon reviews reflect this rating as well.
If you have any questions, leave a comment below and we'll do our best to answer in short order!