Surveillance systems are something that used to be considered a nice-to-have. With today's crime rates, and lawsuit happy customers it just makes sense to have something like the Synology NVR216 in your personal or small business arsenal.
There are many surveillance systems on the market, and let me tell you, there are some real turds out there. There are also a huge amount of cameras to choose from and there is a big difference between the good ones and the bad ones.  The Synology NVR216 is designed to work with almost all of them, through a package called Surveillance Station.
Synology includes camera packs with Surveillance Station that allow compatibility with a broad range of IP based cameras, including D-Link, Axis, Foscam, Netgear, and many others.
The Synology NVR216 Network Video Recorder
You can purchase the Synology NVR216 in multiple configurations. These configurations determine how much storage (hard drives) are pre-installed, and how many camera licenses are included (4 channel or 9 channel).  If you purchase a system with a single drive, you can always add an additional drive or replace it with a larger drive.  The NVR216 supports up to two drives. Likewise if you purchase the 4 channel license, you can easily add up to 5 more licenses by purchasing a license pack online, and if you need even more cameras you can add an additional NVR216 and double the amount of cameras.  The two NVR216's will act as a single unit.
The NVR216 Hardware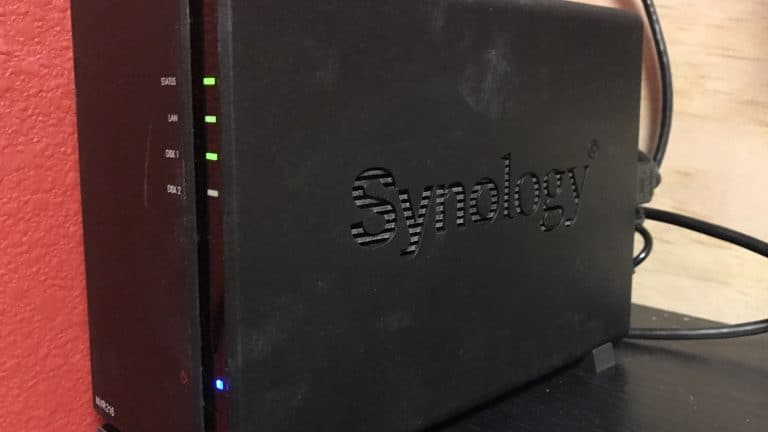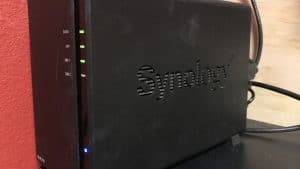 Let's start with the hardware. The Synology NVR216 comes in a very small desktop sized form factor. It's barely 9 inches deep, and 4 inches wide, and about 7 inches tall. the unit is pretty compact for something that boasts this type of horsepower.
The cover on the NVR216 removes exposing a bay for two hard disks.  You can install virtually any SATA drive in these slots. However, I do recommend that you go with a NAS certified drive for an NVR, such as the WD Red Drives. This is because these drives will be reading and writing data non-stop for their entire lives. A drive designed for this type of use will last much longer.
On the back of the Synology NVR216 is a set of two USB 2.0 ports, a single USB 3.0 port, an HDMI, and Gigabit Ethernet port. The two USB 2.0 ports are perfect for connecting a mouse and keyboard, while the USB 3.0 port is designed for the connection of external storage devices. The HDMI port is of course for connecting a monitor.  This monitor can be used for managing the NVR or for displaying the video feeds from your cameras. The latter option makes the NVR216 really shine. With an HDMI splitter you can also put a second monitor somewhere else to be used as a public view monitor. This is especially handy when the NVR216 lives in a network closet, rather than near the monitor.
Note: Synology also makes a product called a Visual Station VS360HD which connects to any HDMI monitor and provides remote public view monitor services over gigabit Ethernet. This is incredibly handy when HDMI distance limits are a factor.
The NVR216 Software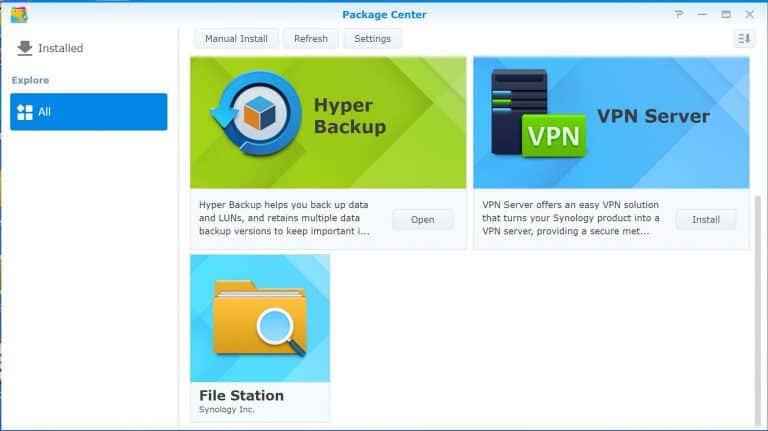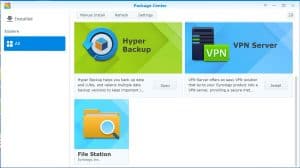 The NVR216 runs the full version of DSM, Synology's NAS operating system, so most all of the features you will find on some of Synology's bigger NAS boxes are available on the NVR216. This means features such as:
HyperBackup
Cloudsync
File Station
and, Firewall/VPN services
are all available on the NVR216. If you have a small branch location that happens to need a local place to store files, the NVR216 can be nice little NAS unit too.  In addition, with all of the other DSM features, you can backup your video footage to a cloud storage service like Dropbox or Amazon Drive.  This means in the case of fire or burglary where the NVR216 is destroyed or stolen, all of your video footage will be available from the cloud backup.
Surveillance Station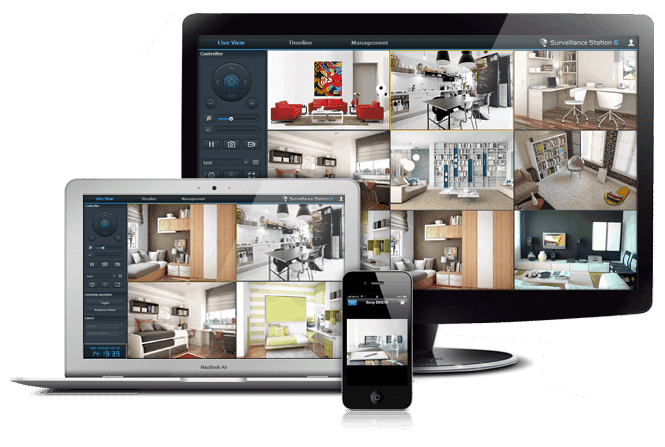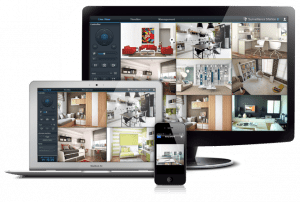 Surveillance Station is the software package that Synology uses to manage, record, and playback streams from IP cameras. Surveillance Station is actually available as an add-on for all of Synology's NAS boxes.  If you already have a Synology device then you could skip the NVR216 and just add the Surveillance Station package to your existing NAS.  If you have multiple units, they will all talk to each other with CMS and act as a single box, which is an area where Surveillance Station really shines.
Surveillance Station is simply one of the most user friendly UI's I have seen in this price range. Even my non-technical family members are able to use it.
Final Thoughts
I personally couldn't be more pleased with the Synology NVR216. It's a fantastic device for the money, and I highly recommend it to anyone needing a network video recorder in their environment.  I have paired mine with a variety of D-Link and Axis cameras.
If you'd like to buy one, here's a link to Amazon: