Portable computers are everywhere you look! Every computer company on the planet currently makes some really incredible high end notebook computers. Apple ushered in a new era of portable computers with iPad tablets. And while many people don't necessarily think of their phone as a portable computer per se, that is exactly what it is. Your iPhone or Android phone is nothing more than a portable computer which just happens to make phone calls.  Most smartphones are hundreds of thousands of times more powerful than the computers that sent men to the moon.  One estimate claims the iPhone 5 could run over 500 thousand simultaneous Apollo missions! So it might come as surprise that there was a pretty powerful portable Commodore SX-64 in the 1980s!
Watch the Commodore SX-64 Video from The Obsolete Geek
The Commodore SX-64 Portable Computer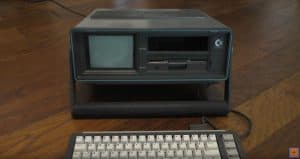 In the words of The Obsolete Geek, Rob says that portable is a relative word!  The Commodore SX-64, billed by Commodore as an Executive Computer, weighs in at a whopping 23 pounds! That's one heavy computer. If that weren't crazy sounding enough, it doesn't have a battery! You read that right. It's a portable computer without a battery that must be plugged into AC power at all times. If the power even flickers, the Commodore SX-64 will reboot and loose any data you were currently working on. Which won't be too much, since he computer only comes with single 1541 internal disk drive (5.25 inch) formatted to 170 kilobytes (although they can be double-sided to get twice the capacity).
A Truly Portable Computer in the 1980s?
What might it be like to take the Commodore SX-64 to the local coffee shop and do some work? What about taking it to a business meeting with your boss and peers?  Rob decided to find out. He took the SX-64 to his local Starbucks Coffee shop and worked away on… well something. I can't imagine what. Then he took the SX-64 to a business meeting, even asking his peers for the Wi-Fi password.  Not sure what he planned to do with that, since Wi-Fi wouldn't be invented for another 15 years!
Commodore SX-64 is a Heavy Beast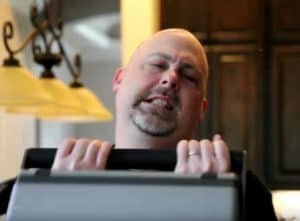 Well, be sure to watch Rob's video all the way to the end, its the best part of the whole video!  I make a small appearance at the end in a parody of the "Keeping up with the Commodore" TV commercial that Rob put together!
Rob was looking for creative ways to make fun of the machine and their marketing material and I think he nailed it.  The Commodore SX-64 makes is fantastic exercise gear. Lifting this thing a few times a day there will be no need to head to the gym ever again!  Maybe that how to stop the obesity problem in America!