MrNumber might be the coolest iOS app ever, that is if you experience the same problem so many people experience daily. Scammers, SPAMmers, fraudulent telemarketers, telemarketers who ignore that it is illegal to call cellular telephones, telemarketers who ignore the federal do-not-call list, etc.
These people are criminals. They're calling your phone illegally. These are certainly not people or companies who can be trusted with our personal information or credit card details! I mean if they are willing to break the law to call you, what other laws do they not care about following? You should never give your information to one of these people.  Hang up on them immediately.  Or better yet, install MrNumber on your Apple iOS device and block them completely. But there's a little known secret to make MrNumber even better.
How to Make MrNumber Even Better on your Apple iPhone
Out of the box, MrNumber performs an amazing service.  It is a community sourced list of SPAM or fraudulent numbers. It works very similar to how email SPAM blockers work, like the one in GMail or Yahoo! Mail. Once enough people flag a number as a SPAM caller, the number gets added to the MrNumber list.  Each time you open MrNumber, a contact in your address book is updated with all of these numbers.
MrNumber is Fantastic
This is great! Going forward anytime a scammer calls you, you'll get a red screen with an exclamation point triangle on your screen with the words "SUSPECTED SPAM" at the top, alerting you that other users of MrNumber have flagged this caller as a scammer.
The Problem with MrNumber
The problem with MrNumber on Apple iOS (iPhone) is that you still get the call! You're still distracted from what you were working on. You're still going to have to decide to ignore the call or to press the end-call button to make it go away! You'd never be OK if your email box still showed you all of the SPAM emails and just highlighted them red in your inbox would you?  No!  You'd want them to be gone and never arrive in your inbox in the first place.
The Fix for MrNumber they Don't Want You to Know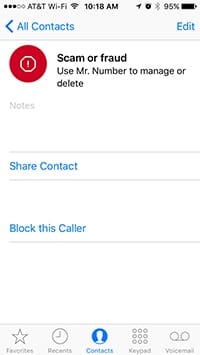 What if I told you there was a way to make MrNumber do just that and that it is really easy!? I bet you'd be super excited. What if I told you that your phone would never even ring and the scammers would be 100% blocked from even calling your phone.  It takes only 10 seconds or less to make that a reality!
Open your iPhone Contacts folder, scroll down until you see the contact labled "Scam or Fraud". Scroll way down to the very end of the list and there will be a button called "Block this Caller".  Click it. You'll be prompted to make sure you want to do this. Again click "Block Caller" and you're done.
Your iPhone will no longer accept calls from any of those numbers. It's that easy.
The only thing you need to do going forward is open MrNumber about once a week to get all of the fraudulent scammers added to your blocked contact. You of course can still open MrNumber at anytime and add fraudulent numbers to the list, if you happen to get a SPAM call.
I am more than a week into MrNumber and my phone, which used to ring ten times a day with scammers, hasn't received a single fraudulent call. It's fantastic!
You can get a copy here. It's free to download.
What about Other SPAM Software?
I suspect this will work with other tools as well. If you use a different SPAM blocker on your iOS device, you can try the method and see if it works. My gut is it will.