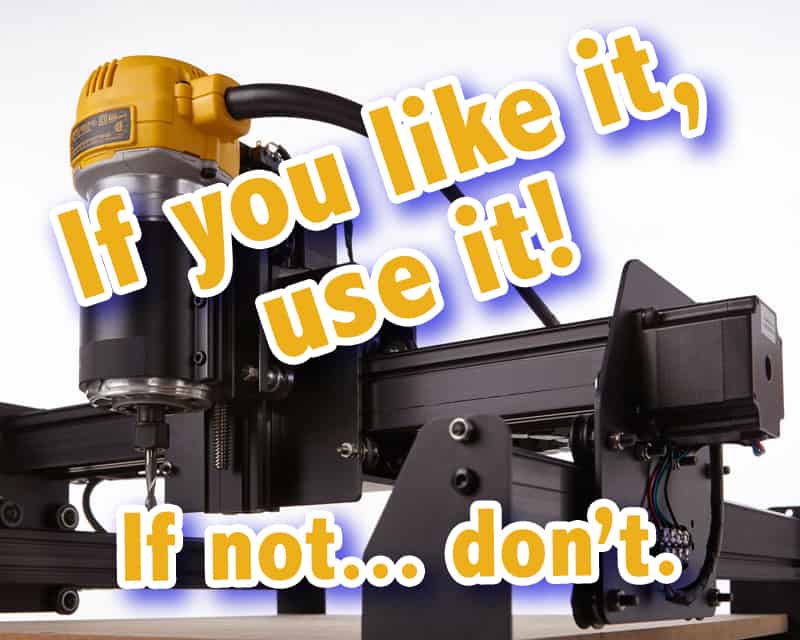 CNC routers have become more available and more affordable over the past few years. This has led to a lot of debate about whether the use of a CNC router is real woodworking, or if the use of a CNC router is somehow different or less worthy of the "Real Woodworking" title. To even begin to answer the question of what is and isn't real woodworking, one first needs to define what the term "real" means. If anything, the debate around CNC routers has proven that there is no universally-accepted definition of real woodworking, so in that sense, the question can never be answered.
So there you have it. Thanks for reading!
What's that? You want more? Okay, consider this:
The debate
The debate about CNC routers may be new, but the debate about real woodworking has been ongoing for decades. In the late 1980s, Norm Abram on his show, "New Yankee Workshop" talked about certain members of the woodworking community who believed real woodworking precluded the use of plywood. The logic, at that time, was; plywood is a man-made material that lacked some of the weaknesses of solid wood (fewer defects, minimal wood movement, increased strength). The reinforcement steps needed for traditional solid wood joinery were not necessary with plywood. Therefore, integrating plywood into your project required less skill and was considered "cheating." Norm mentioned those who refused to use plywood would identify themselves as "purists."
Another parallel would be the debate about hand tools versus power tools. Some feel that power tool woodworkers are less skilled or less worthy than hand tool woodworkers. This is not a widely-held opinion, by any means, and there are plenty of woodworkers who use both power tools and hand tools, but this is just another example of a debate regarding who gets to call themselves a real woodworker.
My goals
I'm having a lot of fun in my shop working with wood. Wood is an amazing substance; it holds its shape well, it's relatively easy to work with, and it has beautiful organic characteristics. No two pieces of wood are exactly alike. A beautiful object made from wood will be just as beautiful regardless of whether a hand plane, a router table, or a CNC router was used to shape it.
Final thoughts
If the project is awesome, I will embrace whatever helped make that happen. That includes using CNC machines.
For those that want to have this debate, I suggest you watch the video from James Hamilton at Stumpy Nubs Woodworking. James breaks down this issue point by point.
Ultimately, though, I don't care whether or not I convince you this question doesn't need answering. Your thoughts on the matter will have zero impact on my use or enjoyment integrating a CNC machine in my workflow. My shop time is for my own enjoyment. That is what matters. For me, CNC machines add to that enjoyment. If it ceases to be fun, I'll find something else to do.
Happy Real Woodworking, everybody — whatever "real" means to you.
Written by guest author: Matt Haas, Awesome Wood Things
Did you like this article? Want to see more of Matt's stuff? Check out his YouTube channel: Awesome Wood Things or find him on Facebook, Twitter, or his site.