A few years ago when we decided to build a new home, we hired an architect to draw up custom plans for our home based on some variations of homes we had seen and toured.  We found he already had designed a home that was very close to what we wanted, but we needed to make some changes to it, so that it would fit on the lot we were buying in our development. In a nutshell the house was simply too wide to fit.  To solve that problem we turned the master bedroom and bathroom 45 degrees to make the house a little more U-shaped than J-Shaped.  We reviewed the work he had done and we loved it.
We told the architect to give us a few days to look it over and really make sure we didn't miss anything.  So my wife and I spent the next few evenings over a glass of Chardonnay staring at the plans.  And thats when I realized that there was this void in the walls between the master bedroom and the master bathroom.  It was about 30 inches by 30 inches square or about 6 sq ft in size.  The perfect size for a hidden closet!
Making the Bookshelf Door Hidden Closet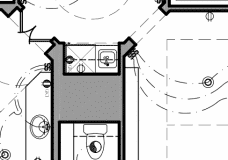 I think every house should have a secret room.  It reminds me of all the cool movies I watched as a kid. There are just so many awesome things you can do with one.  Whether its a place to hide valuables, a gun closet, or a place for to hide yourself and family in the case of a home invasion, its something everyone should consider adding to their home.  This is especially true if you are building your home.  It's not that hard to find less than 10 sq ft somewhere.  And because it's not considered livable square footage, you won't pay property taxes on it either!
As you can see in the image to the right (click it to enlarge it), the void that architect left in the plans.  This is complete dead space.  I asked the architect to convert that space to a closet by opening it to the master bedroom with a regular 8 foot opening and adding a ceiling to it.
The Secret Room During Construction
During construction many people would ask me "Why is there a little closet in the master bedroom?"  At first I was trying to keep it a secret, but soon realized it wasn't ultimately going to matter, so I just started telling people what it was.  They were always so excited to learn what was going to happen with that space, and so many times the response was something along the lines of "I am so going to that when we build our home!"
Making the Secret Bookshelf Door
Making the secret bookshelf door was interesting.  There were so many options that I hadn't even thought of.  We were presented with options from a small single door, to full wall bookcase with one bookcase being the secret door.  I loved the idea of the old batman sliding book opening the secret entry, but my wife didn't want to lose the entire wall because we needed it to put our furniture against.
Together with our builder and the cabinet/trim company we came up with an option that got me what I wanted, and still satisfied her need to place an armoire and rocking chair on that wall.  We would land on a single bookcase design that was inset into the wall on "hidden hinges".
Securing the Bookshelf Door
Originally we were going to make the bookshelf door locking.  I liked the idea of having a secret button or a book you moved or something like that to open the door.  However, we quickly found out that anything like that would not pass housing code in our area due to the risk of a child becoming entrapped behind the bookshelf door and not being able to get out.  That being the case we opted for simple using hidden hinges and detent or ball catches to keep the door shut.  This means anyone who realizes that that bookcase is actually a door can just pull it to open it.  This isn't ideal, and eventually I will change it to something else, but we had no choice if we ever wanted to get our final inspection so we could move in.
What to Keep in the Secret Closet
Unfortunately I can't tell you what I keep in my bookshelf door secret closet.  You can probably make some guesses from the pictures. Anything from a safe, to guns, to simple a place to hide.  Let your imagination run wild!
There are any number of places in your home that a super secret hidden closet bookshelf door could go.  I have a friend who also did this exact thing in his home.  It's not in his master bedroom, but rather under his staircase.  That's another great place where space gets wasted during construction that can be used later.