A little over a year and half ago I bought a DJI Phantom 2 drone. Something was wrong it with. It worked well for most everything, but it would randomly start drifting to the left when hovering. This made me very uneasy using it because I never knew if it was going to drift away, or crash into what it was hovering next to unexpectedly. After using it for almost a month, and after numerous calls to DJI tech support, I returned the aircraft to Amazon, fully intending to order a replacement later (they were out of stock at the time I returned mine). Two weeks later we kicked off the project of building our new home and ordering the replacement Phantom 2 drifted away. I simply didn't have time to worry about it, or time to fly it since we had moved to a rental home and everything we owned was in storage, including my GoPro. Fast forward to a bit, and my wonderful wife bought me the Phantom 3 Professional for Christmas of 2015. I was pretty excited when I saw the box!
The Phantom 3 is a Big Upgrade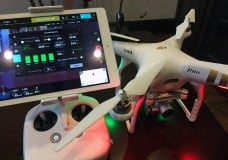 Having shortly owned and flew the Phantom 2, I can tell you one thing right off the bat.  The Phantom 3 Professional (or Standard/Advanced) is a big upgrade over the Phantom 2! DJI made a pretty ballsy move here in my opinion, and quite honestly I am glad they did.  The features of the Phantom 3 are actually better in many ways than their Inspire 1 product, which is supposed to be their professional aircraft!  This has of course made a lot of Inspire owners upset because in many cases the Inspire can cost as much as double that of the Phantom 3.
The Phantom 3 was not an incremental upgrade as many predicted.  Other than the shell, the aircraft is basically a complete overhaul.  This leads me to believe that the Inspire 2 when released will also be a major overhaul.  Mark my words on that one.  I suspect much of the Phantom 3 tech came from its bigger, yet unreleased brother.
So let's get started with the review already and I'll tell you all about those awesome upgrades (and a few gripes).
The Phantom 3's Flight Controller Circuitry is all New
Again, physically the Phantom 3 looks just like its younger sibling with some slight changes that become apparent after looking it over.  The first one is the addition of a three sensors in a box, hung directly behind the gimbal.  This sensor pack includes a down facing camera and two ultrasonic sensors.  Another camera you ask?  Yes!  This is basically the same technology that is packed into your standard optical mouse, only on steroids!  The Phantom 3 Advanced and Professional models include these.  This upgrade greatly improves the aircrafts ability to hover in a very tight radius, and enables indoor flight without any GPS whatsoever.  That's right!  Indoor flying thats as easy as GPS flying!  The sensors are constantly taking imagery of the ground below the aircraft.  It uses that data to determine if it has moved, and how far.  When outdoors it uses this data to augment the GPS for better hovering lock and low altitudes.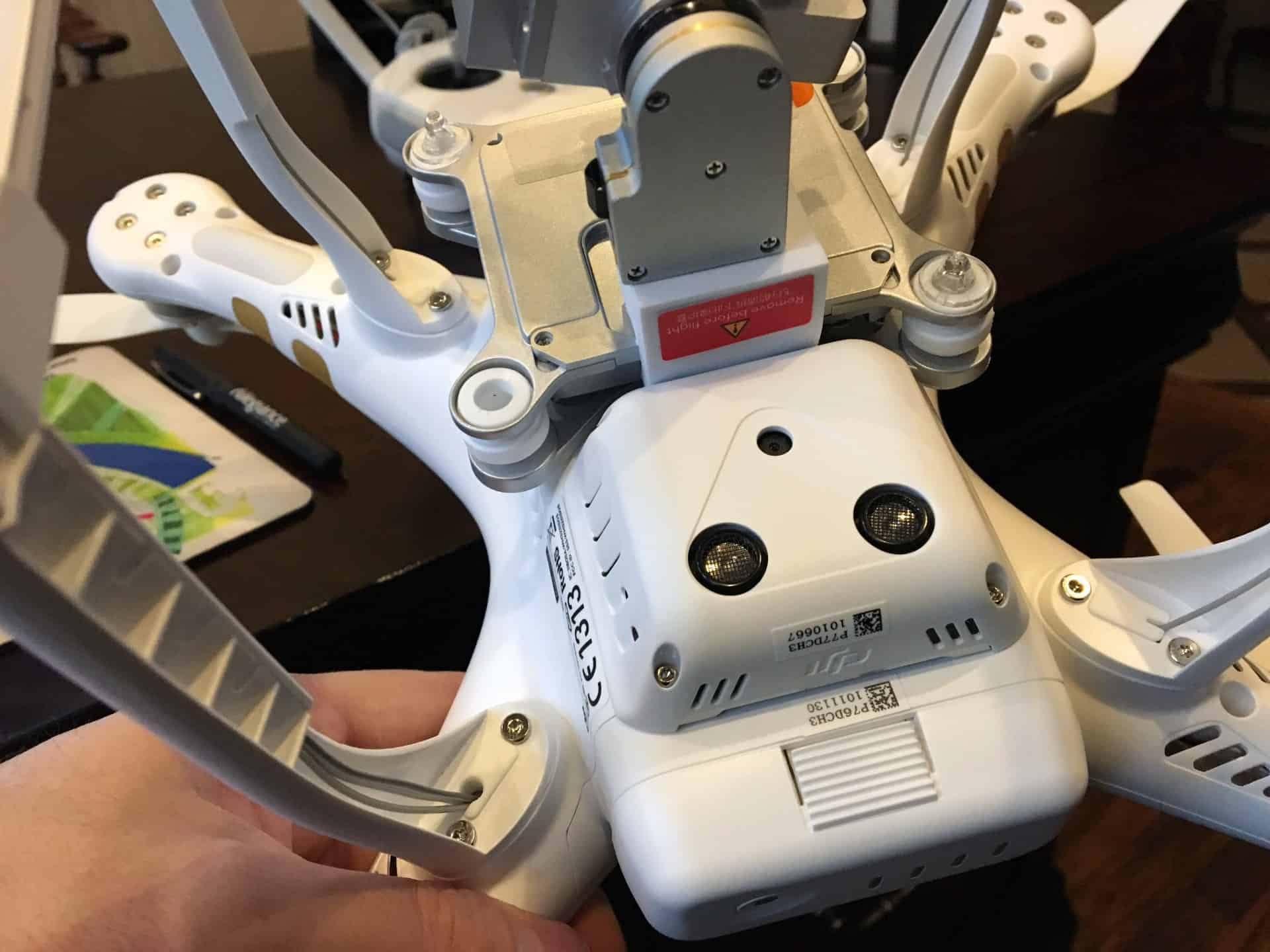 If that wasn't enough, the Advanced and Professional versions of the Phantom 3 also add GLONAS (Russia's GPS system) support in addition to GPS!  This gives the Phantom a whole new set of 29 positioning satellites to listen to in addition to the American GPS array of 31 birds.
I have to tell you, the Phantom 3 is a dream to fly.  It is very responsive, incredibly quick with a top speed of 35 mph and a climb speed of 13 mph.  Don't let those numbers fool you, its almost scary fast when it whizzes by you or takes off full speed.
The Phantom 3's Remote is All New (Sort of)
The Phantom 3's new remote is actually the same remote first introduced on DJI's Inspire 1 aircraft.  It has a charging port on the side and  two USB ports on the back for secondary charging and connecting to your smart phone or tablet (in my case, an iPad Air).  This remote talks to the aircraft via a DJI technology called Lightbridge.  It operates over the 2.4Ghz frequency and transmits all of the aircraft's and operator's data needs up to 3.5 miles away when conditions are good (many owners have reported achieving further distances, although this is extremely risky since the craft will likely not have enough battery to return at those distances; and it also against the new FAA drone regulations to fly without line of sight to the craft).
Your smart device sits in a cradle on top of the remote and securely locked into place. The iOS/Android application called the DJI GO app is fully capable of running the craft, and includes all kinds of waypoint flight maps, video feeds, etc.  I could write a whole article on just the app.  From the app you can also do routine maintenance like firmware upgrades.  During flight, in addition to the 720p video stream (FPV view), the app shows all of your telemetry including distance, altitude, GPS coords, and other fantastic info.
The back of the remote includes many user programable buttons, in addition to camera control, gimbal control, and flight mode control.
The Phantom 3 Professional's Camera is Awesome
When I had the Phantom 2, I had no way of seeing what the drone was seeing.  There was no Lightbridge or FPV available on the craft without adding some third party devices.  However, you could mount a Go-Pro on it and as long as the Go-Pro was in WiFi range you could get some really rudimentary FPV capabilities, but it was so bad I almost never used it.
The camera mounted on the Phantom 3 Professional is a 4K variant.  The Standard and Advanced include a 2.7K camera.  Both shoot 12 MP still images.  With the camera and gimbal included by DJI, and the inclusion of Lightbridge, there's really no comparison.  You're drone can be 2 miles away and you can realtime see what it sees.  It's a literal dream to fly like this.   In fact the only downside is the iPad gets heavy, and there's a lot screen glare outside.  You can of course use your phone and get all the same features in a smaller, lighter weight package.
The quality of the 4K camera is pretty good.  There's some fantastic videos on YouTube in full 4K resolution if you have a 4K playback device such as new iMac or 4K TV to watch them on.  I'm very impressed with the low light performance of the 20mm F/2.8 lens.  I'll post some videos and photos soon.
The camera is permanently mounted to the aircraft on DJI's own gimbal platform, which includes a USB port and MicroSD card slot for storing your photos and videos.  You should be aware that with 4K video you'll need a Class 10 card capable of at least 60 Mb/s in order to record 4K video streams without errors.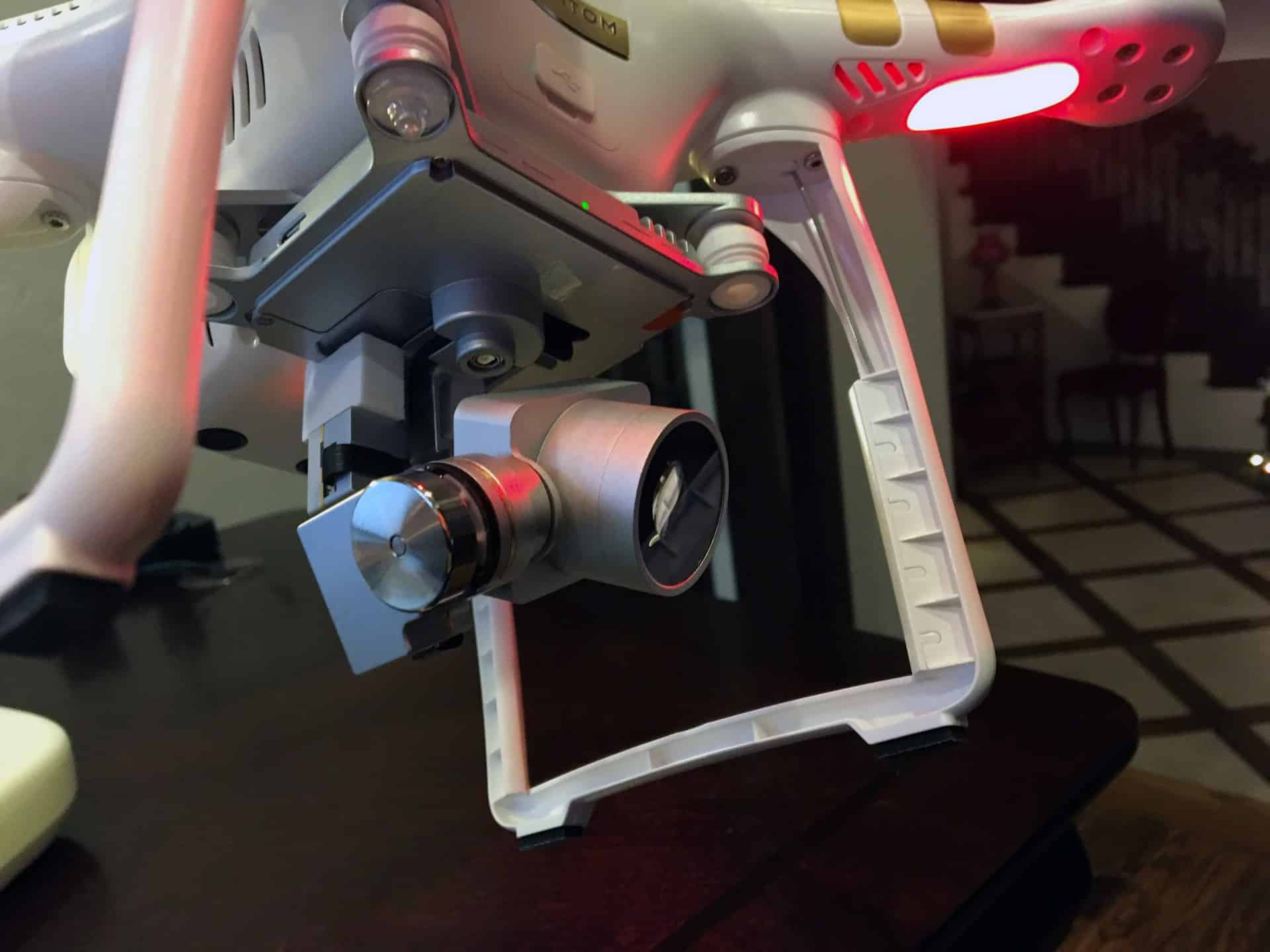 Final Thoughts on the Phantom 3 Professional
I'm sure I will update this article over time as I get more flight hours, footage, and pictures to share.  For now, I think its safe to say that the Phantom 3 Professional is a fantastic multirotor aircraft.  I think you'd be hard pressed to find better features at a similar price point from the competition. As quickly as this market is growing, I expect the Inspire 2 and the Phantom 4 to take even bigger leaps next year.