In this Geek Pub Recommendation we're going to cover what we believe are the best arcade joystick and buttons you can buy. We're going to cover some of the basics of what makes them good or bad, what to look out for, and the different types of arcade controls.
There are probably a few reasons you might be shopping for arcade controls.
You want to build your own arcade.
You have a kit arcade that either came with terrible controls or they just need to be replaced.
You have an original arcade that are you are restoring.
The Different Types of Arcade Controls
Before we cover the best arcade joystick and buttons you can buy, we feel it is important for you to understand the different types of arcade controls on the market. They're not all created equal. Understanding this will help you make a more informed decision.
Sanwa vs. Happ
There are two major manufacturers of arcade controls: Sanwa and Happ. Sanwa is a Japanese company, while Happ is an American company. In fact, this alone may make your decision. If you're restoring an original arcade machine, then you're going to want to use original parts. If you're restoring a Pac-Man arcade, you'll definitely want Sanwa (or at least Sanwa style) controls to go back into it.
But the differences don't just top with the brand name! Indeed these brands design their arcade controls completely different.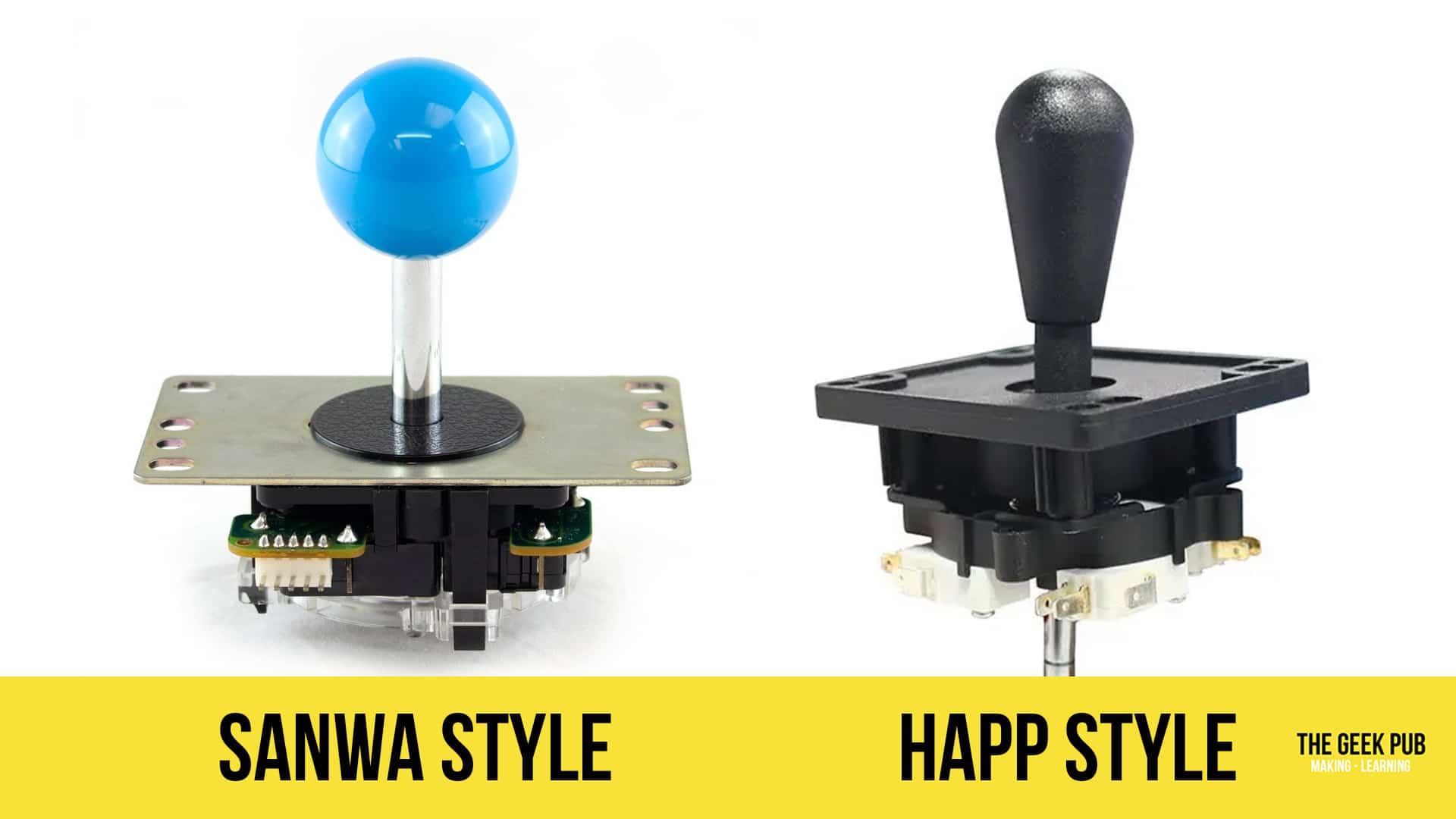 While we much prefer the round ball of the Sanwa joysticks, many believe the bat style of the Happ makes for the best arcade joysticks and buttons! The Happ style sort of resembles and upside down bowling pin!
We prefer the Sanwa style round ball. You can firmly grip the joystick and it is none to easy to let go accidentally. With the Happ style controls it just feels less substantial.
That being said, this is mostly a pure preference thing and you should pick the one you prefer.
Some additional considerations for Sanwa vs Happ
On your quest for the best arcade controls you should also understand some additional things than separate these two brands (or styles when considering 3rd party remakes):
Sanwa controls generally have something called a restrictor gate on the bottom of the joystick. This gate makes finding the correct position of the joystick easier. It creates a pattern and and only allows the joystick to move in to certain positions. This generally makes the diagonal positions simpler to engage.
Restrictor gates can also change the game dynamics by only allowing the joystick to move into certain positions. Shown below are four of the most common types of Sanwa Restrictor Gates.
Types of Sanwa Restrictor Gates
While there are many types of Sanwa restrictor gates, these are the most common.
Sanwa controls are considered to be "looser" than Happ controls. This is somewhat subjective as well, but this mostly comes down to the spring stiffness of the joystick. Something you can change or adjust with aftermarket springs.
Buttons Choices Can Be Important
When looking at these different arcade kits, another very import thing to understand is the differences in the buttons. The buttons are not the same between vendors and should be fully vetted.
The Best Arcade Joysticks and Buttons have LED Lighting!
This might surprise you , but not all buttons have LED lights embedded in them! In fact, this is true going back to even the original arcade machines. LED lit buttons took a while to catch on. If you are restoring an original arcade machine you'll have to decide if you want to use lit buttons. Especially if the original machine did not have lit buttons!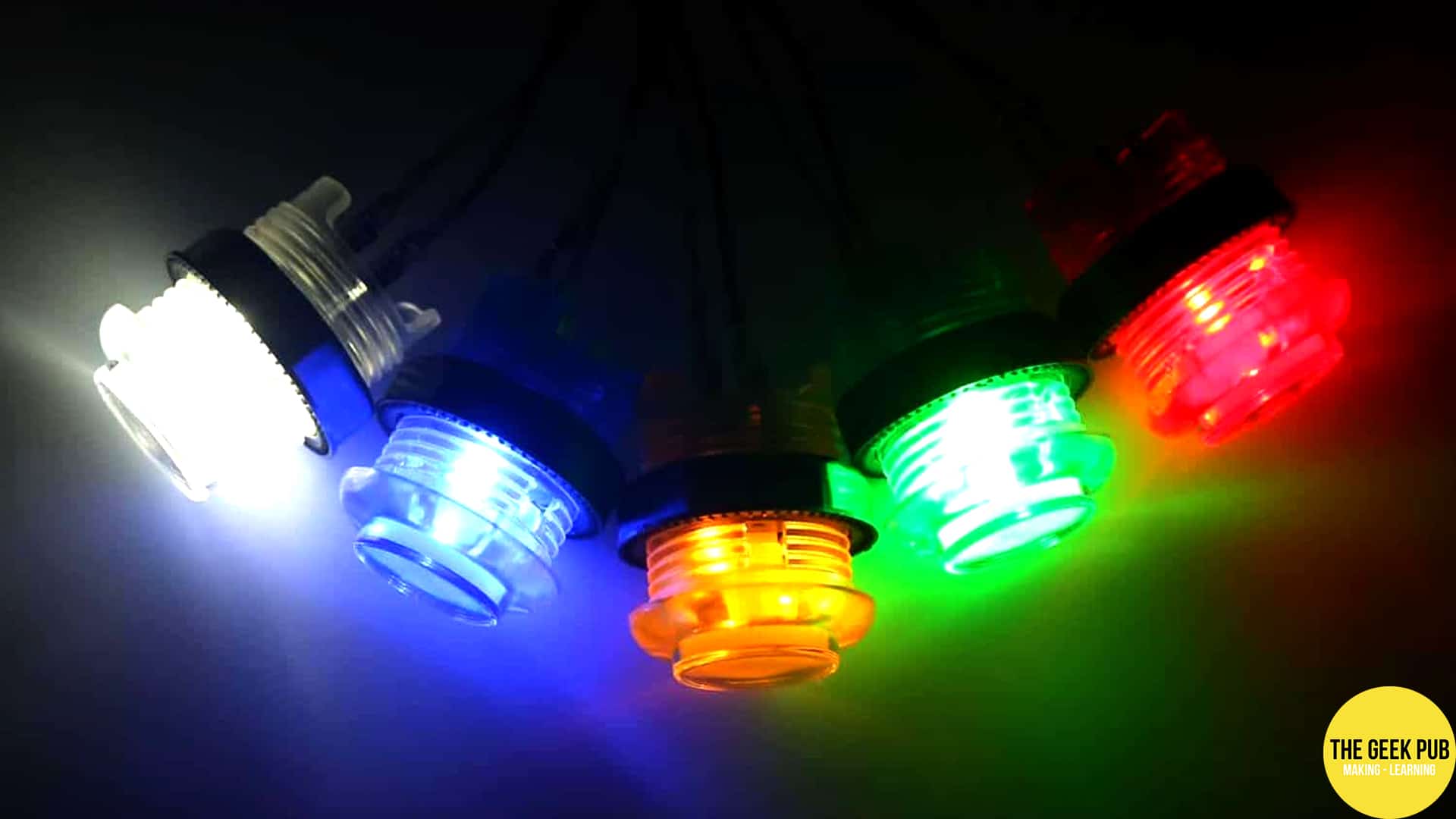 If you chose to go with LED lit buttons, you'll of course need to power them. If its a retrofit to an original arcade, this will likely mean adding or finding an existing 5V power source inside the arcade. For a custom built arcade, most controller kits come with a USB controller board that will offer a couple of 5V pins for powering your LEDs!
Button Cap Shape
Another thing to consider between different kits is the button's cap shape. Sanwa tends to be rounded over, while the Happ tends to be sunken in. This difference in shape can really bug some people from a tactile and sense perspective. However, at the end of the day this is just a personal preference as either button will perform equally regardless of cap shape.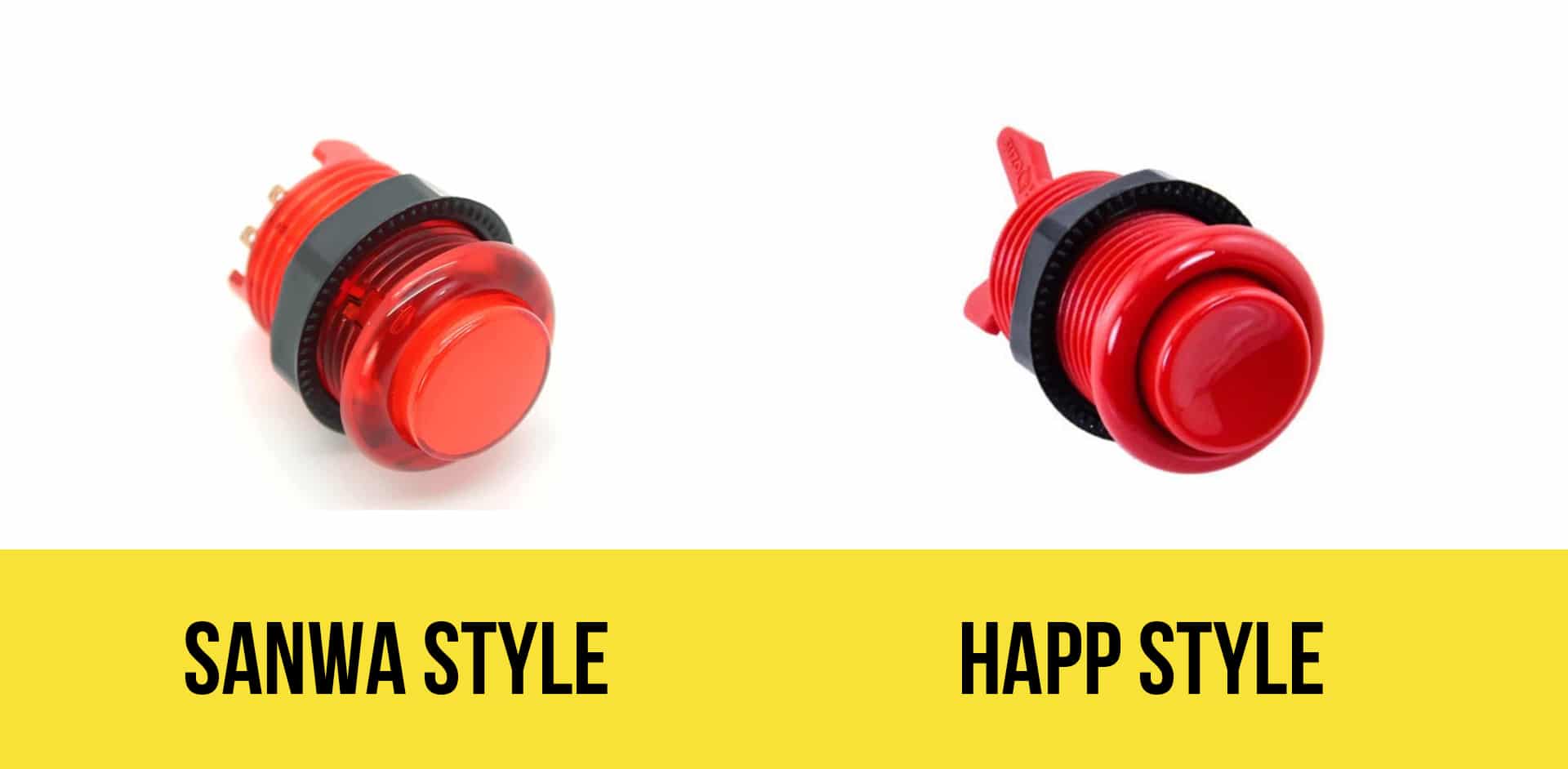 Removable Button Caps
Another key feature in these buttons is the ability to remove the button caps. This may not sound like a big deal, but it really is. Unless your arcade control panel has the button labels silkscreened on it, you'll want to be able to remove the button caps so that you can place labels or artwork inside them. This is especially beneficial for LED backlit buttons.
With removable button caps you can add all kinds of information, such as Player 1/2 select, coin, and fire!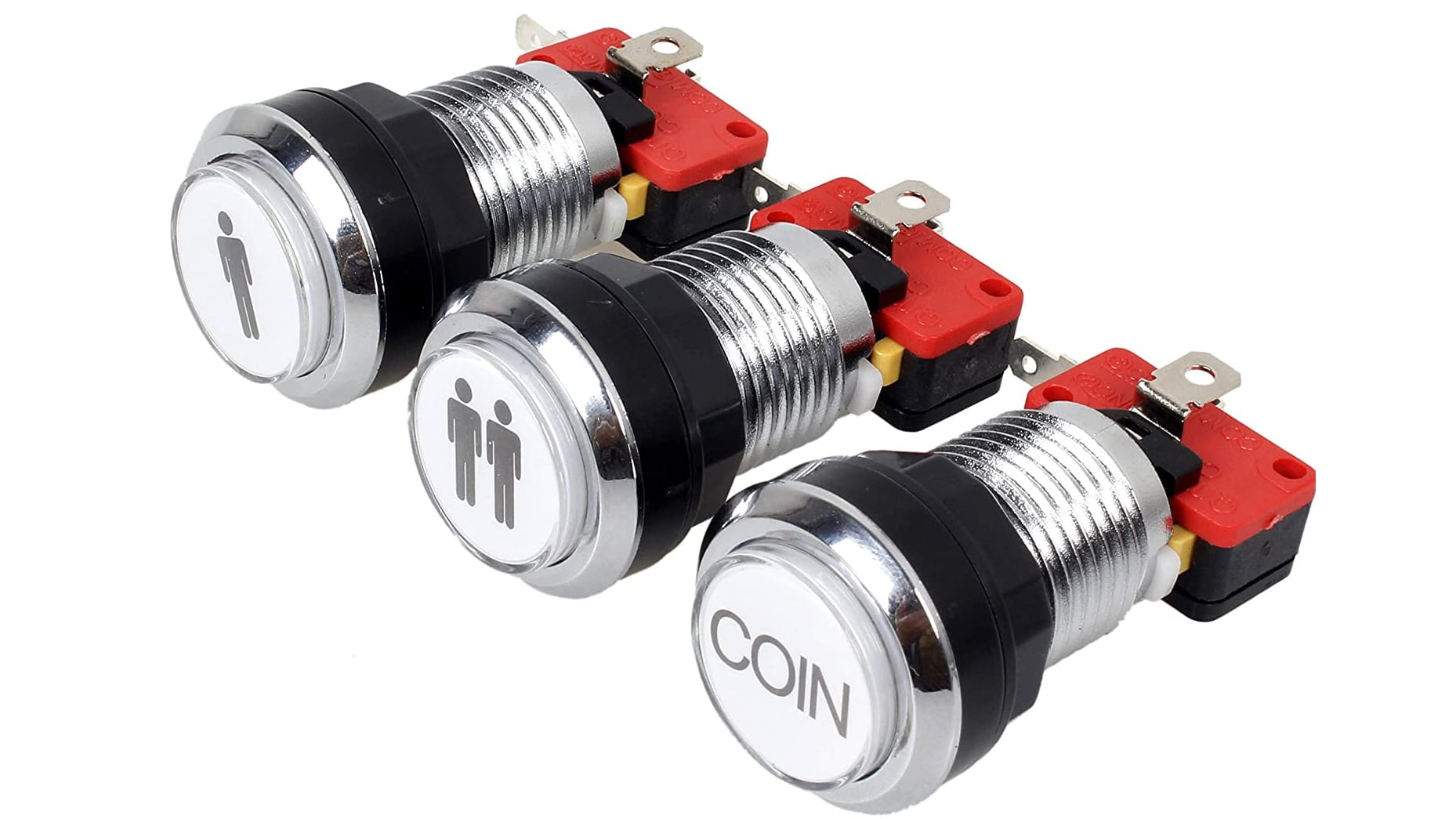 So now that you know what to look for, let's break down our picks for the best arcade joystick and buttons!
Pick #1: Geek Pub Arcade Controller Kits
Of course, we believe the best pick for arcade controls are our own kits. We wouldn't sell them if we didn't believe in them. We're not some invisible foreign seller on Amazon! When combined with our awesome arcade plans, you've got an end to end solution for building your new arcade.
High quality components and craftsmanship
Removable button caps w/LED backlighting
Geek Pub Zero-Delay USB encoder boards with dual 5V LED connections
Geek Pub PRO STIX arcade joysticks
You won't find a higher quality set. We promise you that.
LINK: The Geek Pub Arcade Joysticks and Buttons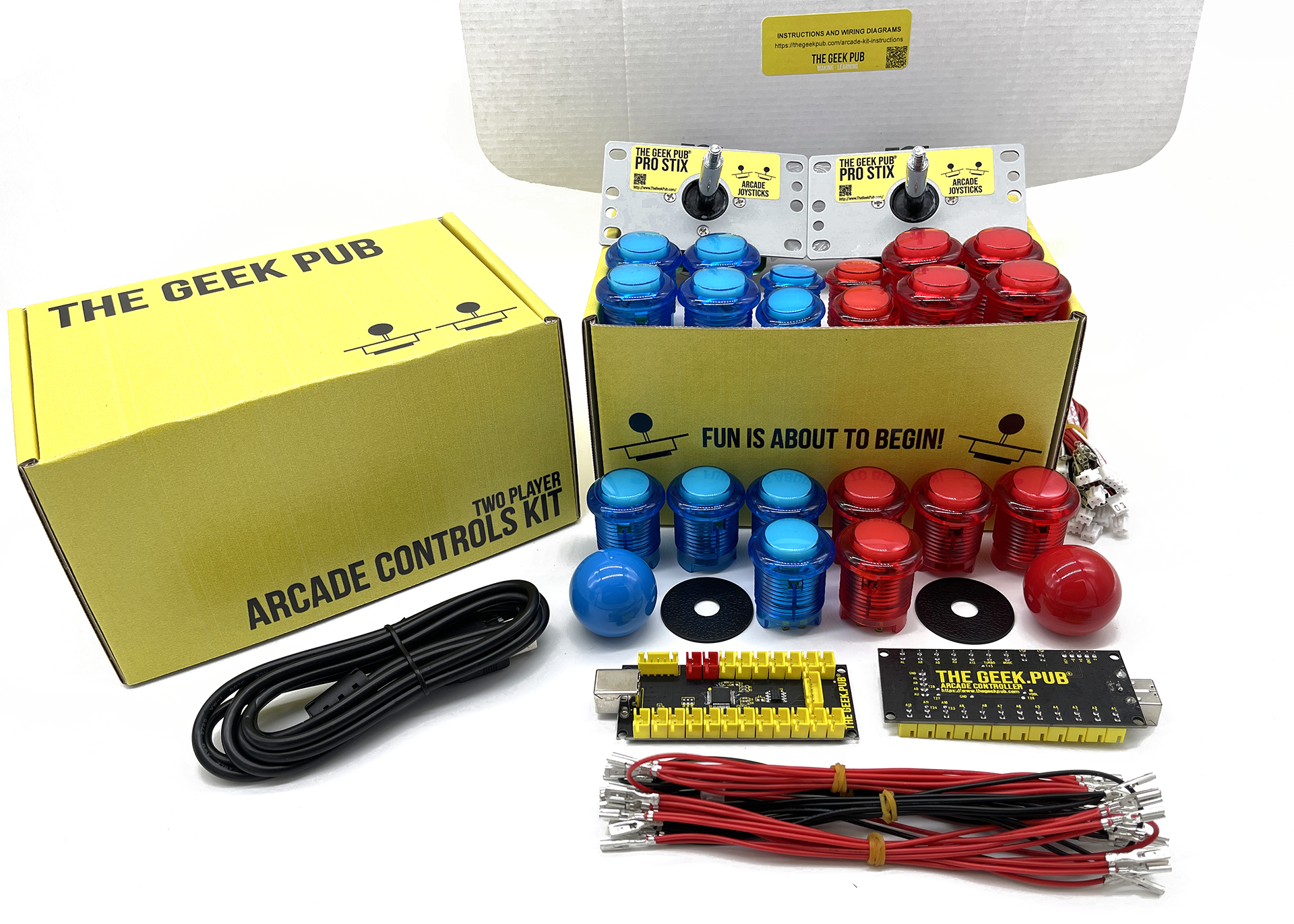 Pick #2: EasyGet Arcade Kits from Amy Happy Mall
We understand that sometimes money can be a deciding factor in purchasing something. If you're looking for decent quality from "brown box" seller, we've bought several of these over the years and they seem to be good quality.
LINK: Amy Kits on Amazon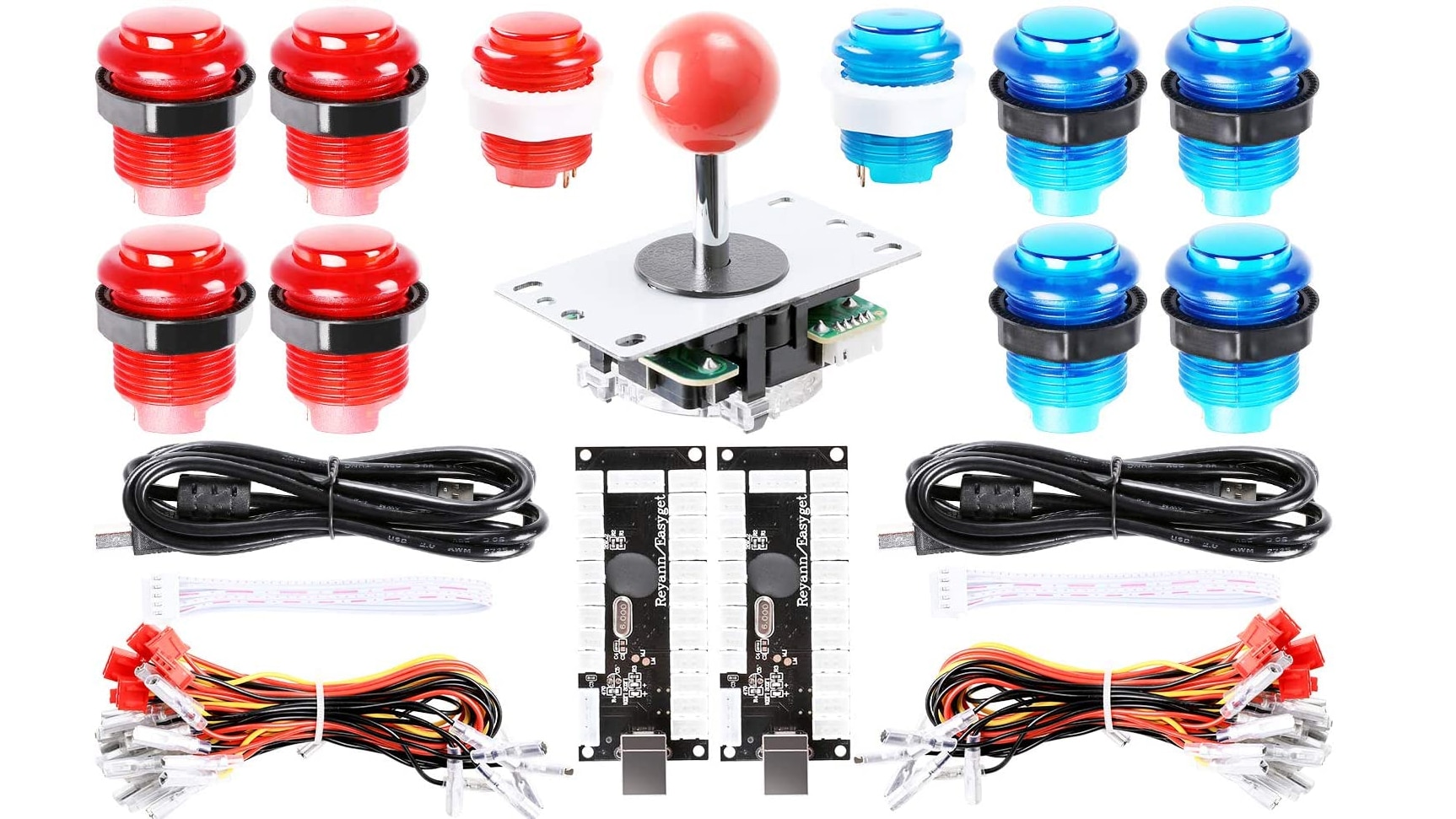 Pick #4: Happ-like Kit from EG Starts
If you're looking for a Happ style kit, they're a little more difficult to find. Fortunately there is company selling a good quality reproduction on the web called EG Starts. These kits are adjustable from 4-way to 8-way controls for different games and come with good quality encoders. About the only things we find disappointing with these: The bats are not replaceable when they wear out and the button caps are not removeable.
LINK: EG Starts Happ-like Kit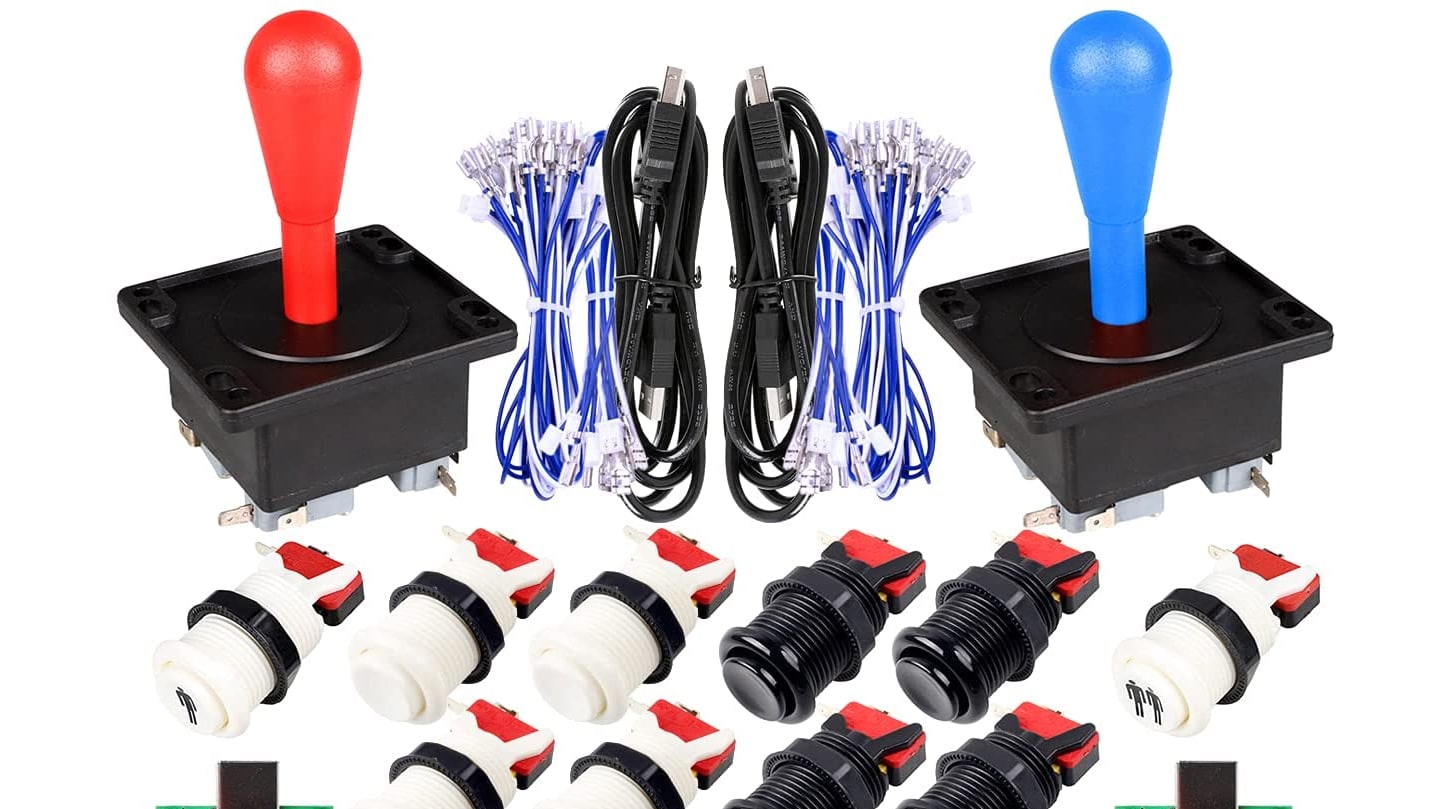 Leave a comment below if you have any questions about the best arcade joysticks and buttons and we'll do our best to give you an answer!