Pac-Man is the legend in arcades.  One of the very first video games to rock the arcade sphere.  Pac-Man is an icon.  As a kid I played Pac-Man like crazy.  I watched the Pac-Man cartoon on Saturday morning TV, and yes: I had a Pac-Man poster on my wall as a kid.  Does that count as Pac-Man wall art? Nope!
As many of you that follow me know, one of my recent projects was a full-size retro arcade cabinet running MAME, which of course, plays Pac-Man. I themed the arcade cabinet sides with Space Invaders, but the front of the cabinet was themed with Pac-Man!  So what better to decorate the wall above the arcade cabinet than with some Pac-Man Wall Art!  And although I could make this on the bandsaw, I have a new tool I wanted to try.
Download the Pac-Man Wall Art Plans Here!
Pac-Man Wall Art Design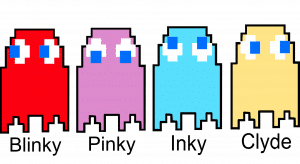 I got my Pac-Man wall art designs by searching Google Images.  None of them were perfect, so I loaded them into Adobe Illustrator and modified them.  I then exported them to SVG files.  SVG files are vector based and allow you to scale an object without losing quality.  The drawing is based on math, rather than pixels. I created two separate files, a Pac-Man SVG, and Ghosts SVG.  From there, I simply imported my drawings into Easel at the Inventables web site.  I've provide my complete SVG files for download (attached to this article).  Here's the link to the Easel files at Inventables.
Cutting Pac-Man Wall Art on the X-Carve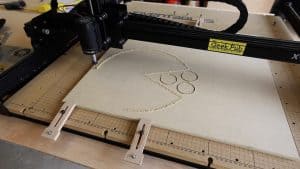 Inventables recently sent me an X-Carve and I thought this would be a great project to allow me to get familiar with the machine, yet not be too complex.  It turned out to be perfect and allowed me to really dial in some of the calibration of the machine (feed rates, belt tensions, etc).  I'll have a hole review of the X-Carve in another article.  For those of you who don't know, the X-Carve is a CNC machine, or 3D router.  It's controlled by a software program on your computer.  You load in or create the design right in software and the X-Carve does the cutting for you.  It allows for some very complex and intricate cuts.  I made my Pac-Man about 14″ X 14″ and my ghosts about 10″ X 14″.  You can make you're literally any size you'd like by dragging any corner of the SVG to fit your needs.
Some of you are probably looking at this project and saying that you could cut Pac-Man and some Ghosts out on the bandsaw.  You most certainly could.  In fact it might even be faster.  But of course that depends on a lot of things.  You'd have to be very skilled to get the lines as straight.  I made they eyes on the ghosts 3D (they sink in about 1/8 inch.  The X-Carve and the CNC movement makes for some very interesting options.  And yes, I'm well aware that hardcore woodworkers don't think CNC is real woodworking.  I'm also aware that some "real" woodworkers won't use a table saw or drill press either, so they'll get over it.  (Funny enough I consider myself a maker, woodworking is just one type of making.)
Painting and Hanging the Pac-Man Wall Art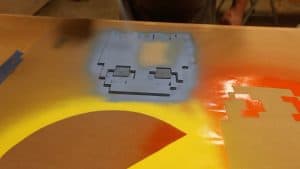 The first thing to do to have the Pac-Man wall art is to decide where you want to put it.  Once you figure that out you're going to want to make sure it stays level.  I accomplished this by using a level and applying a strip of masking tape to the wall.  Then I mounted the Pac-Man wall art using the edge of the masking tape as a guide.  Originally I was going to have Pac-Man, three pellets, and all four ghosts (Blinky, Pinky, Inky, and Clyde).  However, after looking at the place I wanted to put it, I decided to only go with two ghosts.  I chose Inky and Clyde.
I painted Inky Cyan, and Clyde orange.  Of course, Pac-Man was painted yellow.  Because our walls are basically off-white, I didn't feel like white pellets would stand out enough, so I made them black instead.  I also made the eyes of the ghosts black as well, because I didn't have any blue paint.  The whites of the ghosts eyes will be the wall behind them, as they are cut all the way through.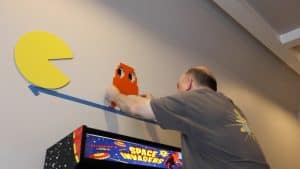 To mount them on the wall, I decided to go with something semi-permanent because we may re-organize our game room at some point and I didn't want to have to deal with holes in the wall.  The Pac-Man wall art weighs almost nothing and this allowed me to hang it using simple double sided tape.  And that worked perfectly.
I used a second strip of masking tape to line up the three pellets between the ghosts and Pac-Man.  And that's all there is to making Pac-Man wall art.  Don't be afraid to cut these out with a jigsaw or hand saw if you don't have an X-Carve.  The X-Carve just makes it easier.