How to make Bacon Wrapped Jalapeños on The Big Green Egg
Several years ago I tinkered with the idea of making a grilling channel.  A channel all about the art of outdoor cooking!  This was the pilot (and only episode ever made).  I was going to delete this video, but then thought what the heck, I'm going to share it with my Geek Pub audience!  It is about "making stuff" after all!  I do enjoy cooking on the grill.  Especially my Big Green Egg.
If you're not familiar the the Big Green Egg, it is a lump charcoal fired ceramic cooker.  It's a fantastic cooking experience.  The ceramic holds heat in extremely well and keeps what you are cooking from drying out.  The lump charcoal adds a delicious flavoring to the food, and you can also add wood chips of your choice (pecan, applewood, etc).
How to make Bacon Wrapped Jalapenos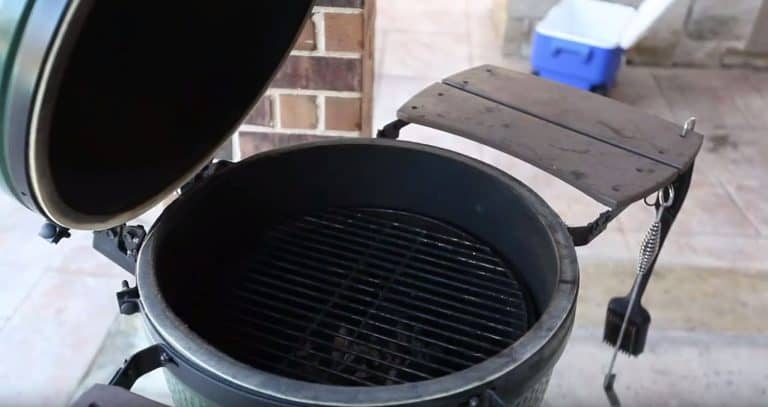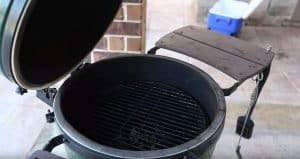 You don't need a Big Green Egg to make these Bacon Wrapped Jalapenos.  They won't have the smokey flavor and the bacon and cheese might not stay as moist, but you can certainly use a gas fired grill.  A metal charcoal grill will also work pretty good.  One thing that does make a big difference is a properly seasoned grill.  It takes a while for a brand new one to get really nice and seasoned.  So just work at it for a while and you'll be fine.  Bacon grease gets all over everything though.  So you may have to clean the air vents on top occasionally to keep it working easily.
Let's Talk about Stuffing the Jalapenos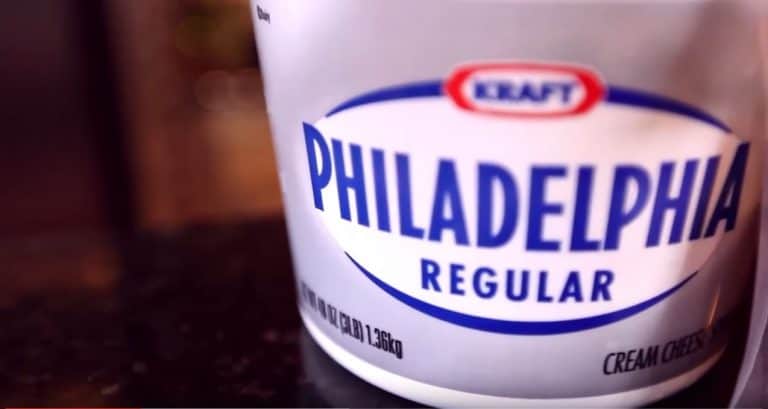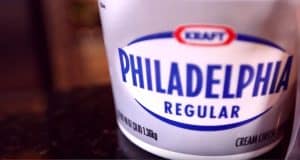 I prefer to use Philadelphia Cream Cheese.  I've stuffed them with just about everything imaginable over the years but nothing tastes as good to me as the cream cheese.  And don't use the light version.  It doesn't cook right.  I've had good luck with Cheddar and Gouda cheeses.  I've also stuffed them with chicken and sausage before.  Those turned out quite delicious.  In fact, when stuffing them with meat instead of cheese they make a great meal on their own.  You can of course do seafood to.  I've stuff them with shrimp and crab before.  Someone once told me to try stuffing them with crab cake, but I haven't tried that yet.  Sounds delicious though!  How hot these are depend on how much of the veins and seeds you decide to remove.  Some people like to mix the seeds back into the cream cheese to make them extra hot.  I don't do that on my Jalapenos.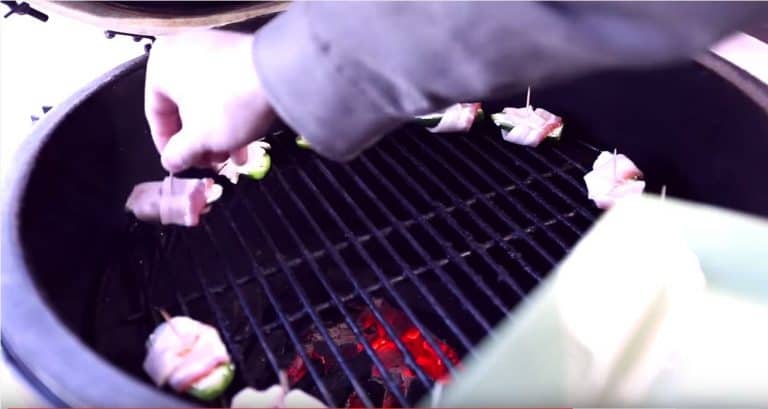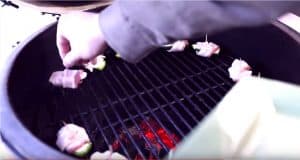 Regardless of what you stuff them with, and what grill you decide to use, you should think about temperature and placement inside the grill.  Direct heat has a tendency to burn the bottoms before the tops of them are done.  Being as the nature of these little poppers, you can't turn them over to cook the top (like a burger patty or hot dog).  This means you need to cook them on a little lower temperature and keep them out of the direct heat.  Placing them on a secondary rack, or at the edges of the grill seems to work well.  The Big Green Egg is awesome at having a uniform heat throughout the grill, but even it needs a little trial and error to find the best spot.  I use a secondary upper grate to cook mine on now (not shown in the video).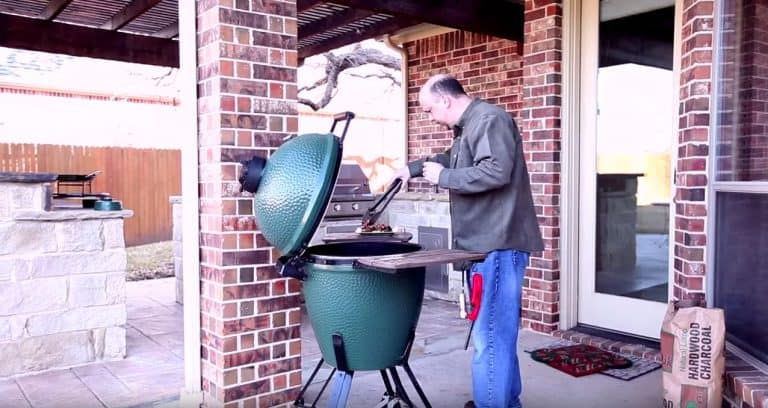 Well that's really all there is to making these guys.  I let them cook at about 375 degrees for about 25 to 30 minutes (again indirect heat, they will cook faster on direct, but not evenly).  Be sure to leave me some comments below on your versions of these guys and let me know what your favorite stuffing is!