The arcade is coming along nicely.  Yep.  That's right.  It's sitting in my garage collecting some dust!  I ordered the graphic decals over two weeks ago and they still have not arrived.  That's why you've not yet seen part 3 of the video.  In the meantime I'm putting out some smaller projects that my wife has asked me to do ever since we moved into our new home.  The latest project being the silverware organizer.  That was a quick and fun little project.  I don't normally make stuff like that so it was kind of refreshing to do.
Arcades? What about R2D2?
I'm still working on figuring out the logistics of the R2D2 build.  I've got a lot of ideas for it.  I'm planning to make a bunch of the components for him on the X-Carve by Inventables.  The best idea I've come up with so far is to use the motors from electric scooters.  This way I can make it go really fast!   But even that comes with a struggle.  The way R2D2 sits, he's not very stable at high speeds.  I'll need to somehow weight him down at the bottom to keep him stable passed a certain speed. More to come on that, and I'd love any ideas you have!
The Arcade Graphics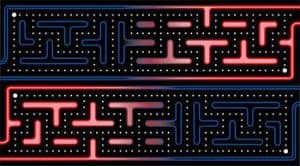 For better or worse, I ordered my graphics from a company that specializes in arcade graphics.  However, I've not yet received them.  So in the meantime, let's tale about what I've decided to do.  First of all, all of the original graphics are copyrighted by the original software makers.  So getting a hold of them is difficult and costs a small fortune.  And because of this print shops will refuse to print them unless you modify them to make them generic.  For example, change Pac-Man to Puc-Man or something.
The good news is that I have found several companies who have done just that.  For the front of my arcade I am going to use this maze graphic to the right.  It's cool, reminiscent of Pac-Man, but not blocked by the "copyright trolls"!


For the lighted marquee, I am going to use my The Geek Pub logo on the standard yellow background.  I think that will look pretty sweet when lit from behind with some LED lights.  That was my wife's idea.  She loves to rock The Geek Pub.  I need to get some shirts made!
For the sides, I am using some retro graphics reminiscent of Galaga.  You'll have to wait for the Part 3 video to see those!
What else is going on around the shop?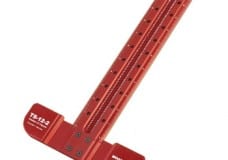 I recently bought a Woodpecker's 24″ T-Square.  I have to tell you.  I love this thing!  Where have you been all my life?  The truth is, it's crazy expensive.  It was over $100 for the 24″ version.  But, talk about a dream to use!  This thing is made out of anodized aluminum.  It's factory calibrated and shipped strapped to a sheet of MDF.  It's a beast.  And it is accurate.  I'd recommend this thing to anyone doing woodworking or plastic working.  It will bring your accuracy to a whole new level, and that's a great thing when woodworking!
I do still have a lot of outstanding projects for the shop itself.  I still haven't setup the dust collection, or finished my cabinets.  I need to make a lot of hangers for my french cleats.  I just have so many things I'd rather do than make those things.  But I'll be doing them pretty soon.  Stick around for more!
Let's Make Stuff!  – Mike