Having a soldering station is almost mandatory for today's home electronics enthusiasts. A soldering station will raise your speed and accuracy leaps and bounds over a standard soldering iron. So the question is which one to buy? Well, we're going to review the best soldering stations of 2022!
WHAT ARE THE BEST SOLDERING STATIONS?
If you want to skip all the rest and just get right to it? Our pick of the best soldering stations for most home hobbyists is the Weller WE1010NA. It hits the sweet spot of price and performance for most users.
Let's take just a second to review why a soldering station is an important tool for your workshop and why selecting a quality one will make your projects easier and more reliable.
A standard soldering iron is generally powered by 120V to 220V AC mains power. The iron has a set temperature range that it holds within and has basically no other features. Depending on the quality of the iron, that temperature range can vary significantly. Some super cheap soldering irons do not even offer replaceable tips! When tip fails you have to toss the whole iron.
A soldering station should have several features to make your solder joints more reliable and the process of soldering smoother.
They should offer at least the following features:
VARIABLE TEMPERATURE CONTROLS
The best soldering stations will have a very accurate temperature control for adjusting the tip's temperature. It should also have a temperature stability rating of ±4⁰f (±2⁰c), if not better. While a typical stand-alone soldering iron might take three to five minutes to come up to temperature, a quality soldering station should come up to temperature in just about 30 seconds.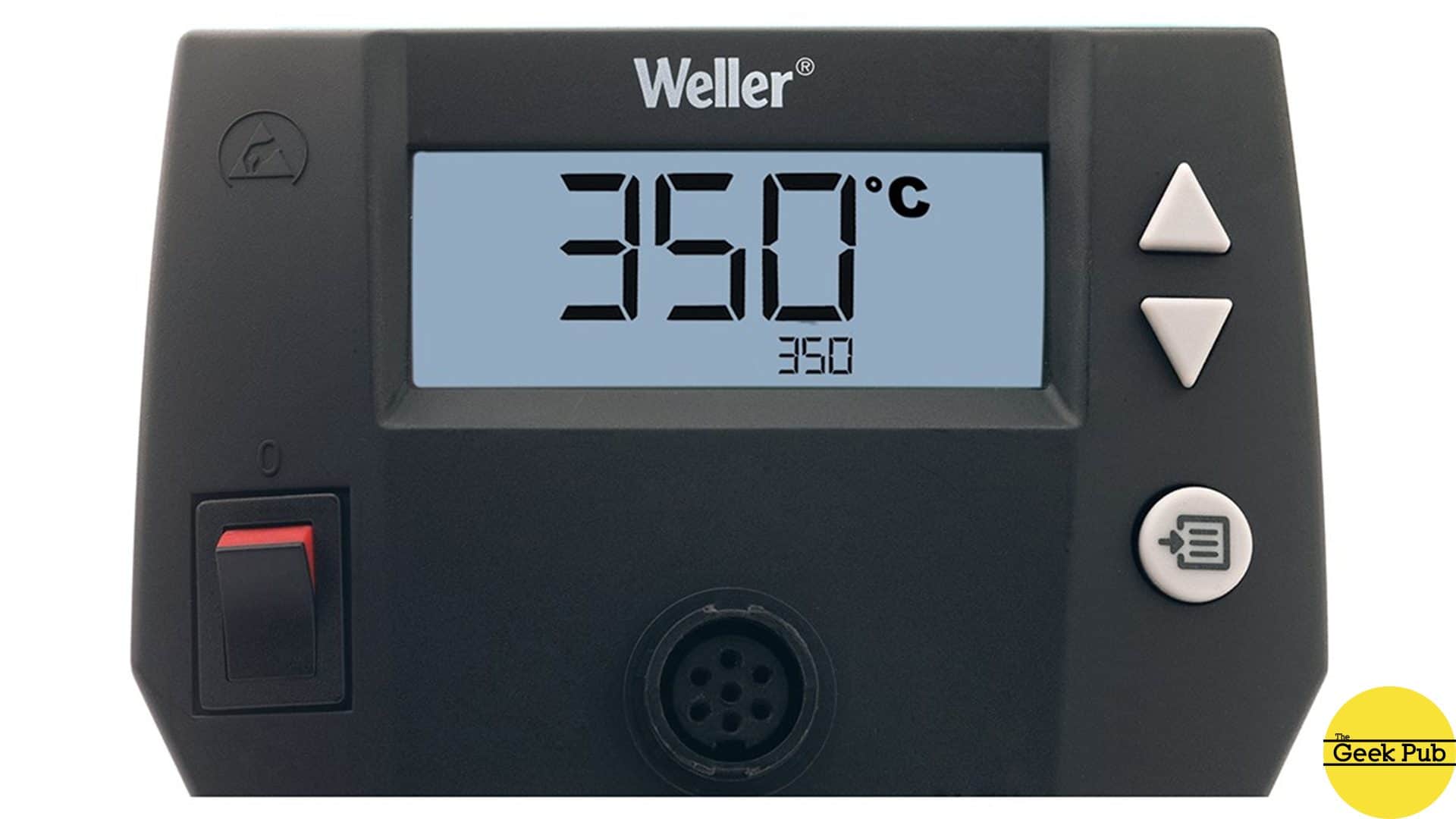 REPLACEABLE IRONS WITH INTERCHANGEABLE TIPS
If you're going spend your hard earned money on a soldering station, make sure it has replaceable irons and interchangeable soldering tips. Things fail, mistakes happen. If you accidentally burn the cord on your iron (or it gets chewed up by your pet!), you'll want to be able to replace it without buying the main body of the station all over again.
A big plus is if the heating element of the station can be replace independently of the iron.
You'll also want interchangeable tips on your iron. Different sizes and shapes of tips can really speed up certain types of soldering joints and connections. Being able to size the tip up or down for the size of the soldering pads on your circuit board is also a huge advantage!
A CRADLE FOR THE HOT IRON WITH A CLEANING SPONGE
The last thing you'll want from the best soldering stations is a good cradle to hold your hot iron. Irons get hot. Really hot. It needs a safe place to rest when you are between soldering operations. A good cradle will also include a spot to keep a sponge. This sponge is for cleaning excess solder from your iron from time to time. You'll want to make sure its heavy enough to stay stable and not tip over.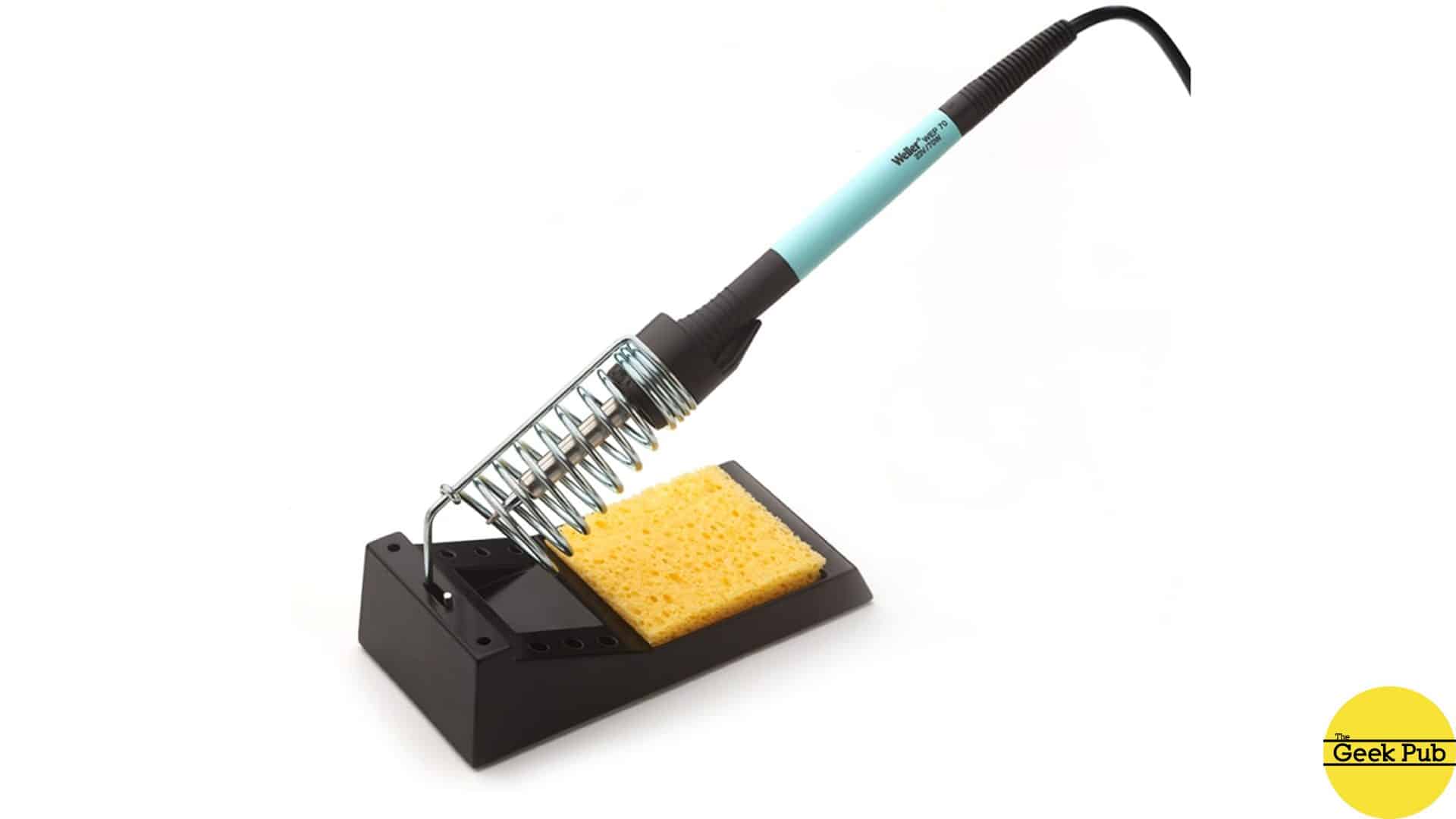 THE BEST SOLDERING STATIONS
Now let's list off our top three soldering stations. After the reading our list, you can read on below where we will step through what is important when buying a soldering station and why we made the choices we did!
#1 – WELLER WE1010NA SOLDERING STATION
Our first choice for the best soldering station in 2022 is still the Weller WE1010NA. It's still not perfect, but it fits that price performance range we look for our #1 spot. Perfect costs significantly more! It's got all the right features and specifications and won't break the bank.

The Weller WE1010NA is a fantastic soldering station. I've been using the previous generation of this station for going on three years and it's served me very well. This new version has some pretty serious upgrades. It's got a much larger backlit LCD screen, and the overall form factor of the case has been significantly reduced in size.
The station has a powerful 70 watt specification to make keeping up with heat demand more than acceptable. It has an intelligent stand-by mode to save you some electricity when your solder joints take a little longer than you'd want but not long enough to turn the iron off. The iron is affordable, well built and highly reliable.
In fact there's only one thing we don't like about this soldering station. It doesn't have a replaceable fuse, or a fuse at all as far as we can tell. So if any shorts or power spikes come along, there is nothing to protect the boards from damage.
WHAT WE LOVED
70 watt capable
Large screen
Well constructed
Price right
Great warranty
WHAT COULD BE BETTER
Lack of a replaceable fuse
No preset buttons
#2 – X-TRONIX 5040-XR3 Soldering System

Our second choice for the best soldering station is the X-Tronic 5040-XR3! Let's be clear. If you're just looking for good, reliable, featured soldering station, go back to our #1 choice. The 5040-XR-3 is a beast of a station that offers some amazing features, but it might also break your bank account tipping in at just under $250.
The 5040-XR3 is just a standard soldering station, but also an all-in-one hot air rework station for working with SMD (surface mount) components:
70W Soldering Iron
500W Hot Air Gun
700W Preheating Station
If you're looking for the station that can do it all, this is the one!
WHAT WE LOVED
Lots of features
Plug and play
Assortment of tips and nozzles
Magnifying glass included
Fantastic warranty
WHAT COULD BE BETTER
Expensive
Did we say expensive?
#3 – HAKKO FX888D Soldering Station

We really like the Hakko FX888D. It's a super solid soldering station, even if it looks like it belongs on the Fisher Price section of your local big box store. Looks aside, it has all of the great features you'd want in a soldering station at an affordable price.
Unlike the Weller, this unit does have a fuse. However, unlike the Weller, it has a clunky system for setting the temperature. We much preferred the temperature knob. Thankfully, they included 5 presets to make it simper when switching between common soldering temperatures.
We did very much appreciate the inclusion of a separate wire sponge in addition to the foam sponge on the iron holder.
WHAT WE LOVED
Clear screen
Longer than average iron cord
5 presets
Wire sponge
Good warranty
WHAT COULD BE BETTER
Cheap plastic design
Would prefer a real temperature knob, instead of the button menu
#4 – WELLER WLC100 Soldering Station

Our 4th and final choice as usual is the budget choice. If you just need a solid soldering station to get you buy and you need to save some cash, this is the unit. It's not packed with features, but it does the job. It's the Weller WLC100.
This Weller WLC100 is a no frills soldering station, but the price is right at the sub $30 mark! While the iron doesn't have a temperature display or even any sort of feedback, it does have a variable temperature know that moves the iron between its lowest setting of 5 watts to its high setting at 40 watts.
Unlike most irons in the price range, there are a few things to love. One of them is that the heating element is interchangeable, meaning you can replace it without replacing the entire iron in a failure. That's solid. The iron is also compatible with ST style tips, a plus on its own.
WHAT WE LOVED
Very affordable
Replaceable heating element
ST tips
Solid warranty!
WHAT COULD BE BETTER
No temperature feedback
Only 40 watts
THE GEEK PUB SOLDERING STATION FAQ
Let's quickly cover some of the most common questions about soldering stations:
Q: Are the irons interchangeable between stations?
A: No. Irons have different specifications, connectors, and wattage. You can only use the iron designed for your station.
Q: Is it really necessary to have a temperature read out?
A: Necessary? No. Desirable. Absolutely. If you need to set your iron to specific temperature for an operation without a feedback display you'll mostly be guessing. Too cold and you might get a bad joint. Too hot and you might melt a nearby component or plastics.
Q: I head the Weller WE1010NA's lack of fuse makes it a fire hazard.
A: We agree that the lack of user replaceable fuses on the Weller 1010NA is a big miss. In fact, it almost lost them the top slot on our list. However, it is important to note that all three major international testing agencies approved this unit without a fuse. It has passed the test of UL, CE, and VDE approvals. The main issue here is that if the iron is plugged into a 220v outlet it could catch fire. This is only a real problem if you move from the US to another country and forget to use a step down transformer. I suspect the testing agencies and Weller expect that to be an incredibly tiny chance and unnecessary cost. That said, if we were Weller, we'd have put in a 10 cent fuse.
Q: Do any of these stations offer de-soldering?
A: No, if you're looking for a de-soldering iron we absolutely recommend the Hakko de-soldering gun. We use it every day and you can't go wrong.