Recently on a road trip from Fort Worth Texas to Tulia Texas we passed these massive satellite dishes near Vernon Texas.  These things are absolutely massive.  What struck me as odd is the location of these dishes.  I mean honestly, if I'd seen these in Dallas, TX I would just have driven on and never thought about it. But my mind asked the following questions almost immediately "What need is there for a giant satellite dish (actually multiple) in Vernon, TX??? In the absolute middle of nowhere!?"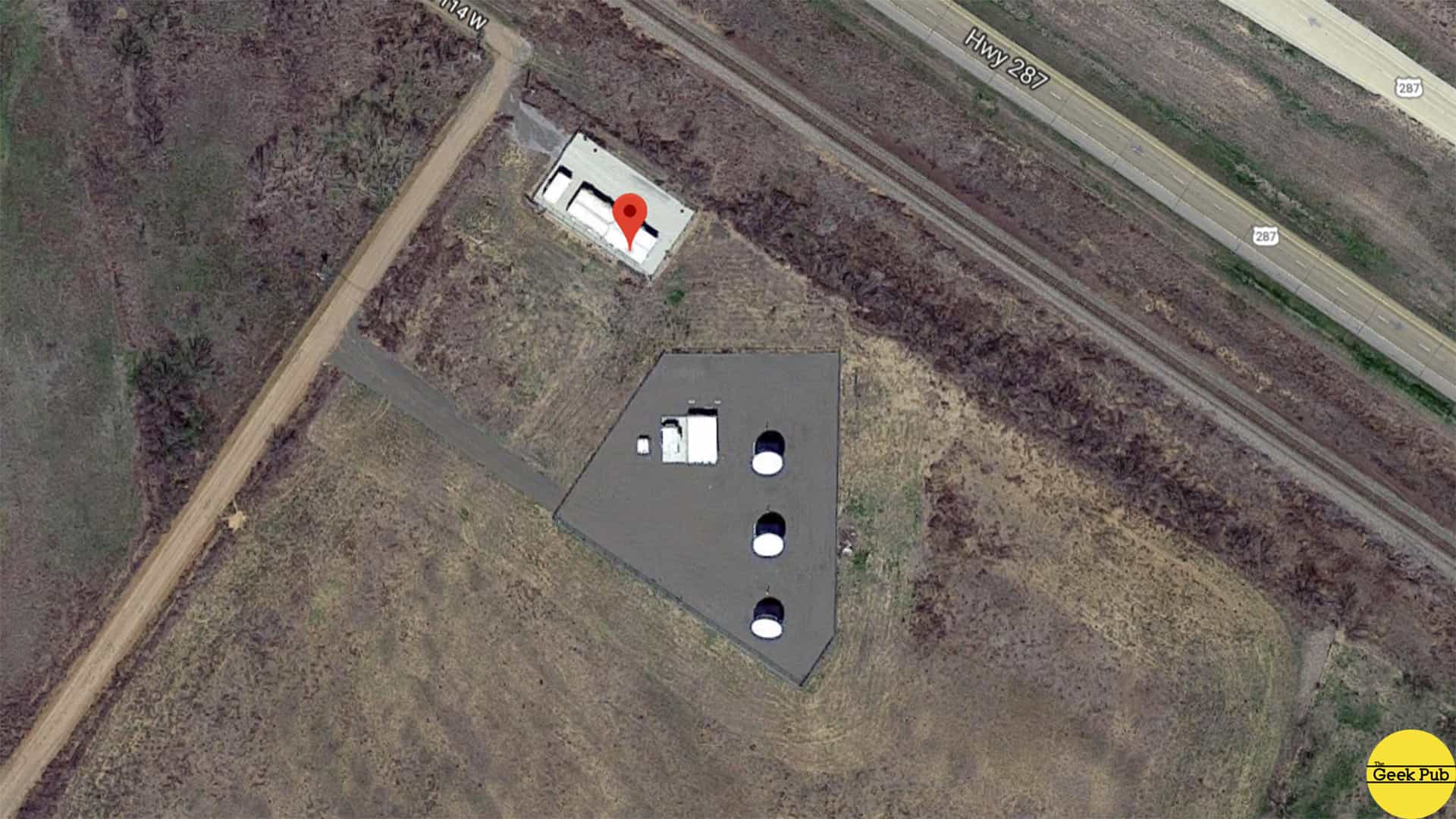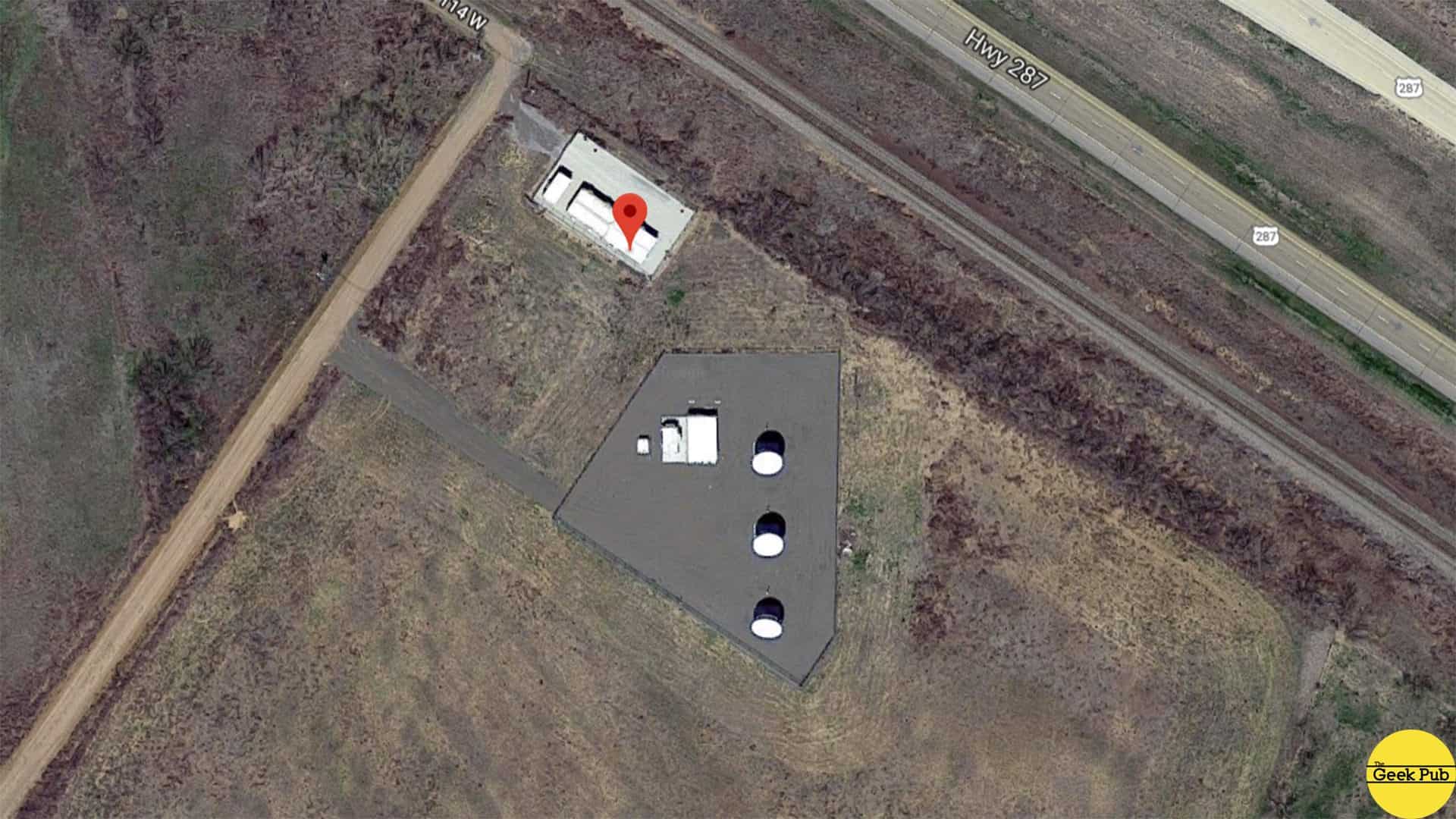 Now I don't mean to belittle Vernon Texas or Wilbarger County. I'm sure its a fantastic little Texas town.  My point is only that such small town shouldn't need such major connectivity.  Since the BNSF railway runs through Vernon, it also means that a lot of fiber for Internet connectivity runs through the town.  Another reason the town wouldn't need satellite Internet.  Remember, the latency on satellite communications is much larger than ground based do the the speed of light and the distance it must travel.
Interestingly enough you can also see that a fourth dish has been added (as seen on the street view) that's not yet available on the overhead aerial views.
What are these Huge Satellite Dishes near Vernon Texas?
A few days after I had gotten home I remembered them and decided to to a little google-fu. At first I couldn't find out anything about them whatsoever. That was a little surprising. Indeed, even the street they are located on is an unnamed road.  The mystery deepens!  The more someone doesn't want me to know something, the more likely I am to keep digging until I find out.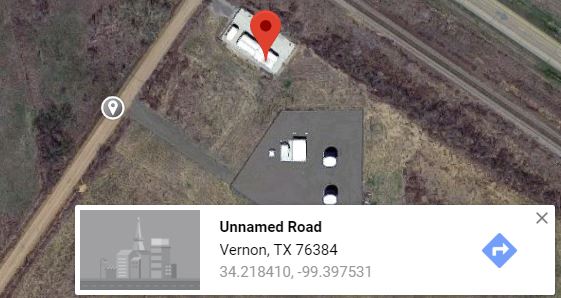 I had a really hard time even finding who owned the property since I couldn't get an address.
I finally decided to go the Wilbarger County Appraisal District website and just start looking for anything around that area that had a high valuation. If you're not familiar with appraisal districts, in many states the county is required by law to publish the valuations of properties and their associated property taxes.
Eventually, I just took the closest street, County Road 114 W and pulled every property on that street.  That turned up nothing.  So I took the next closest road, County Road 93 and did the same thing.

Score! I found a property owned by O3B Network USA LLC that had a valuation of $2,068,260. That had to be the one.  Nothing else for miles had an appraisal that high.
Who is O3b Networks?
Of course, now we need to find out who O3b Networks is, and what they do.  A quick Wikipedia search says:
O3b Networks Ltd. is a network communications service provider building and operating a medium Earth orbit (MEO) satellite constellation primarily intended to provide voice and data communications to mobile operators and Internet service providers, and is a wholly owned subsidiary of SES S.A.
Interesting.  Sort of.  Because that seems to infer that these giant dishes are indeed in place to provide Internet access to Vernon Texas and Wilbarger County.  So it seems we've solved the mystery and now we know what these massive satellite dishes near Vernon Texas are for!
Not so fast.
I don't buy it.  My thirty years of Information Technology experience won't let me believe that. It doesn't make any sense. I still firmly believe there is another reason these exist and its not so Farmer Brown can get internet access for his tractor.
03b Networks Does more That Emerging Markets
So with a little more google-fu, it turns out O3b's Wikipedia page leaves off some very important, need to know information…
03B indeed appears to have its hands in a few more areas of business.  A little Googling further led me to a PowerPoint presentation stored publicly on Sqaurespace.  The title of the first slide?  High Throughput Satellite Communications for Government and Military Applications.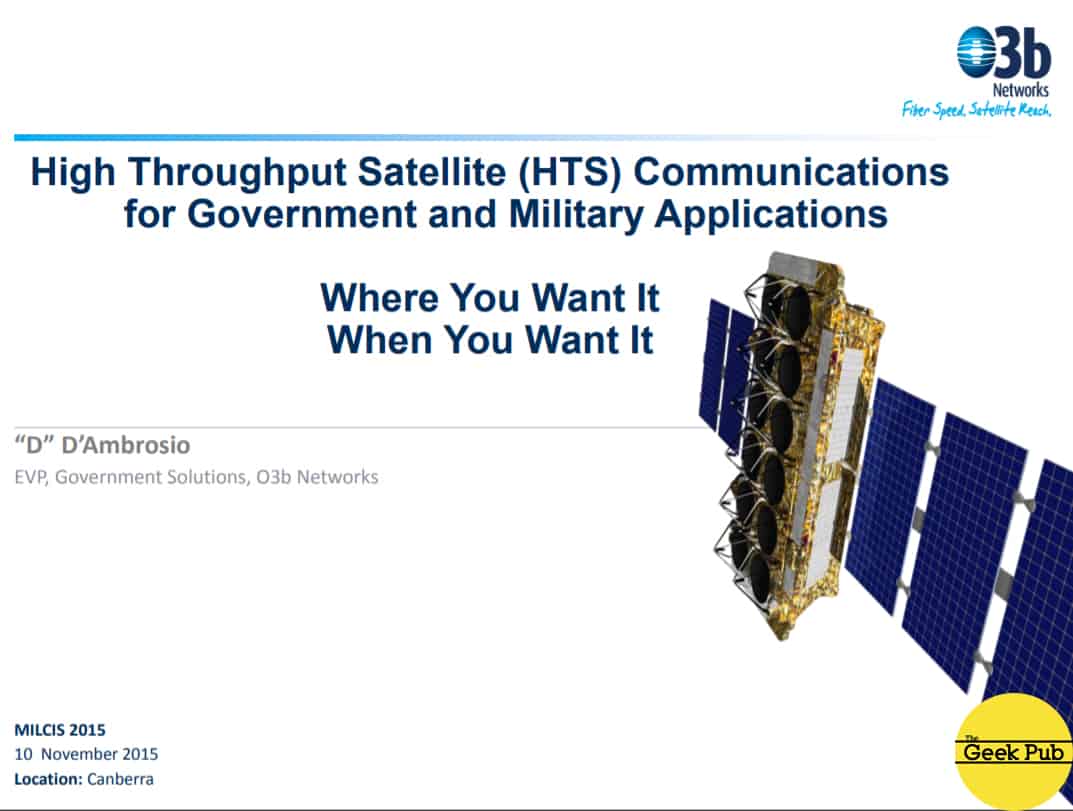 Well now.  That opens a can of worms now doesn't it?  Scrolling through this PowerPoint presentation reveals lots of useful information!  The first one that grabbed my attention was this slide referring to Naval Special Warfare Command.  It grabbed my attention because it talks about a "Vernon Gateway". Could it be our dishes are used as a military IP gateway between satellites?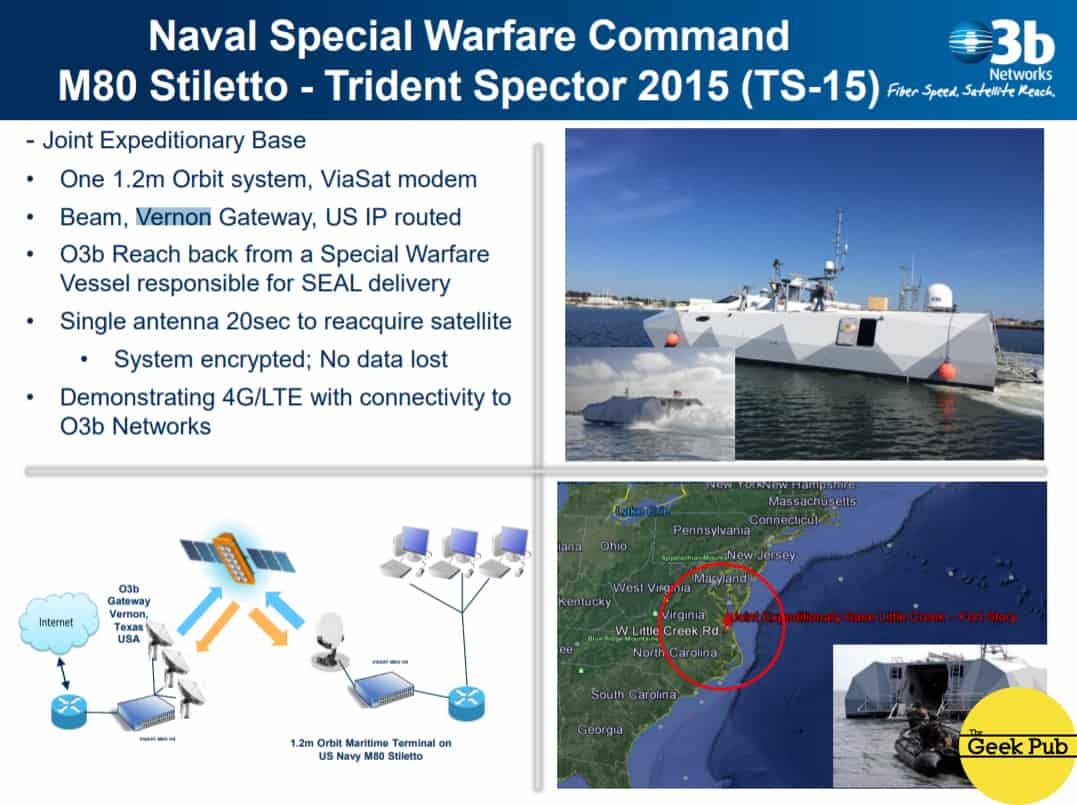 If that doesn't at first make sense, remember that the Earth is round (unless you're one of those flat Earther people (sigh)).  If satellites are too far apart from each other they can't communicate directly because the curvature of the Earth is blocks their line of sight. So perhaps the Vernon Gateway is just a hop on the O3b Network between low Earth orbit satellites?  Could be the case.
It could also be the case that these satellite dishes near Vernon Texas could be on on-ramp to the Internet.  Remember, they sit just a few feet from the BNSF railway on highway 287.  Next to these tracks is known to be large amounts of fiber optic cable for carrying Internet connectivity between Texas cities.  Could it be that Vernon is just a place to get an on-ramp to the Internet?  Maybe!?
The next page of the slide deck that caught my eye was one that specifically mentions Vernon Texas! The page is short on details, but it absolutely confirms that satellite dishes near Vernon Texas are indeed the Vernon Gateway!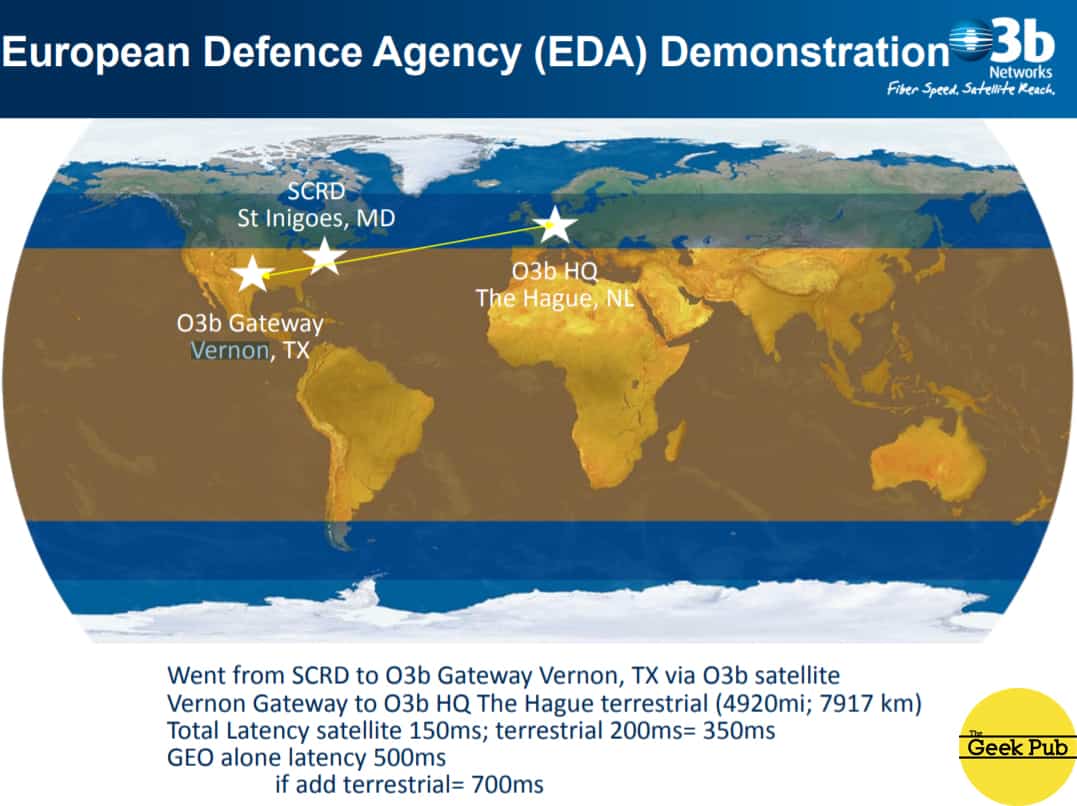 It appears that O3b Networks is offering high speed low-latency satellite communication to various government and military organizations over IP.  In the case of the above tests/services it appears that O3b Networks is providing IP teleport services to US Navy Seal ships sporting 1.2 meter dishes of their own. Fascinating!
If anyone else has any info on this, let us know in the comments.  I love solving mysteries!