If you're a gamer, then you know just how important the monitor is to your gaming experience. You can have the best video card, the best CPU, or the best nVME drive on the planet, but if your monitor sucks your eyeballs are not going to impressed. So we're going to take a quick dive into the best gaming monitor of 2019 and you might just be surprised with my pick of the litter!
The Best Gaming Monitor 2019
If you're too impatient to read the whole article, I'll get right to the point. My pick for the best gaming monitor of 2019 is currently the
. If you want to know why, read on.
Things to Consider for Gaming Monitors
I suspect we can all agree when I say that monitor preference for a lot of people has nothing to do with specs and everything to do with taste. Some people just like the washed out colors on some monitors. Some just love the over saturated colors on other monitors. Some people would never dream of owning an ultrawide monitor while others wouldn't haven't any other way. Indeed, there are people like The 8-Bit Guy who believe any monitor over 19-inches is just too big. Odd indeed.
So let's take a quick walk down the road and talk about some of the things that are important to the general public when it comes to gaming.
Gaming Monitor Resolution

Let's tackle resolution right off the bat here. I'll cut to the chase too. Resolution is the first thing people generally look at and it's probably one of the least important things. Don't get me wrong, all things being equal higher resolution will make a difference; but they rarely are!
Monitors come in resolutions these days from 720p all the way to 2880p (5K). The problem is that most of the affordable higher resolution displays in the 4K to 5K range are just junk. The refresh rate stinks, the lag sucks, and the color gamut is just terrible. To get a decent monitor in this range you are going to quite literally spend a fortune.
Our recommendation is that you stick to a 2K monitor for gaming. It's the sweet spot where the specs and performance meet the right price.
Gaming Monitor Refresh Rate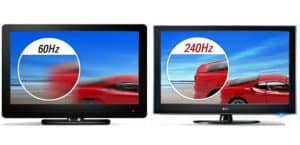 This spec is actually pretty important if you want buttery smooth game play.  Most games just feel good at a 100Mhz+ refresh rate. That's where the immersiveness starts to feel like real life. Go try one for yourself and you'll understand why.
A typical movie on TV shows a picture to your eye 24 times a second. The average YouTube video is 30 times a second.  This turns those still pictures into movement. Sixty still pictures flashed in front of your eyes in sequence over single second make a nice smooth moving video by the time it gets to your brain. 60hz is the refresh rate of a typical PC monitor.
Games on the hand can scale up to rates such as 144Hz. This makes them feel buttery smooth.  To find the best gaming monitor you need to look for one with at least 100Hz refresh rates. 120Hz or 144Hz is even better.
Gaming Monitor Lag
You probably thought lag was only something to yell at your Internet Service Provider about!?  But lag can come from many places, including your monitor. Lag is simply the delta in time from when you press a button on your controller, keyboard, or mouse and the time the action happens on your screen. A good gaming monitor will have a lag of about 5 ms or less.  The best have a 1 ms delay.  I personally find it almost impossible to tell the difference between anything below 5 ms.
Gaming Monitor Width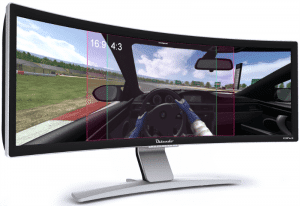 UltraWide monitors and even SuperUltraWide monitors are quickly becoming the monitors of choice for gamers replacing dual or triple monitor setups.  UltraWide monitors are roughly equivalent to two standard monitors in a single pane of glass.  This eliminates the overhead of extra cables, extra configuration, and there won't be a distracting bezel in the middle of your field of view.
UltraWide monitors are also likely to cost you less than two standard monitors, a mounting setup, cables, etc. The only real downside is that you're likely not going to find a true 4K or 5K ultrawide monitor. 1440p 2K is the UltraWide standard (3440 X 1440).
The Gaming Monitor Sweet Spot
For me, the sweet spot in gaming is the UltraWide 2K. You can get some decent monitors in some decent specs for not too much bank.  ASUS and others make some super awesome Republic of Gamers versions with RGB lighting and more.
The Best Gaming Monitor 2019 – The Picks
So here are my picks for t best gaming monitors of 2019!
#1 – The Asus ROG Swift Ultrawide PG348Q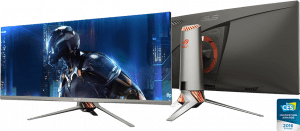 The
is delight to behold. It's the monitor I personally own and the best monitor I've used in a long time. Hands down.
It boasts 3440 x 1440 resolution, 5ms delay, and 34 glorious inches of screen real-estate. It is affordable and beautiful. The design looks high tech and gamer centric. The RGB lighting is just awesomely presented in the way it shines a focused image on your desk below the monitor with the ASUS ROG logos. You can't go wrong with this monitor.
!
#2 – The ASUS ROG Swift PG27UQ Gaming Monitor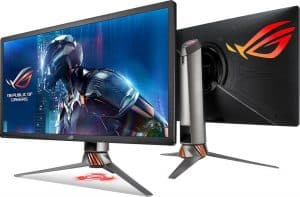 If money is no option and UltraWide isn't that important to you, the this is the monitor for you. It's got everything a gamer could ever want. The
rocks it every way that counts, except price.
With its 27-inches of awesomeness it supports most of the same features as our #1 choice, but ups the ante! 4ms delay, full 4K, and HDR support. 
!
#3 – The ASUS VG245H 1080p Gaming Monitor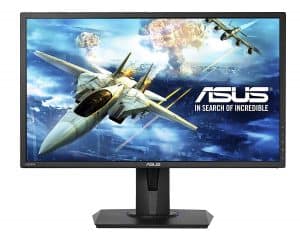 And finally, our 3rd choice is for the budget conscious. The
is a budget friendly gaming monitor for the average gamer.
It also supports Freesync if you're an AMD graphics card fan!
Although its only 1080p resolution, its got it where it counts in other departments. This 24″ gaming monitor sports 1ms delay time, 144hz refresh, and great contrast ratio. And for those of you considering a triple monitor setup, these will definitely not break your bank.
!