There's a large selection of smart locks on the market, from complete replacements to kits that convert existing locks into smart devices. There's a lot to understand about these kits, and truth about the best smart locks isn't always obvious.  Let's take a quick although of the best smart locks on my recommendations lists and what you should look for when selecting one.
The Best Smart Locks for Your Home
Let's walk through and discuss some of the key decision points for your choice of smart lock. I'll talk about some of the major things to consider and hopefully point you to the right choice for you. I'll then list my three favorite smart locks!
The Best Smart Locks are Full Replacements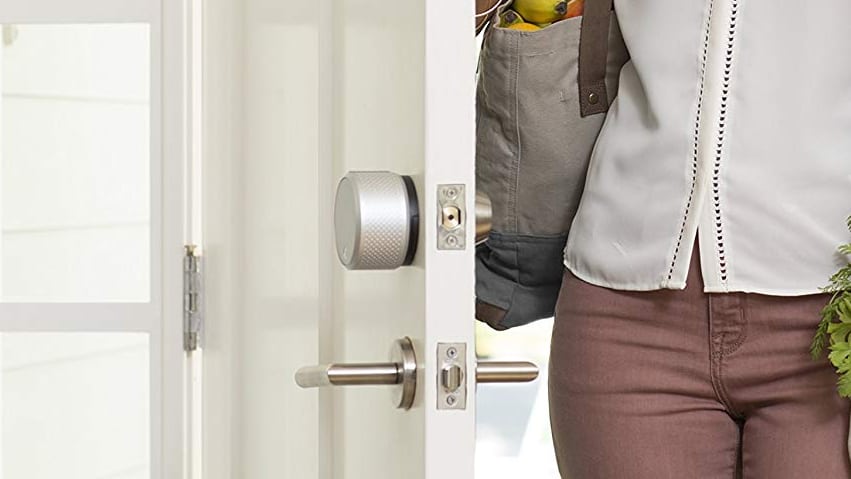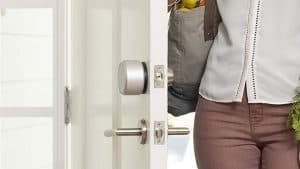 The main thing that most "experts" miss is the reliability and hassle free installation that comes with a conversion kit. A full replacement kit will replace your entire deadbolt with a new lock system compatible with most doors.  A conversion kit usually bolts on to the back of your door, covers the latch handle of this existing deadbolt and basically turns it for you.  This leaves your existing deadbolt in place.  However, they look absolutely hideous; see the picture to the right.
Additionally, full replacement smart locks are going to have far better features sets including nice touch screen displays and feedback sound on the exterior of the door. In my opinion there are very limited times a conversion kit should be used.  Either, 1) you live in a home or apartment where you are not allowed to change the door lock mechanisms, or 2) for some reason you want the exterior of the door to not appear to be a smart lock.
The only other consideration here is cost. You get what you pay for, but a conversion kit system is definitely going to cost you less money.  Again, my recommendation is overwhelming that you go with a full replacement lock.
Wireless Integration
This is a very important consideration and you should fully understand these before you purchase a smart lock. Most of the common smart locks on the market right now are controlled via Bluetooth. This means that your smartlock will only work when your phone is within a certain distance to the lock.  The best smart locks will have additional connectivity options, including Wi-Fi, Z-Wave, and Zigbee allowing connectivity to home automation systems and alarm systems. Connection your smart lock to one of these systems opens many new features and functionality that are important to consider.
The ability to lock or unlock your door from anywhere with an internet connection.
The ability to schedule a lock or unlock. Your door could automatically lock at night if you forget to do it.
The ability for your alarm system to unlock the door in the even of a fire or ambulance is called.
Monitoring of children's access to the home. It's always nice to get that text message that your child has arrived home from school on time when you are away from home.
If you have a home automation system or alarm you plan to integrate, you should buy the correct interface for your system.  The best smart locks can be ordered with either Z-Wave or Zigbee modules. Be sure to verify yours or ask your home automation or alarm company to recommend one.
Type of Keypad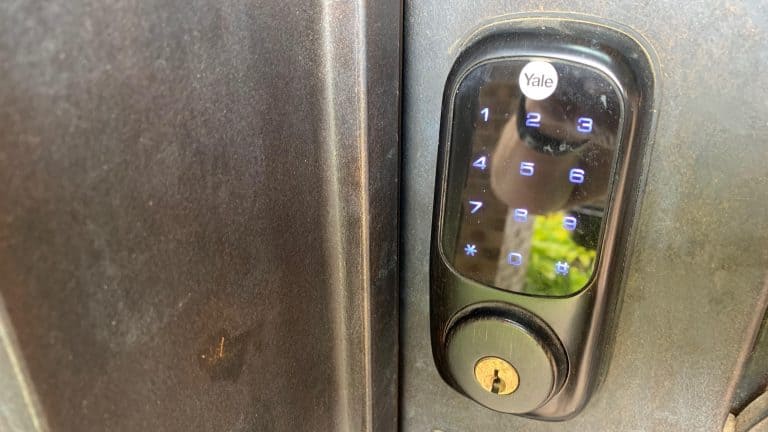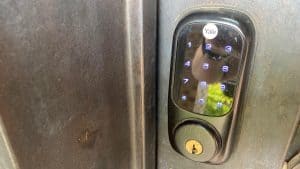 When it comes to the choice of keypad you have some options to think through: Touchscreen, physical buttons, or no-keypad. The latter option is one some people like to pick when aesthetics of the exterior door need to look a certain way, or when they want to somewhat conceal that the lock is a smart lock in the first place. Also, locks that are only controlled by smartphone or key fob will generally not have a keypad or screen.
There are two really good reason in my mind that you should choose a smart lock with a keypad.  First, there are going to be times when you simply want to enter your home when you don't have your smart device on you. This could be because you left it at work, or even inside the locked home! With a keypad you can just type your code and enter.
Second, is for letting others into your home. You may want your mother to enter the home and the thought of teaching her how to use the smartphone app just makes you cringe.  Or you may have a housekeeper you want to let in and she won't have the app.  All she needs is a code. Slight tangent, the best smart locks allow you to set times/dates that codes are valid. For example if the maid is supposed to come on Tuesday's at 9AM. Her code won't work Friday at midnight when you're on vacation in a foreign country!
So Which are the Best Smart Locks?
My picks for the best three smart locks are below. They're rock solid devices that work and should keep your home safe and secure:
Schlage Z-Wave Connect Camelot Touchscreen Deadbolt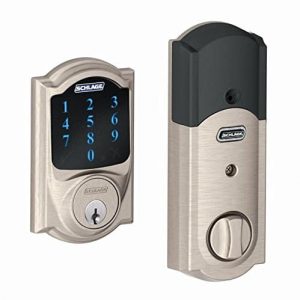 The Schlage Z-Wave Connect Camelot Touchscreen Deadbolt comes in several modern and luxury finishes and is designed to fit most homes. In addition to Z-Wave support for home automation systems, it also has a built in alarm and is compatible with Amazon Alexa using a smart hub.
The Schlage lock meets ANSI Grade 1, which is the highest rating for residential security locks. This lock is rugged and designed to be reliable. I would choose this lock for my home if I were replacing my existing locks. I also like how simple they have made it to change the batteries compared to may of the other smart locks on the market. Get it here!
Yale Assure Lock Touchscreen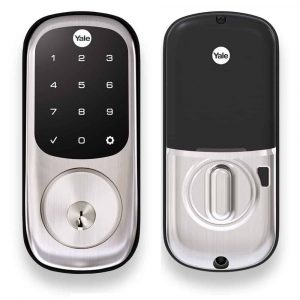 The Yale Assure Lock Touchscreen smart lock comes in at a close number 2 on my list. This lock just looks great. I much prefer its design aesthetics over the Schalge.
I've been running 4 of these on my home for the better part of 5 years (some are the previous generation "Real Living" devices). The only thing I can knock them for is the touchscreen sensitivity. Sometimes if your hands are wet (sweaty) from working in the yard you just can't get them to function correctly.
Other than that one issue I highly recommend them!  Get it here!
Kwikset Kevo (2nd Gen) Touch-to-Open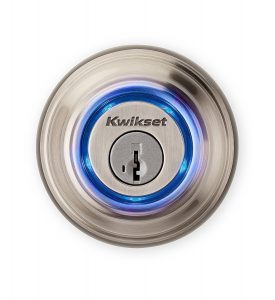 If you're looking for a smart lock that does not have a keypad, the Kwikset Kevo (2nd Gen) Touch-to-Open is probably for you! Although it does have a glowing blue ring when controlling it, it more or less looks like a standard deadbolt the rest of the time.
This device is operated via Bluetooth using your smartphone or other device (iPad for example). Additional, Kwikset offers an optional key fob that you can keep on your keychain to operate the lock without your smart device. There's also an optional Kevo "hub" device that will allow you to pair it with your Amazon Alexa.
It's also priced right for those looking to save a little cash. Get it here!