How to make the Mini Fog Machine
There are so many possible uses for a mini fog machine.  From Halloween props and decorations to school plays.  A mini fog machine is a simple build that can make all of the difference in how your set turns out!   Feel free to customize this design.  I've seen people add LED lights and all kinds of other attachments to this to make it even more awesome!
And if you're looking for more fog that lasts even longer you can easily scale this mini fog machine up to a larger fog machine by using larger components, the principles remain exactly the same.  You could use a 30 gallon trash can and a box fan and make a massive fog machine, you'd just need more dry ice and water!  The size is only limited by your imagination and budget!
Items List for the Mini Dry-Ice Fog Machine
| | | |
| --- | --- | --- |
| Quantity | | Item |
| 1 | | Plastic Box with Lid |
| 1 | | Computer Fan |
| 1 | | 2″ Dia. PVC Pipe, 6″ Long |
| 1 | | 2″ Dia. PVC Threaded Nipple |
| 1 | | 9V Battery |
| 1 | | 9V Battery Snap |
| 1 | | Hot Glue/Glue Gun |
Let's Make the Mini Dry-Ice Fog Machine
Step 1: Acquire the Parts
You can acquire the parts for this mini fog machine at just about any big box store or from Amazon.  The container I used came from the food storage section, the PVC from the plumbing section, and the fan, battery, and battery snap from the electronics section.  All at the same store.
---
Step 2: Cut a Hole in the Lid
You're going to need a hole in the lid for the computer fan to blow air through.  You can cut this with a rotary tool like I did or a even a pair of sharp scissors. Of course, a hole saw also works if you have one the right size. Just measure the fan out and figure how much of an overlap so we can glue the fan on later.  I used masking tape over the lid to draw my lines on so that there were no permanent lines on the lid.
---
Step 3: Glue the Fan to the Lid
Hot glue works wonders to hold the fan into place.
---
Step 4: Mark Hole for the Outlet Pipe
Using the same exact process used in step 2, mark a hole for the outlet pipe.  The outlet diameter of PVC is not always standard, so I recommend you measure it.  Make the hole slightly smaller, because we need the threads of the pipe to engage with the hole you're about to cut.
---
Step 5: Cut out the Outlet Hole
Again I used a rotary tool to cut out the outlet hole.
---
Step 6: Screw in the Outlet Pipe
If you made the outlet pipe hole the right size it should screw right into side of the container.  There is no need for a nut on the back or any PVC cement.  Just hand tightening is enough.
---
Step 7:  Boil Some Water
Boil a few cups of water in the microwave or on your stove.
---
Step 8: Add the Boiling Water to the Mini Fog Machine
Very carefully to avoid splashing or getting burned, pour the boiling water in the mini fog machine's container.
---
Step 9: Add Some Dry Ice to the Mini Fog Machine
Using gloves, carefully break off a chunk from your dry-ice and place it into the mini fog machine's container.  Do not drop it and splash out the boiling water!
---
Step 10: Attach the Lid and Connect the Battery
With the lid on and the battery connected, your machine should be pumping out tons of fog!
---
The Finished Mini Fog Machine (Dry Ice Powered)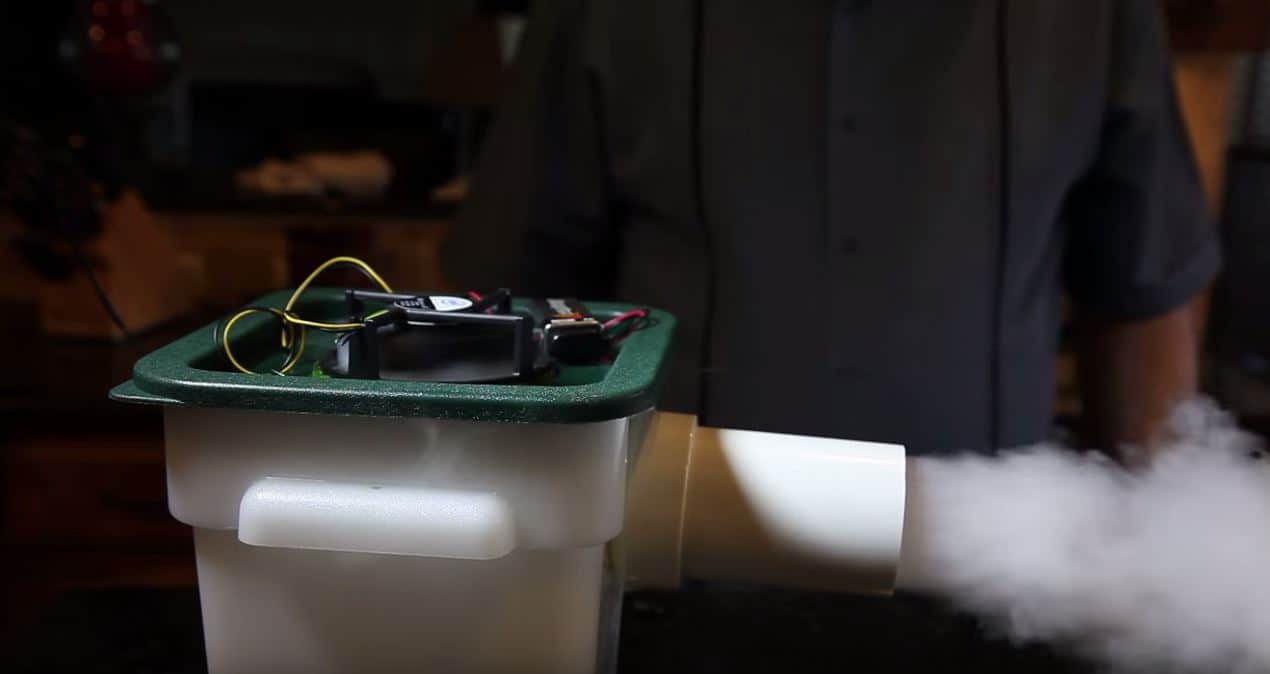 Video Transcript
Hey Guys!  It's Mike from The Geek Pub.  On this episode we're going to make this awesome dry-ice powered Mini Fog Machine!
The main item we'll need is a small plastic container. I got this one at my local big box store for about $5 bucks.
The second item we'll need is a small computer fan. I found mine in my junk drawer, but we're going to need to cut off these tabs so that we can mount it to lid of our box. I used my Dremel with a cutting disc. There's several tabs to cut off, so it takes some work. I'm going to use a 9V battery to power it.
To make it easer to mark the holes, I placed a layer of blue masking tape over the lid. Then I traced the fan with a Sharpie. In order to have room to mount the fan, we need to trace another line inside this one. I used a sanding disc I had laying around and it worked perfect. Now it's back to the Dremel tool, this time using the hole cutting attachment, remembering to cut on the inside line. You could also use a hole saw for this step if you happen to have one.
And then we need to attach our fan over the hole we just made. I used hot glue for this, because it was easy to bead and it worked great! But you could use super glue in a pinch. Now back to our box we need to trace a hole for the outlet pipe. Then using our Dremel again to cut out the hole. Now just screw in the pipe and we're ready to make some fog. And that requires some boiling water. Let's fill up this measuring cup with a quart of water and then put it in our microwave for 3 minutes to bring it to a boil.
Now carefully pour the hot water into your mini fog machine. In my ice chest I happen to have some dry ice. You can pick this up at most grocery stores. Using a screwdriver and some gloves, break off a small chunk of the dry ice. It is important to wear gloves, as you can get frostbite from the dry ice in just seconds.  Place the dry ice into the mini fog machine and replace the lid with the fan on, and blowing air into the machine.
Lots of fog should immediately begin blowing from the outlet pipe. I'm pretty amazed at just how much fog this little machine can make. Its going to be a blast at halloween.  Well that wraps up another fun weekend project. Be sure to like and subscribe to my videos, and thanks for watching.