When most people think of storing their files these days they generally think of the cloud. To be honest there are a fair bit of reason to choose the cloud for your file storage and most of them make a lot of sense. The cloud won't burn down and take all of your precious photos and important documents with it.  The cloud isn't likely to be stolen of your home or business is burglarized.  But there are some negatives to the cloud too.  These services can change their policies with almost no notice.  One such major cloud vendor just recently changed their terms removing "unlimited" storage, moving to a rather limited 10 gigabyte while keeping the price the same.  This left a lot of people in a pickle. The Best NAS for home users and the the cloud might be a hybrid approach!
Having your own NAS at home or in the office doesn't mutually exclude the use of the cloud. In fact, most all modern NAS appliances will store your data and sync portions or all of it to the cloud as a backup or simple to keep them in sync.  The sync option has a great benefits for those with lower bandwidth internet connections.  You'll have high speed on-LAN access to your files (both reading and writing) and the NAS will sync those files to the cloud as bandwidth is available behind the scenes!  This can be fantastic for photographers and video editors.
The Best NAS for Home Users
So this list is going to be somewhat different than most of my posts.  Why?  On this list of the best NAS for home users, I am only able to recommend two device. That's unusual as I normally am able to recommend at least 4 or 5.  This market has lots of player, and unfortunately a lot of junk and gimmicky products.  So let's talk about them!
My Choice #1 – Synology DiskStation DS218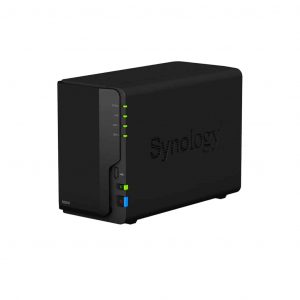 Synology makes some great products. As you might be aware if you follow me regularly or watched my home network tour video.  I use the Synology RackStation RS2416+ as my home NAS. The great news is other that the 12 bays, faster processor, and RAM the Synology Disk Station DS218 has all of the same great features at a much more affordable price point!
The DiskStation DS218 supports up to two disk drives allowing for mirroring of your data for on-premise data protection. It supports a dual-core processor at 2.0 Ghz (2.5 Ghz boost clock) with full AES-NI cryptography on-board.
Intel Dual-Core J1900 @ 2.0 Ghz (2.5 Ghz boost)
Dual bays for up to 2 drive support
2 GB of DDR3-1866 (up to 6 GB upgradeable)
Full AES-NI support
Full sync support with Dropbox, Amazon Drive, and others.
Beyond the hardware, what really sets Synology's products apart is the software and operating system.  Synology DSM software is king of the hill when it comes to operating and managing a NAS.  There's even an App store full of free and paid add-ons and functionality.  You can find something to fit almost any need.  There are photo albums, video servers such as PLEX available, as well firewall and routing software for branch offices and remote sites.
Get the Synology DiskStation DS218 here!
#2 – QNAP TS-251+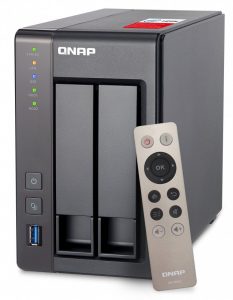 QNAP also makes some very reliable products with some great functionality.  The QNAP is so close, we might have given them a tie for #1 if it weren't for Synology's over the top commitment to developing out DSM.  The QNAP TS-251+ does cost slightly more, but not enough to change our ratings or opinions.
The TS-251+ also supports dual drives for on-site redundancy and mirroring to cloud providers.
Quad-core 2.0 Ghz processor
2GB DDR3 RAM
One feature the QNAP has the the Synoligy does not is a full multi-media remote allowing you to use the device as a home entertainment server right in your media cabinet. That's a nice plus.