When I was younger I used my father's jigsaw a lot. I remember it well. It was Black & Decker model from the late 1970s or early 1980s and it was total junk.  I remembered thinking the jigsaw was one of the worst performing tool ever made. What I didn't realize is that jigsaws are fantastic tools to have in the shop; if you have a good one. Let's run down my picks for the best jigsaws!
Recently as an adult I needed to buy a new jigsaw, so I set out on an adventure to understand what makes a good jigsaw and what makes a junky one. To my surprise a lot more mattered about design and build than I had expected.  And many of the features advertised by the big brands don't really matter in day to day use. Most of those features were selling gimmicks and nothing more.  Even the big name brands like DeWALT, Bosch, Makita, Festool, Hitachi, Porter-Cable, and Milwaukee advertise all kinds of features that you will likely never use or care about.  I guess they have to include this stuff to compete and win with the average non-professional buyer.
No time to read the whole article?  Here's Mike's top pick: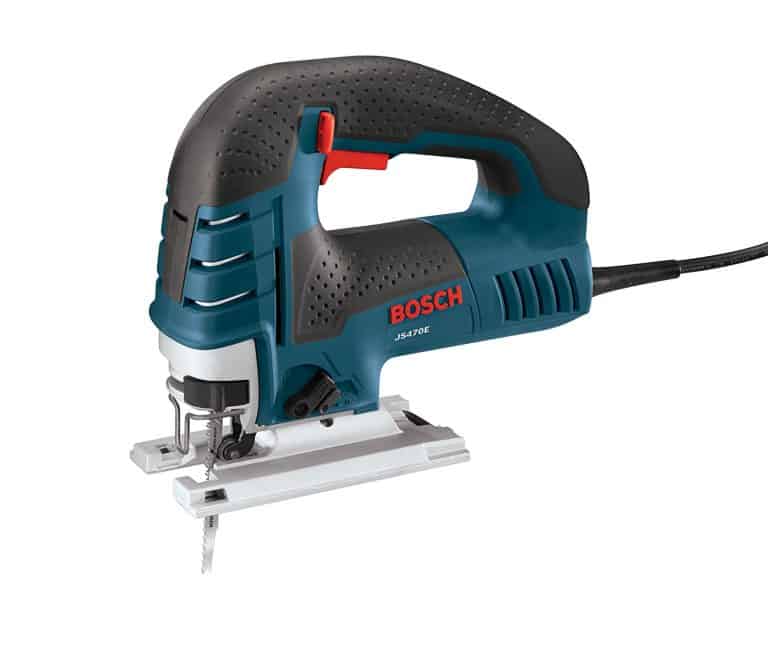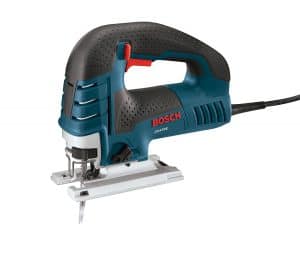 The hands down best jigsaw on the market is currently the Bosch JS470E.
Tool-less blade changes that work well. Including an ejection mechanism making it simple to eject a hot blade without touching it.
There are four different blade stroke settings to reduce tearout on plywoods and provide a cleaner finish on aluminum other other thing metals.
High quality construction that provides a rugged feel and will last a lifetime,
Max speed dial setting allows you to set a top speed of the jigsaw, but still fine tune the cutting speed with the trigger. This is a very handy feature.
Jigsaw Basics
If you're new to jigsaws or you need a refresher follow along here and we will go through the basics. Even the best jigsaws won't work will if you use them for the wrong purpose!
A jigsaw has a reciprocating blade usually 1/4″ (6.35mm) wide.  Some of larger jigsaw blades will be 1/2″ (12.7mm) wide, although not as common.  The blade reciprocates in and up and down motion, cutting on the upstroke. This makes for a fairly safe tool as the blade is always pulling the saw into the material. Note: Some specialty blades cut on downstroke and require extra caution!
The jigsaw blade itself comes in numerous styles for cutting different materials. Wood cutting blades will generally have less teeth than metal cutting blades for example. Some blades are also designed to cut slower or faster, the trade-off for cutting faster is generally a less clean finish on the cut material.
A jigsaw is generally used when making a cut that needs to have a curve or odd shape. Some people actually refer to a jigsaw as a poor man's bandsaw. If you need to make a straight line cut you'd generally use a circular saw or a table saw to make those cuts.
Key Features of a the Best Jigsaws
As mentioned earlier in the article many current models of jigsaws focus on selling features you're never likely to use or care about. So let's go over the list of features that actually matter when purchasing a jigsaw.
LED Headlights – This is a fantastic feature that you won't full respect until you've used one with this feature and then had to go back! The LED headlight on the best jigsaws will light the path as you cut, keeping your line highly visible.
Dust Blower – another fantastic feature that even some the better jigsaws leave off. A dust blower will keep the line in front of you visible in conjunction with the LED headlight making it super easy to follow your line.  You'll notice in many of my woodworking videos I use an air-compressor to blow away the dust.  My jigsaw is missing this feature.
Blade Guide Bearing – as discussed in my article about jigsaws not cutting straight, a blade guide bearing is one of the most critical components of a great jigsaw! This keeps the blade aligned and keeps your cuts from wandering. This is a must have feature.
The Base/Foot – The best jigsaws will have a solid metal base, rather than a stamped steel base. This will provide much better alignment and a much straighter cut.
The Motor – last but maybe the most important. Go for a motor that has plenty of power. You don't want your saw bogging down at the critical point of your cut. The more powerful the motor the better!
Mike's Recommended Best Jigsaws
So with all of these things in mind, let's break down the absolute best three jigsaws on the market!
#1 – Bosch JS470E Jigsaw
Coming in at number on on my list of the best jigsaws for woodworking is the Bosch JS470E. With a strong 7.0 amp motor, tool-less blade changes, and a solid base this jigsaw won't disappoint.
It's rigidly constructed  and will easily last a lifetime under normal conditions. Get it here!
#2 – The DeWalt DW331K Jigsaw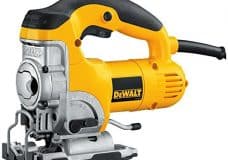 Who couldn't love the new DeWalt DW331K jigsaw? After all it comes in The Geek Pub's black and yellow color scheme!
Rocking a slightly smaller 6.5 amp motor the DeWalt DW331K is still a solid performer.  The DW331K also offers tool-less blade changes and super sturdy base/foot.
It also comes with a variable speed trigger operating from an slow 500 strokes to an impress 3100 strokes per minute.  Get it here!
#3- The Makita 4329K Jigsaw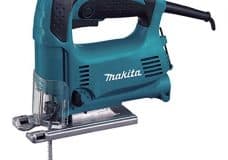 My number three pick for the best jigsaws is targeted at the price conscious shoppers who follow me. The Makita 4329K has a lot of great real world features, but clocks in at roughly have the price of my first two picks.
The Makita 4329K comes with a smaller 3.9 amp motor and slightly less sturdy base/foot compared to our other selections, but for the casual user should accomplish most tasks with ease. It does offer a similar variable speed performance ranging from 500-3100 strokes per minute. A solid jigsaw at this price point.  Get it here!