I talk to people every day about computers and electronics. From friends and family, to business colleagues, to vendors selling equipment. There is one statement I hear constantly and it drives me crazy. "The Wi-Fi [here/there/at home/at work] sucks!" This is so frustrating because in this day and age (it is 2018 after all) Wi-Fi should just work. There is no excuse to not be using one of the best Wi-Fi access points on the market rather than the garbage most people install. Even the best Wi-Fi access points are affordable these days.
If you're looking to upgrade the Wi-Fi experience in your home, office, or even at your friend's house follow along as I list the top Wi-Fi access points available at the beginning of 2018.
The Best Wi-Fi Access Points of 2018
If you want to skip straight to it our top pick for the best Wi-Fi access point of 2018 is the Ubiquiti 802.11 DUAL AC PRO.
The Best Wi-Fi Access Points Suck When Installed Incorrectly
Before we list them off, let's talk about something very important! A bad install of a good Wi-Fi access point won't solve connectivity issues, and might even make them worse. Yes, a bad install will make the best AP suck!
Direct Wiring vs Wireless Repeaters
The most common misconception we see is that "all you need to do is add another access point somewhere in your home" and let it wirelessly talk to the one your ISP installed at the other end of your home. This is a terrible idea, and often makes the situation even worse and resulting in even poorer connections for those connected to the wireless "repeater".
Consider this: If you're laptop has trouble connecting to your main access point from the far end of your home, then why would you expect a wireless repeater to have better luck? All you've accomplished is adding a middle-man between your laptop and your main wireless AP. This adds additional latency and slowness.
"But my laptop now has four bars signal strength! Before it only had one bar!!!"  Of course it does! It has four bars to the repeater. You just moved the one bar connection to the repeater itself!
Always direct wire all of your access points. Yes, this means running a CAT5 Ethernet cable from your router to the second (or third) access point in your home. In some cases this might mean a wire up the wall and through the attic. A qualified cable installer will generally do this for less than $100.  This is the key element that most people are missing. Another fantastic option is to use my favorite powerline network kit. This kit will transmit an internet signal over your home's electrical wiring.
List of the Best Wi-Fi Access Points of 2018
So now that you understand some basics of how not to make the best Wi-Fi access point into the worst performer, let's list our top pics for wireless access points in 2018.
#1 – The Ubiquit Unifi Dual AC Pro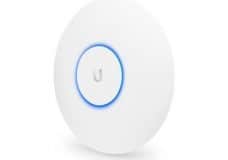 The Ubiquit Unifi Dual AC Pro is hands down our top pick for 2018.  Ubiquiti has been developing wireless products for business and home use for some time now, but the equipment was first tested for carrier grade applications for long range transmission of data from cell towers. These devices are rock solid and provide dual 802.11AC radios, MIMO technology, power-over-Ethernet(PoE), and many other enterprise class technologies that can be used at your home and/or small business. Get it here!
3 Dual-Band Antennas, 3 dBi each
802.11 a/b/g/n/ac
Max. Power Consumption: 9W
Dual 10/100/1000 Ethernet ports (supports PoE)
Controller Manageable or Standalone installs
Weatherproof design allows for outdoor installs
#2 – EnGenius Technologies EAP1300EXT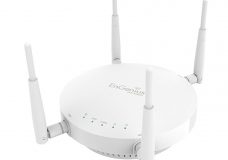 Next on our list of the best Wi-Fi access points of 2018 is the EAP1300EXT from EnGenius Technologies. This product is up and coming and has tested well in most of our tests. We're ranking it #2 here because their technical support can be a challenge for less technical users. If you're an IT pro or don't plan to need support, this is a solid device with an easy to use interface. Get it here!
MU-MIMO and Wave-forming Technology
Theoretical 867Mb/s on 5Ghz, and 400Mb/s on 2.4Ghz
ARM Processor
Gigabit Ethernet (supports PoE)
#3 – TP-Link AC1200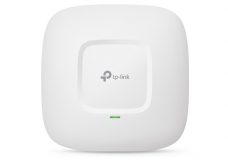 The AC122 from TP-Link finds its way at number three on our list. TP-Link has been making rock solid gear for several years and has become one of the products I can reliably recommend to friends and family. Their APs don't have as many features, but they are reliable and generally easy to setup. Get it here!
MIMO and Band Steering
Gigabit Ethernet (supports PoE)
Theoretical 867Mb/s on 5Ghz, and 300Mb/s on 2.4Ghz
Free controller software
#4 – Apple Airport Express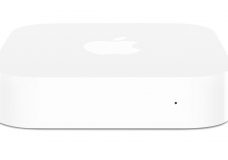 Believe it or not Apple makes pretty reliable networking products. The Airport Express from Apple hits our list at #4. It's one of the lowest cost options and most user friendly setup of all of the devices on this list. It ranks in at #4 simply because it lacks many of the features of the top 3 products. Apple has purposely limited the functionality of this device to make it easy to setup and configure. If that's what you're looking for this might actually be #1 on some lists. As a bonus it acts as a remote airplay device for speakers in distant rooms. Get it here!
802.11a/b/g/n (dual band)
2.4Ghz Processor
Speeds up to 300 Mb/s
Headphone jack for remote airplay connections