If its not just crazy obvious, mining has become a big deal. There is some serious money being put into mining! Today, even some of the big clearing houses and brokerage firms are dipping their toes into cryptocurrency.  Even the likes of companies like Fidelity Investments are adding Bitcoin to their websites. The rise of these coins, both Bitcoin and alternative coins like Ethereum have led to many people joining the hobby of mining coins at home. I recently published a video and blog post about my mining rig tour. And that sparked a lot of conversation about the best cases for mining cryptocurrency.  So let's rank them 1 to 3!
The Reason For Special Mining Cases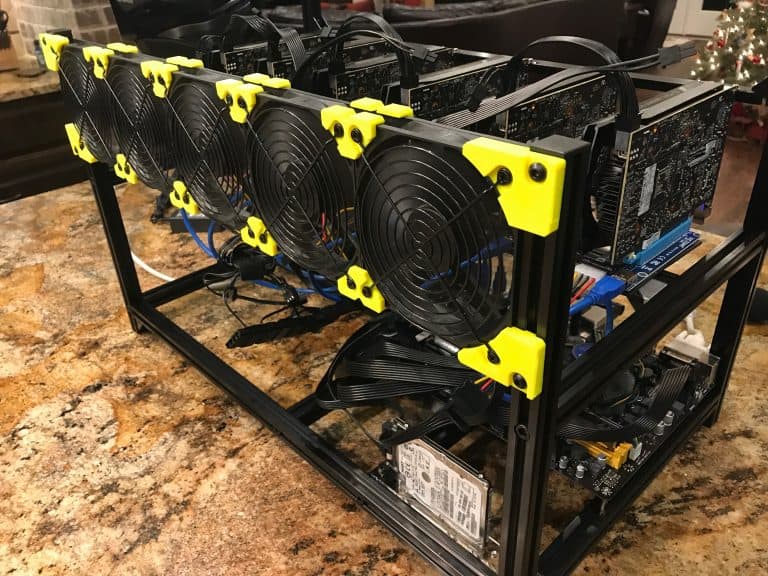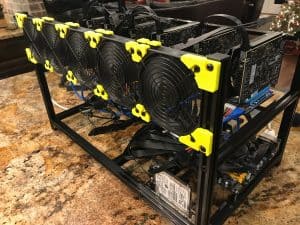 Before we list the best cases for mining, we need to understand why you would need or even want a special case for mining. Of course, even a regular PC case can be used for mining, but there are some serious drawbacks to doing so.
The first problem as we discussed in our article about PCIe risers for mining is that the slots on the motherboard are not spaced far enough apart to get more than just two or maybe three GPUs in a single case. In fact, the vast majority of motherboards sold only have one or at most two X16 PCIe slots complicating things even further. Therefore you're going to need a lot of room to fit six or more GPUs into a standard PC case.
The second problem is that of cooling. Six or more GPUs enclosed in a small case is going to need a tremendous amount of airflow to keep them cool. If you can even accomplish this task, the noise is going to be absolutely unbearable for most residential installs.
The best cases for mining make room for plenty of GPUs, risers cables, and provide adequate cooling with minimal noise.
Best Cases for Mining Cryptocurrency
Let's take a tour of my top three pics for the best cases for mining cryptocurrency. I'll also provide links to places to get them.
#1 – MinerCase V3 Stackable Mining Rack
The MinverCase V3 Stackable is hands down my favorite mining case! I love this thing in just about every way. The case is made from black or sliver anodized aluminum extrusions (sometimes called MakerBeam). This allows for all kinds of future add-ons and modifications.  Parts and supplies for aluminum extrusions can be bought on Amazon or Newegg really cheap. This case is high quality and looks amazing. It can be stacked up to 8 cases tall (stacking hardware included) for some serious beefy mining rigs.
Some of the reviews of this case complain about the assembly process. It is true that the instructions are a weak. However, anyone who is even slightly mechanically inclined should be able to assemble this case and never even look at the instructions. In my opinion the assembly steps are obvious…
The case includes the fan clips but not the fans.  I used these super quiet Rosewill fans in my build.
The MinerCase V3 comes in six bay, eight bay, silver/blue, and black/yellow. Of course I went with the black/yellow! That's The Geek Pub color scheme! Get the 6-bay here.  Get the 8-bay here.
#2 – The CryptoCase Sentinal
The CrytoCase Sentinal is next on my list of best cases for mining cryptocurrency. I'm rating this case #2 because it has some pretty awesome features. It has slots specifically designed to hold your PCIe risers and GPUs. This is sweet and makes it really easy to mount your cards. The reason I don't rank this case first place, and eventually picked the Minercase is due to all of the acrylic sheeting used. It just seems cheap and flimsy. To be clear, this isn't a cheap and flimsy case. It's really good and I wouldn't hesitate to use it. All of the plastic components just make it feel that way.  This may indeed come down to simply personal preference. Get it here!
#3 – The xlpace Open Air
The xlpace Open Air mining case landed at spot 3 on my list of best cases for mining cryptocurrency. This case is absolutely perfect for the budget conscious.  It comes in at about 1/3rd the price of my top two picks. If you're looking to build an ultra low cost mining rig, and you don't want to actually build the case yourself then this is without a doubt the way to go. Get it here!
Mining without a Case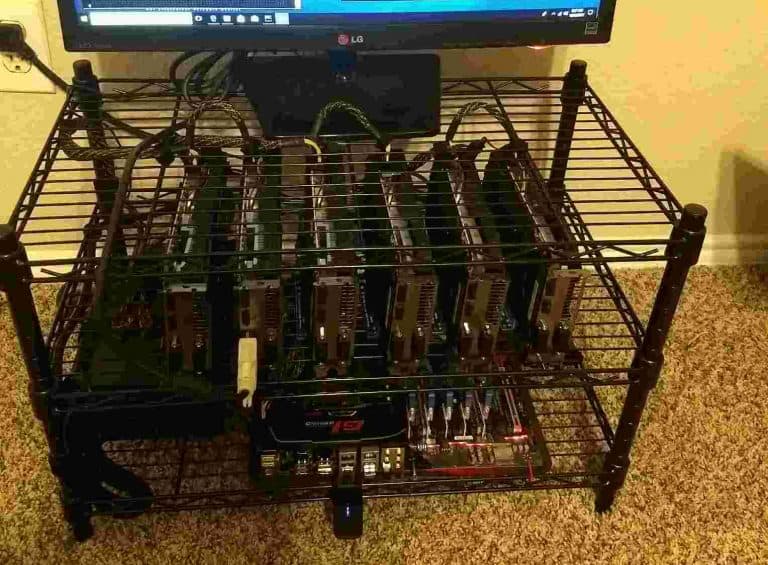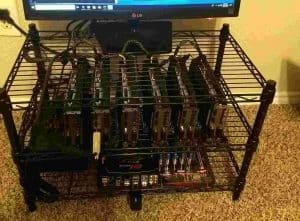 I would like to point out that it is certainly possible to mine without a case. You can build your own or even re-purpose a shelving rack for a case with a little ingenuity.
I honestly don't recommend this at all, bit it does work. The risks are that you basically attach everything with zip ties and cardboard. The possibility of fire and shorts is high and repairs can be very troublesome. But if you're handy with tools you can most definitely go this route.
All things considered, I decided to proceed with the MinerCase V3 6-bay and couldn't be happier. Good luck in your mining adventures!