I'm not a big fan of these "best of" or "top xxx product" articles that a lot of websites seem to post these days. Mostly because I know they are SPAM and they are simply posting the article to drive revenue and affiliate sales.  In almost all cases the writer of the content has never even used the devices in question.  So when I post this article of The Best Video Capture Devices of 2017 I want to assure you that I actually own the devices listed in this review and that I actually use them regularly. This is based on my actual usage of different HDMI video capture devices and these are the units I have found to the best for my uses. That aside, let's do this!
The Best Video Capture Devices 2018
If there is a video capture device on the market, you can pretty well be sure that I have tried it. If you've tried many of them, then you're probably already well aware there are a lot of turds in this market. Cheap video capture devices that either don't work at all or work so poorly they should be ashamed to take your money and have their brand name on it. And worse, many of the "Best Video Capture Devices" articles are filled with these pieces of junk. I suspect simply because they are cheaper and there is a better chance they will get a referral sale. Let's talk about my two favorite capture devices and why I like them.
First Choice: The Magewell XI100DUSB-HDMI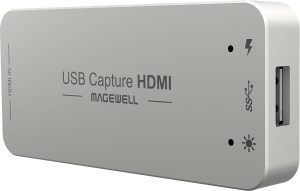 The Magewell XI100DUSB-HDMI is the best video capture device I have used to date.  Hands down. It also one of the more expensive. Sometimes you just get what you pay for. The device is the 2nd Generation of their original device and has a few enhancements, including support for 2K video (2048×2160). The device does not require any drivers to work with Mac OSX or Windows 10. Simply plug it into a USB 3.x port and the device appears as a camera/capture device in all of your applications.
Here's a basic feature list of the Magewell XI100DUSB-HDMI:
2Kx2K (2048×2160) capture resolution and upscaling
Support for Windows 10, MacOS, and even Linux
Plug n' Play, no drivers in most cases
UVC support
Integrated De-Interlacing support
Upgradeable firmware
Can connect Multiple devices to a single computer
Designed for 24/7 operation
1 Year Warranty
You can buy it here.
Second Choice: Blackmagic Design UltraStudio Mini Recorder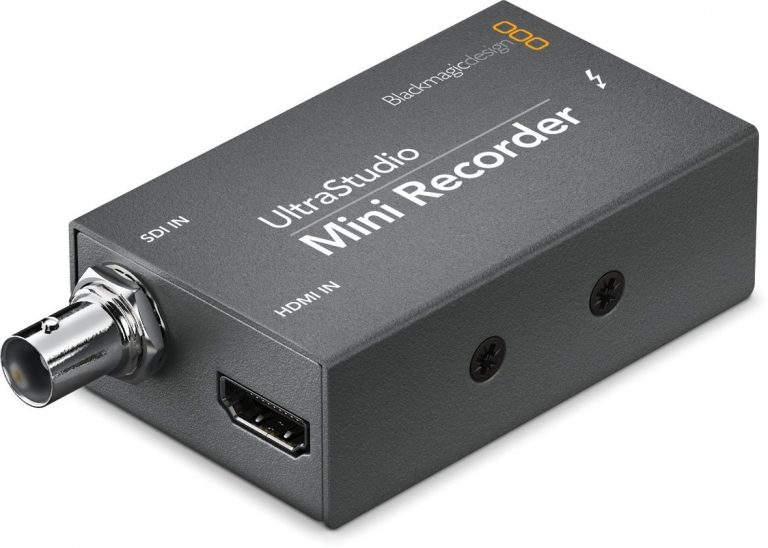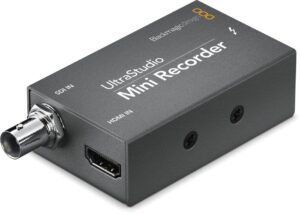 The Blackmagic Design UltraStudio Mini Recorder is my second choice for the list of best video capture devices.  The device is just as simple to use, and might have slightly better audio quality than the Magewell unit. In fact, if it weren't for one glaring issue I might give this unit top billing.  That issue is that it is Thunderbolt only. This makes it very difficult to use on most PCs since Thunderbolt ports are not all that common yet, and the Blackmagic Design UltraStudio Mini Recorder lacks USB 3.x support.
The basic feature of the Blackmagic Design UltraStudio Mini Recorder are:
1080i60 or 1080p30 capture resolution
HDMI and SDI inputs
Support for Windows 10 (requires Thunderbolt) or MacOS
No drivers required
1 Year Warranty
You can buy it here.
Comparing the Magewell Magewell XI100DUSB-HDMI and Blackmagic Design UltraStudio
Both devices are a very small form factor.  Held together they both fit comfortably in the palm of your hand.  The Magewell XI100DUSB-HDMI has the nicer finish and is made from aluminum, where as the Blackmagic Design Mini Recorder is in a powder coated steel enclosure with visible screws.  Both units have their inputs and outputs on opposite ends.  The Magewell includes a USB3 cable, while the Black Magic unit requires a separate purchase of a Thunderbolt cable.