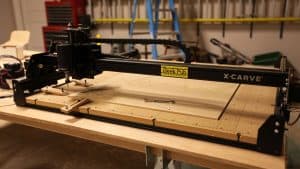 Inventables sent me an X-Carve in late August of 2015. It's been quite the adventure! The X-Carve was a shear delight to assemble and is fun to use in my shop.  But I need to be clear, it will be a challenge.  The X-Carve comes 100% disassembled and you will need to do everything from drilling holes to soldering components onto boards.  You'll then need to adjust all of the motion points, bearings, belts, and even some minor software configuration.  The X-Carve is a mad scientists favorite toy.  I'm not saying this to scare you away from the X-Carve.  It's a beautiful machine with incredible abilities.  It's just not for someone who wants to unbox a machine and start carving an hour later.  It took me roughly six hours of assembly and tinkering before my first carve.  Follow that with another several hours of adjustments before it worked perfect.
I recently upgraded the X-Carve to the DeWalt DWP611 router.  This has been a monster upgrade.  The stock 24DC spindle was almost worthless.  Maybe I can find a use for that motor some day on a different project.  I also upgraded my bits to some Kodiak endmills.  Much better than the stock stuff.
People ask me all the time if I would buy the X-Carve.  The answer is a hard one, but honestly, probably not.  Its just too much trouble to get it to behave like a real CNC.  The fact that it is belt driven pisses me off constantly.  No matter what you do the belts will eventually slip during a project and ruin what you are working on.  And it just takes way to long to be useful for much more than tiny projects.  In the party serving tray video, it took the X-Carve four times as long as it took me using handheld power tools.
Here's a few of my videos that feature the X-Carve:
Make Star Trek Communicator Badges
Man vs CNC: Make a Party Serving Tray
And some Blog Articles about the X-Carve:
X-Carve Stair Step Pattern Fix
Upgrade the X-Carve to the DeWalt DWP611 Router