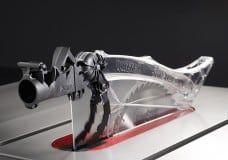 I try my best to demonstrate the best safety practices in my designs, plans, and videos.  However, as with video production, sometimes it is necessary to use alternate methods so that the viewer may see the details of what is being worked on.  This includes the removal of blade guards or other safety devices.  It is assumed that the builder has some skills in woodworking and other workshop techniques.  It is also assumed that the builder is already familiar with the safe operation of their equipment.
The Geek Pub cannot be held liable for injuries that you may incur by following our projects.  If you have any doubt about your abilities, please seek professional guidance from a professional trained in that area of expertise before attempting any project.
It is highly recommended that you read and understand all of the manuals for your tools and equipment, and that you do not remove any safety guards or bypass any safety features.