Welcome to our new series of posts entitled Life Hacks!  Life Hacks are ingenious ways to do everyday things, while making life easier, more convenient and more fun!  They require little to no effort, but can cumulatively make a large difference in your life.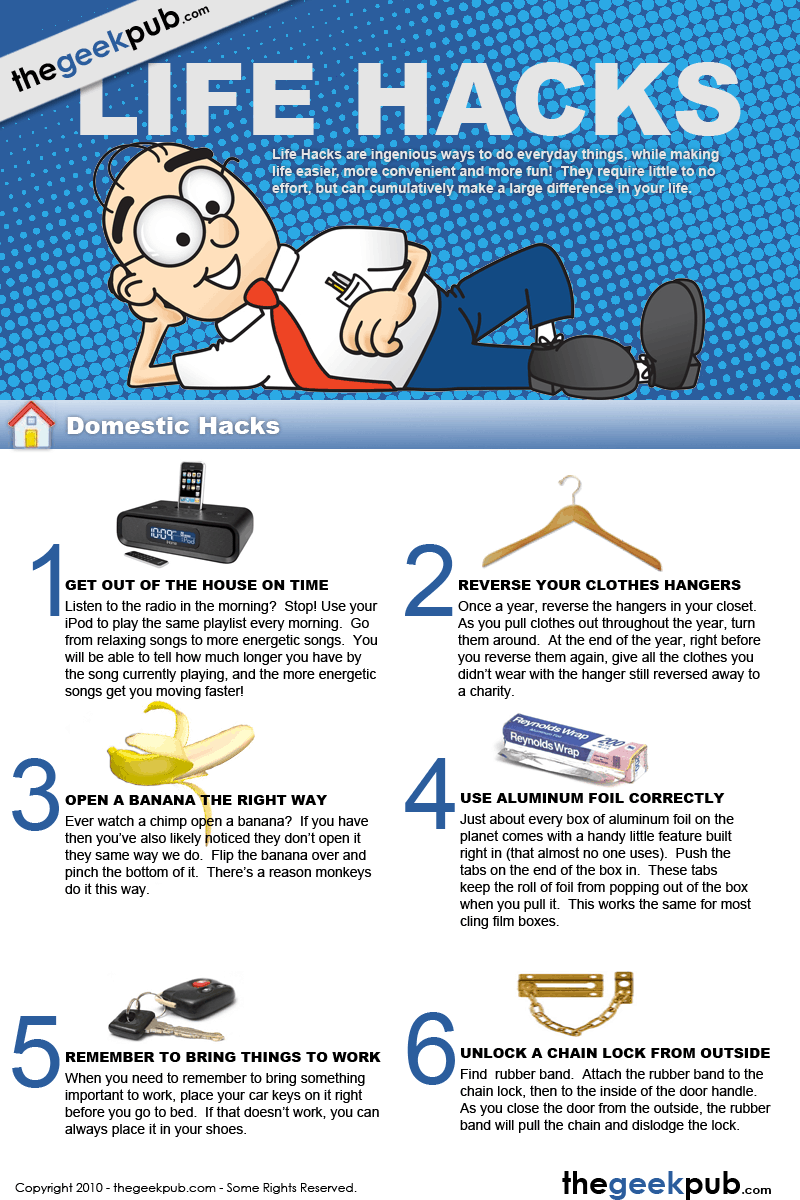 1. GET OUT OF THE HOUSE ON TIME
Listen to the radio in the morning?  Stop! Use your iPod to play the same playlist every morning.  Go from relaxing songs to more energetic songs.  You will be able to tell how much longer you have by the song currently playing, and the more energetic songs get you moving faster!
2. REVERSE YOUR CLOTHES HANGERS
Once a year, reverse the hangers in your closet. As you pull clothes out throughout the year, turn them around.  At the end of the year, right before you reverse them again, give all the clothes you didn't wear with the hanger still reversed away to a charity.
3. OPEN A BANANA THE RIGHT WAY
Ever watch a chimp open a banana?  If you have then you've also likely noticed they don't open it they same way we do.  Flip the banana over and pinch the bottom of it.  There's a reason monkeys do it this way.
4. USE ALUMINUM FOIL CORRECTLY
Just about every box of aluminum foil on the planet comes with a handy little feature built right in (that almost no one uses).  Push the
tabs on the end of the box in.  These tabs keep the roll of foil from popping out of the box when you pull it.  This works the same for most cling film boxes.
5. REMEMBER TO BRING THINGS TO WORK
When you need to remember to bring something important to work, place your car keys on it right before you go to bed.  If that doesn't work, you can always place it in your shoes.
6. UNLOCK A CHAIN LOCK FROM OUTSIDE
Find  rubber band.  Attach the rubber band to the chain lock, then to the inside of the door handle. As you close the door from the outside, the rubber band will pull the chain and dislodge the lock.