I think most woodworkers would claim that a router is an indispensable tool.  Some may even consider it to be one of their most useful tools.  I know it is in my shop!  There's incredible versatility, attachment and bit options.
The router itself comes in many different motor and power options, different shank sizes, and different trigger mechanisms.
Unfortunately, the router is considered one of the most dangerous tools in your shop.  Well statistically speaking anyway.  Forbes rated the router as #6 on its list of shop tools most likely to be involved in an emergency room visit.  So follow along with some of our handy router safety tips and lets stay in the shop and out of the ER!
Handheld Router  Safety
In this article, we're going to focus on router safety as it applies to a router when operated handheld.  See our article on router table safety for more tips!
Tip 1: Un-plug to the Tool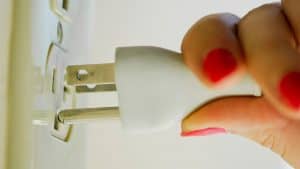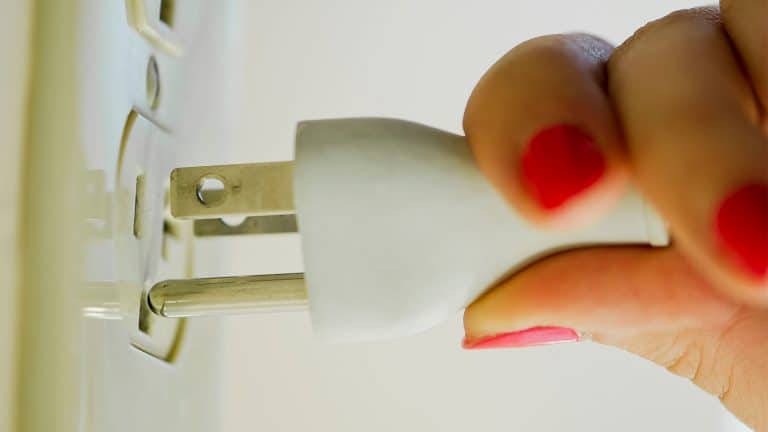 Routers, especially handheld routers have buttons and controls on them.  The last thing you want to do when changing a but or adjusting the depth of cut is to press the on/off button and remove a finger.  Un-Plug the router from the outlet at all times, unless you are actually performing a routing operation.  This happens to be good advice for any power tool.
Tip 2: Wear Hearing Protection
Routers are known to be some of the biggest "screamers" in our shops.  Routers generally but hit about 103db, and some even louder.  85db is considered to be the safe limit for sustained noises.  Louder than that and you need hearing protection to avoid long term damage.  So do yourself a favor and put on those hearing protectors.
Tip 3: Take More than One Pass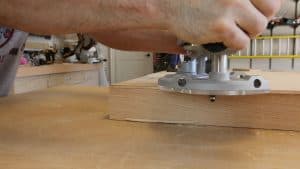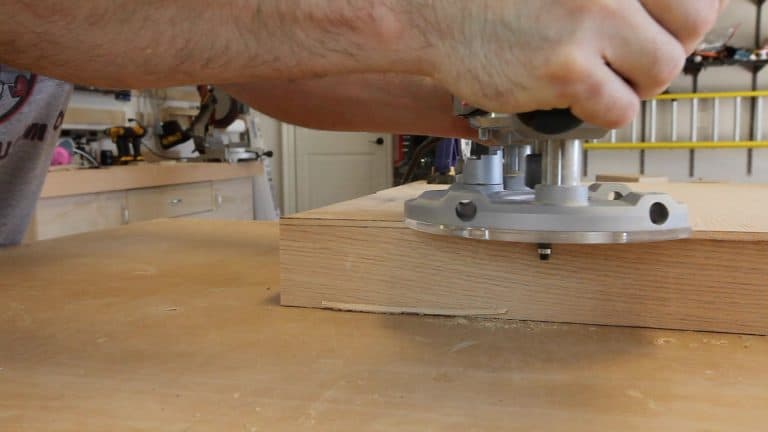 When cutting deeper or larger sections of material with the router, take small bites and use multiples passes.  The larger the bit, the more important this becomes.   If you take too large a pass you'll not only be making the router's motor work harder and less efficient, but you will be using more human force on the router to get the job done.  This will make you far more likely to make a mistake and/or injure yourself.  And truth be told, you're not really saving much time because the cut will take significantly longer, and you're going spend more time sanding off the burn marks.
Tip 4: Bigger Bits need to Turn Slower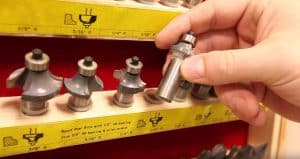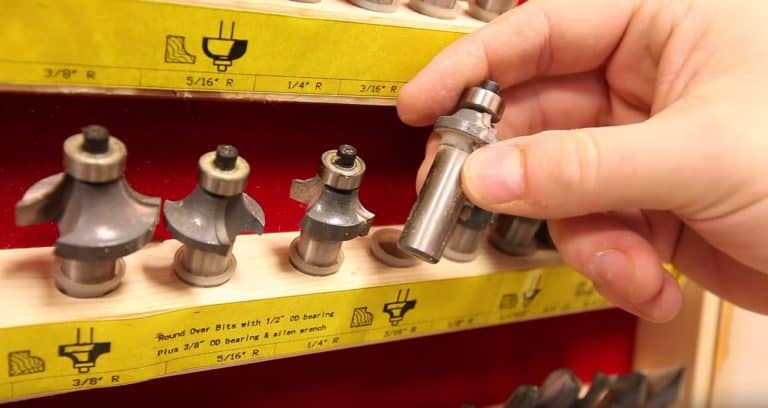 The general rule of thumb when thinking of router bit speeds is really simple.  The larger your bit is, the slower you want it spinning.  I honestly can't think of any exceptions to this rule, so if you have one, please leave it in the comments. Check out this handy reference guide to router bit speeds:
Router Bit Speed Guide
Router Bit Size
Router Speed
1 inch or less
24,000 RPM
1.25 to 2 inches
18,000 RPM
2.25 to 2.5 inches
16,000 RPM
3 to 3.5 inches
12,000 RPM
Tip 5: Move the Router in the Right Direction
Always move the router against the rotation of the bit (generally from right to left, but not always).  This will insure that the bit keeps a good bite on the material and will prevent the router from running away from you and/or losing control of the operation.
Tip 6: Using a Guide Bar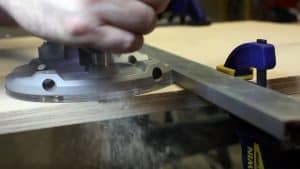 If you're using a guide bar to make a cut such as a dado or a rabbet, you're instinct is going to be to run the flat side of the router along the bar.  The best way is to run the rounded side agains the bar.  If the router binds it will rotate but the cut will stay straight.  If you use the flat side and the router binds the router will leave the path, damage your material, and could result in an accident.
Let us know your Handheld Router Safety Tips
If you have any other handheld router related safety tips, please feel free to leave them in the comments below.  Happy routing!