How to make Decorative Closet Hangers
You can go to the local big box home improvement store and buy some hook racks.  They're fairly inexpensive, but they're not very stylish and come in a very limited number of color options and hook styles.  Even worse, many of them are made from plastic with plastic hooks that are going to fall apart in no time.  But hey, you get what you pay for for $2.99.
If you really want these hook rails to look like they were made for your house or closet with a similar style and color,  or you want them to have unique hook types…  well, you're going to need to make your own.  And in this video, I'm going to show you how!  So get ready and start thinking about the style and design you'll want to make for your closet (or entry hall too!).
Choosing your material for the Hook Rails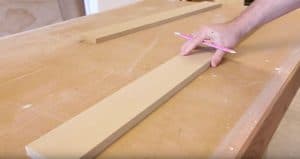 You're going to need to decide what material you want to use for your hook rails.  There's almost an endless amount to choose from.  If you have rustic decorations, you might want to use a stained cedar plank.  You can also get some cool Texas Star hooks for example.  If you're more modern you might want to make your hook racks out of PVC sheets and turn some PVC spindles on the lathe to use for hooks.   I've even seen granite used, but you'll need some pretty specialized tools to cut and drill it.
In my case, I decided to use some 1/2″ MDF that I already had laying around the shop.  MDF is very easy to shape, doesn't chip out on the router, makes for a super smooth finish when painted, and is all around easy to work with (except for all the dust it makes).  I just cu out some various lengths on the table saw, all 3″ tall.
Decorative Edges for the Hook Racks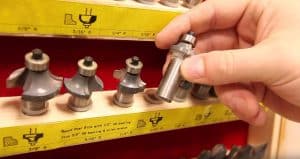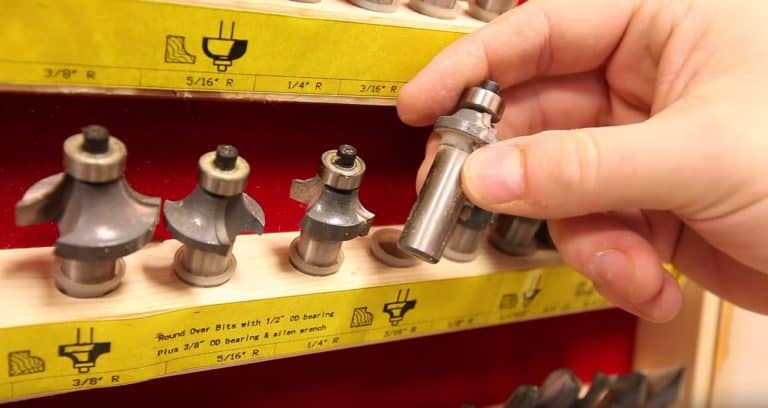 The next thing you need to decide is what kind of decorative edge you want to put on it.  You can use a multitude of router bits.  Or you could put some trim molding around it.  There' hundreds of styles of trim available.  Of course, with a router pattern around it there's an almost unlimited set of router bits available online.
I wanted to go with a pretty simplistic look for mine, so I chose a 3/16″ round-over bit out of my router bit box.  I set it to leave a slight edge all the way around for a little more decoration.  It turned out really nice!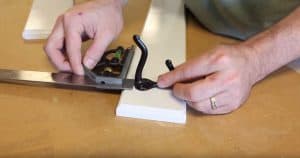 You'll need to decide which hooks to buy and how far apart to place them.  You can use all kinds of different hooks.  You can even use cabinet pulls!  I've seen a lot of hook racks that used cabinet door knobs and they look awesome too!  It just depends on what you plan to hang on them.
The type of hook you pick will partially determine how far apart you place them.  I decided to go for coat hanger hooks, because my wife was planning to hang jewelry, scarves, and belts on them.  That means I needed to place them about 3 1/2″ inches on center (2″ from each end).  Multiplying the number of hooks by that number and then adding the ends determines the full length of the board.  Since our house has all oil rubbed bronze hardware, I decided to by my coat hooks in oil rubbed bronze as well.
Hanging the Closet Hangers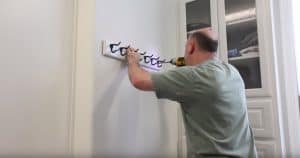 Finally you just need to figure out where in your house your going to hang it.  In my case they were all going in our master closet.  Our master closet is all drywall walls.  I used a stud-finder to locate the studs where possible. I pre-drilled the hook racks with countersunk holes. Then  I drilled a wood screw directly through the closet hanger into the stud.  In the couple of place there were no studs available I used drywall anchors and drove the screws into those.  I felt the drywall anchors were fine because there was never going to be much weight on these decorative closet hangers anyway (scarves and belts don't weigh much!).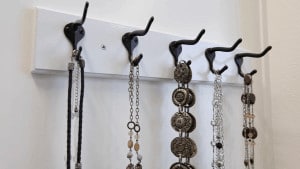 And that's all there is to it!  If you make this project please be sure to let me know and post some pictures of your project on The Geek Pub Facebook page for us all to see!  Also, KipKay made some really cool closet hangers using old childhood trophies as the hooks!  You can check out his video here: KipKay Trophy Coat Rack
Video Transcript
In my lumber cart I found some sections of scrap 1/2" MDF that will work great for this project. Count out the number of hooks you'd like and then multiple that number by three and half inches. Add two inches for each end and then add it all together. That determines the length.
Using the table saw, I cut mine to three and a quarter inches tall, but you can make it any height that you like. Then I used my crosscut sled to cut it to length. Since I want these be decorative in addition to serving a function I used a 3/16" round-over bit on the router table to add a decorative design around the edges. You could use literally any of 100 different router bits to add an edge, so feel free to try something else! MDF is great for this kind of stuff because its hard to burn and doesn't chip out on the router.
I covered my bench with painter's paper and laid out the MDF for paint. It's not a bad idea to do a little finish sanding with 220 or 320 grit sand paper before painting. MDF soaks up the paint so be sure to use paint+primer when painting it. Multiple lighter coats works better.
After the paint dries, lay them out on the table. Using a ruler make a tick mark at two inches and then again at ever three and a half inches. This is where we will attach the hooks. You can pick from any number of hooks at the local hardware store, so let your imagination run wild! I highly recommend using a punch to start the holes before drilling. Set the drill to a slower speed when drilling MDF.
Now just attach the hooks!
When you're finished they should look similar to these! I made three different sizes for various walls in our closet. All that's left is to use a level, drill some holes, and then attach them to the wall with screws. You can use the wall studs or sheetrock anchors.
And that's it! We're finished. You can hang all sorts of things on these hooks. Towels, scarves, belts, jewelry, and more! If you like this video, please hit the like button. I'd also appreciate a like on my Facebook page at Facebook.com/thegeekpub where you can keep up to date with me between videos!
Thanks for watching!