Raspberry Pi's don't have batteries. This usually means powering the Pi and its projects from a USB power source. In fact, I have more than once resorted to powering my Raspberry Pi from my MacBook's USB port in order to power it remotely.  This is less than ideal.  In this PiJuice review we're going to look at a brand new Raspberry Pi battery pack that has the potential to take your projects to the remote level!
Raspberry Pi Battery Pack – The PiJuice
The PiJuice (get it on Amazon) isn't just a battery for the RPi. It's an intelligent battery pack solution for your projects. It all started as a Kickstarter campaign way back in March 2015.  The PiJuice was so successful that it made a funding level of 1200%! Obviously there was significant demand for the product!
After the Kickstarter ended it took about 18 months to get the product to market, and we think it was worth the wait.  I'd been interested in a Raspberry Pi battery pack for sometime for an upcoming YouTube project I have in mind. So I was over the top excited when the guys at Pi-Supply contacted me and offered to send one over.
PiJuice Review: Overview of the Board
So let's take a quick walk around as part of our PiJuice review. It's packed with lots of great features.
The PiJuice that I received came with a Motorola BP7X 1820mAh battery.  For the cell phone enthusiasts in the crowd, you might recognize this battery as the same one that powers the Motorola Droid 2.  The battery is placed in a cradle on the top of the PiJuice board and can be easily removed and replaced effortlessly as needed.  In fact, as long you're plugged in a 5v USB power source you can hot-swap the battery at will.  This is great for zero downtime projects!
The PiJuice is considered a "Pi Hat". It plugs snugly onto the RPi GPIO header, and then provides a new GPIO header (pass-thru) for your projects. Most other hats, breadboard breakout cables, etc. can plug right into the PiJuice GPIO header and work without issue. PiJuice only uses the I2C, Vcc+, and ground pins, leaving the GPIO open for other uses.  Since I2C is a shared bus, you can even change the PiJuice's I2C address to fit your projects.
Just like most Pi hats, the PiJuice also comes with standoffs and nylon screws to firmly attach it the Pi. Finally, the device includes its very own real time clock, which we'll discuss shortly.
The PiJuice is an Intelligent Solution
Some of you may already have picked up that the PiJuice is using the I2C bus, and therefore is in communication with the Raspbian operating system.  You'll indeed need to install a couple of pieces of software on your Pi to get the most bang for your buck, but its well worth the tiny effort.
You'll just need to execute the following command to get the PiJuice software installed:

sudo apt-get install pijuice-gui

This software adds several nice bits of functionality.  Packed with power management features, the PiJuice can even be used as a UPS (uninterruptible power supply) for your Pi! The software also adds a nice battery meter icon within the Raspbian GUI, much like you'd expect on a laptop.
Hovering over the icon will display a battery percentage reading.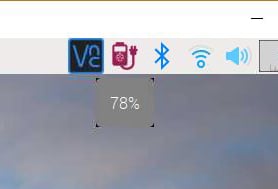 Right-clicking the meter's icon will give you quick access to many PiJuice configuration options.  Very handy indeed!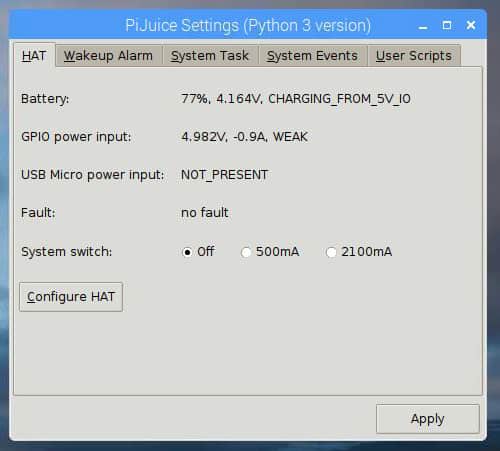 PiJuice Review: Battery Runtime
Next up on our PiJuice review, let's talk about batteries. As with any battery based system, one of the first things people ask is "How long does it last?".  Well this is one area where the PiJuice is a superstar. Not because the battery lasts all that long, but rather because they've given us a plethora of battery options!
Not only can you replace the Motorola BP7X 1820mAh battery with a larger mAh battery with a quick visit to Amazon, the PiJuice also provides a four terminal screw header for connecting your own external battery.  And single-cell LIPO battery can be connected to this header. With the current options available, you could be talking about days of uptime with the right battery and project combos.
If that weren't enough, there is an additional header on the PiJuice for connecting wind and solar chargers to the system for what could basically be unlimited up-time for projects like weather stations.  Pi-Supply sells several solar panel options in their webstore or on Amazon.
Obviously, the operating time you'll get in your project is going to be mostly based on the load your Raspberry Pi is under.  If you're hammering the processor, don't expect to get a lot of runtime out of any Raspberry Pi battery pack!
That said, we wanted to get an idea of what to expect under different conditions.  So we put together a few tests to run the Pi on the included battery under low, medium, and heavy processor loads.  Our results turned out to be quite interesting.
I performed three tests using the CPUburn utility with the following results:
Test 1: No CPUBurn, system idle – 3 hours 37 minutes
Test 2: CPUBurn 30 seconds on, 30 seconds off – 1 hour 51 minutes
Test 3: CPUBurn running entire time – 1 hour 12 minutes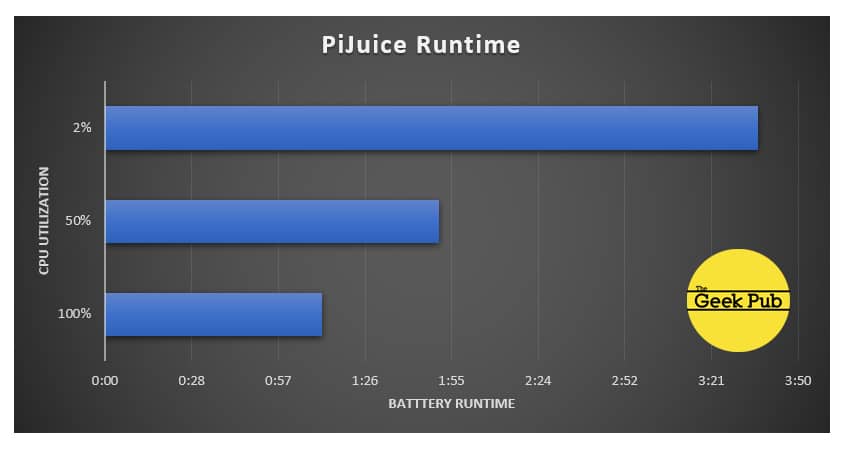 Being this was only a single test, and not numerous averaged tests it's not all that scientific, but I do have to say the results kind of surprised me.  I would have expected the difference between 50% load and 100% load to result in almost double the runtime.  However, that's not what happened.  I've got a some ideas on how to test this a few different ways and I hope to update this article in the coming weeks with the details of those tests.  For now, this should give you a decent idea of what to expect.
PiJuice: Wrapping it Up
As you can tell, we were thrilled with the PiJuice Raspberry Pi battery pack from Pi-Supply. Look for it in an upcoming Geek Pub project or two!
Get the PiJuice here:
The thing that sets this device above other options is the fully integrated solution design of the product. It's packed with features and expandability. Because its integrated into a single device, it also makes it far simpler to use in your project than an external battery. With the PiJuice your project can take advantage of the battery management system to make intelligent decisions. If the PiJuice is running low on power, you can choose to put your project in low power mode, or do less processing until mains power becomes available again.  With wind and solar you can have a sustainable off grid system, something that would be much more difficult without the tight product integration.