In this article we're going to do a simple Razer Orbweaver Chroma review! For much of my gaming I like the XBOX ONE controller. It's just always been my sort of go to controller.  Now some of you are about to click the close button on this article just because I said something so utterly ridiculous that "nothing else I say can be trusted!"  HOLD ON!  Let me explain! I'm a very casual gamer.  In fact I'd say for most of my life I have gamed on some form of console device.  Mostly playing Nintendo or Xbox with my kids.
Over the years a few games have hooked me in.  The first time this happened was World of Warcraft. Yes. vanilla WoW! I grinded for hours on end leveling my character up to 60.  It was at that time I bought a Belkin Nostromo N52 Speedpad.  It's amazing what has happened over the years and the evolution of this device through corporate branding buyouts and patent transfers. The device shifted to the Razer line of products and has been upgrade at least 6 or 7 times until today.  We have the Razer Orbweaver Chroma!  A device I bought to make playing PUBG just a little more fun!
Razer Orbweaver Chroma Review
If you've been using any of these keypads over the years and are looking for an upgrade, then you've come to the right place.  I've owned most of this devices predecessors and I can tell you the upgrades are significant.  It's not a perfect device, but it is a good solid gaming keypad.
The Razer Orbweaver Out of the Box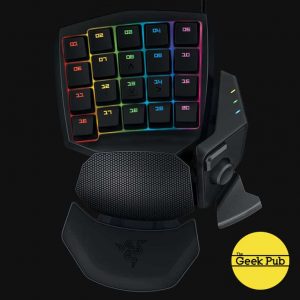 If you just pop the Orbweaver out of the box and do nothing but plug it into the USB port, it basically duplicates the left side of your keyboard centering around the WASD keys.  This if nothing else gives you a nice place to rest your wrist, and a nice joystick button for other functions in your thumb.  Many players choose to use their gaming keypad for just this type of controller.  And that's totally fine!
One thing the Razer Orbwaver Chroma does like so many gaming keypads is straighten the alignment of the keys.  Playing keyboard games is an exercise in frustration for me an many others because of the simple fact that the W is off-center to the left of AS & D.  I inevitably lose my orientation at a critical moment and lose a battle because I hit the wrong key.  The Orbweaver includes a nub on the W key so that it is super easy to get back to the center location.
And I think that is honestly my favorite thing about all of Razer's gamepads.  They are just super comfortable to sit your hand on.  The Orbweaver takes it one step further with three-axis adjustments.  You can make it longer or shorter, adjust the palm rest, and slide the joystick to a more comfortable distance from the pad itself.  It's just greatness!
About the only annoying thing you'll find about the Orbweaver Chroma is just how loud the key switches are.  I guess that's the price you pay for quality and instantaneous no-lag movements in game.  Just put on a nice gaming headset and you'll never know!  The key response is really quite stellar and I actually prefer it to the Cherry MX Blue switches used in other products.  Razer keyboards and gaming keypads can be cleaned by popping the keycaps off with a cheap keycap puller from Amazon.
Customizing the Razer Orbweaver Chroma
Where the Chroma really starts to get radically different from the past versions is its customizable RGB backlight system. Of course, just like any other gaming keypads you can reprogram the keys to make them anything you'd like.  In fact there a re communities built around coming up with the best key layouts for different games.
Customizing the RGB layout on the Chroma however isn't just about looking cool; and it does look cool!  But customizing the Orbweaver Chroma via the Razer Syanpse control panel allows you provide another clue to what each key on the keypad is used for.  In my case I make the movement keys blue, interaction keys yellow, and the weapons keys red.  This means if I take my hand off the keypad for a second, when I place it back its just a glance out of the corner of my eye to place it back in a split second.
The next thing that Synapse does is allow you to program scripts to do certain tasks.  For example, in Player Unknown's Battlegrounds (PUBG) on thing that's highly annoying is the fact that when you pickup a weapon its not loaded.  I created a button called pickup and reload.  So instead of picking up the weapon, then pickup up the ammo, then loading the ammo… I have one button to do that all at once.  This can be incredibly useful for those just landed next to 10 people and need to start firing fast scenarios!  Be sure to check the EULA for your game to make sure what types of scripts are allowed and what types are banned before going to far.  Most games have software to detect illegal scripting.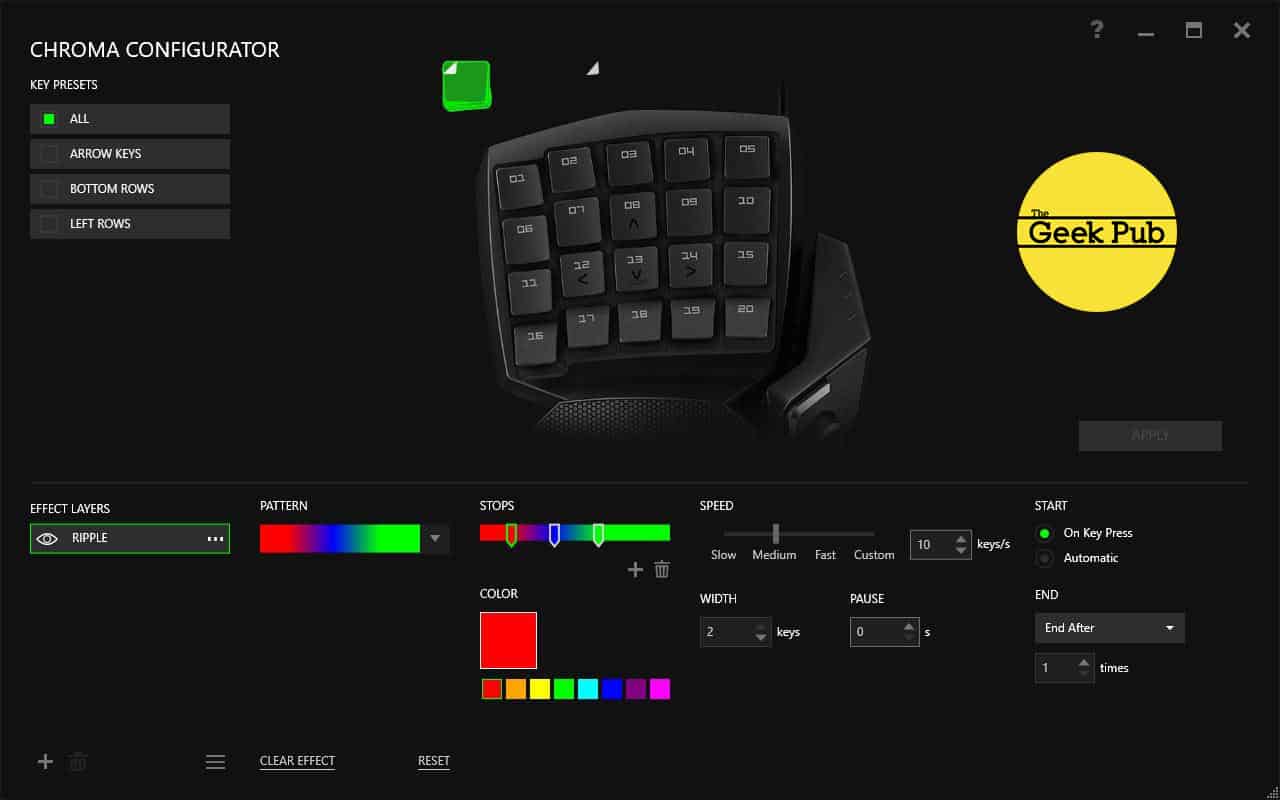 Buy the Orbweaver Chroma
If you're looking to pick up an Orbweaver Chroma you can get them here.
Assorted Musings on the Razer Orbweaver Chroma
I really wish they would make a version of the Chroma that uses chiclet style keys.  My main keyboard is a chiclet style. I am so used to those I almost can't type on full size keys anymore.
I wish there was an RGB LED strip under the Chroma to make it glow around the desk.  This would add some serious night time vibes.
The Razer Synapse software is continually getting better. If you tried one of these devices a few years back and struggled, a lot has changed since then.  It's definitely worth a new look.
Gaming keypads are perfect choice for those who game on laptops. A dedicated keypad can make all of the difference when compared to the tiny undersized keys on laptops.
The Razer Orbweaver Chroma works on Windows or MacOS.  I've played many rounds of World of Warcraft on MacOS using numerous Razer keypads over the years.
Gaming keypads can be used in productivity applications and software development; not just games!