In this post we're going to do a Drakon DK706 review! Drakon recently reached out to me and asked if I would like to receive one of their gaming chairs for review. I couldn't have been more thrilled. My youngest son had been asking me for months to buy him a new chair for his gaming setup. In our household, you don't get anything without some kind of work attached to it. Nothing comes free.
The deal Connor and I made was that he must use the chair for a month, and then write an honest review of the chair. At the same time, I would use the chair from time to time and also review it from my perspective. And so that's what we did! So look to the end of this article to see Connor's take!
The Drakon DK706 Raidmax Gaming Chair Review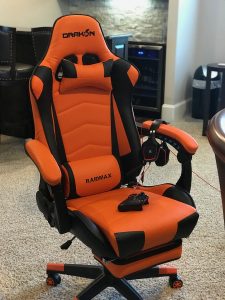 If you haven't yet seen the Drakon line of gaming chairs or the DK706, then your missing out. No matter what you think about ergonomics, quality, pricing, or just about any other aspect of their product line, there is one thing we can almost all agree on. The things just look damn sweet! They look like a gaming chair should look!
The DK706 Raidmax comes in Red, Green, and Blue. Although the manufactures brochure shows a yellow one in the pictures. This saddened me because nothing screams "The Geek Pub" like a black and yellow gaming chair. Since yellow was not available, I let my son pick his favorite color and he chose the orange chair. Orange and black is a pretty sweet combo too! The only thing that would make this cooler is some orange RGB lighting schemes on the gaming PC to match it! Note to Drakon: If you ever get a yellow one, I should be first on the list to contact!
Drakon Raidmax DK706 Features
The DK706 Raidmax  has some really sweet features that just made me fall in love with it. It's not perfect, but it tries really hard to be.
Synthetic Leather Finish
When we went to start our Drakon DK706 review we thought this might be a controversial topic. I mean people want real leather right? It wasn't until one of my son's friends said "At least you got a synthetic leather chair. It sucks to kill animals so you can sit on their skins." I consider myself a pretty modern guy, but I guess it never occurred to me that the younger generations are really anti-leather. The friend in question is also a vegan. Yes.  I was told within 3 minutes of meeting the person. Just like all vegans.
That being said, the faux-leather on this chair is very durable, very comfortable and sits quite nice. You won't have any issues with this one.
Export Grade Quality Gas Cylinder
How many chairs have you had in your life that the gas cylinder fails in after just a few years (or months)? It seems like every chair I have ever owned slowly died (from a height perspective) and found myself sitting on the floor after a few months. To the point that the 8-Bit Guy actually created a cylinder patch to solve this problem! You won't have to worry about failing cylinders on the Drakon DK706 Raidmax. It's bullet-proof!
The Bad Ass Foot Rest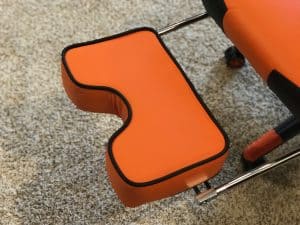 My all around favorite feature of the Raidmax DK706 from Drakon is the leg/foot rest. The rest flips upside down and stores under the chair when not in use, making it seemingly disappear.  However, once you need to use it just pull and flip and its back.
The leg/foot rest is super comfortable and uses the same high density elastic sponge used in the rest of the chairs cushions so it should last quite a long time! The support rails are high quality and polished chrome making them look awesome while sliding freely back and forth under the chair for stow-away.
This is a feature I found myself using more than not and I bet you will love it as well! My favorite use of the foot rest is when using the recliner position of the chair.
Attention to Detail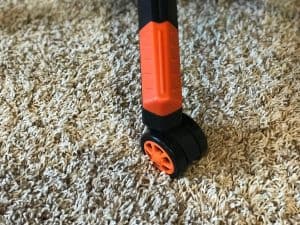 Drakon spent some time on designing this chair and it is evident by the attention to detail.  For our Drakon DK706 review we were thrilled with this aspect!
Even things just as simple as the chair wheels and support stand have color coordinated and artistically designed features to make it part of the overall look and feel of the chair's gaming nature.
What I Didn't Like about the DK706 Raidmax
The main thing I was disappointing with was the lack of an included manual and/or assembly instructions. I was not able to determine if this was just an oversight or by design. This made assembly of the DK706 quite frustrating as most of it was guesswork.  Some parts we put together and immediately had to dissemble because it turned out that the order matters.
The second thing I was disappointing in was the wheels used on the chair. If you use this chair on carpet you will be fine. However, you'll really want to avoid using this chair on a wood floor without some kind of protection.  Just lightly rolling this chair around on our wood floor left abrasions and marks on the floor.  Something my other chair hasn't done in over two years of use. Just a word of caution!
Where to Buy
You can get the Raidmax Gaming Chair at these links:
Connor's Review
Connor's review is slightly different from mine as you will see. Keep in mind this is the review of a small framed 16 year old boy as you read some of his thoughts.
Connor's Drakon Raidmax DK706 Review
After a month using the Raidmax Drakon gaming chair, I've decided to give this chair about a 4 out of 10. I'll start by giving my initial thoughts when i first got the chair. When i opened the box, everything seemed pretty professionally packaged, although I found that there were no instructions that came with the chair. The most i got was a QR code on the box that led me to a very fast paced and uninformative video of someone putting a similar chair together. After assembling the chair, which took me about an hour because of how annoying it was to try and fit some of these pieces together,
Comfort
I was mostly satisfied with the comfort of the chair, until I spent a few hours gaming in it, but I think that's just from sitting for hours at a time. One feature i love about this chair is the fact that it reclines, although I never really can get comfortable in it because this chair is HUGE. I'm definitely on the small side of people but I honestly feel like this chair is meant for abnormally large people, I'm 5' 11" and the actual seat far exceeds the length of my femur and when I'm relaxed in the seat I have a good 6 inches of seat on each side of me. I understand the company wanting a chair that is practically universal but if they had different sizes of chairs I feel this one would be an XXL.
Quality
The overall quality of this chair really doesn't help its case. Looking at the pillows/cushions it comes with, the embroidery and overall look of them looks very cheap and amateur. And after a month of use one of the armrests is falling off and the stitching is coming undone. The overall fit and finish of the chair is just sub-par, no matter what I do the armrests are always wiggling off and the chair after one month creaks like one that's years old. A Lot of the parts are cheap and plastic and the leather is loose and wrinkly.
Summing it Up
That being said there are some pros to this chair, at around $200 this chair is about half the price of a Dx Racer and if you want something flashy this chair is for you. It comes in four extremely bright colors (Red, Blue, Green and Orange) which can suit some colorful setups well. If you're a bigger person looking for a chair that is decently comfy for you this is definitely the one for you. This chair is certainly a step up from a standard cheap office chair, but it has it flaws for sure. I feel that with time this company will develop a better chair, whether its this one or another.  There is definitely potential but I feel like there is a lot of work to be done on this chair to appeal to more people, and be a much better chair over all.