If you're looking to learn more about Dallas Fort Worth crypto-mining you've come to the right place. I've been trying to connect with other people mining crypto in DFW for a few months now with little to no luck. The Facebook groups are rarely posted on, and most of the people who are members don't seem to really be all that into it. For that reason, I've decided to create this post in hopes of connecting with others who are mining cryptocurrency in the Dallas/Fort Worth metroplex who might be interested in joining forces in some way.
Dallas/Fort Worth Garage Crypto-Mining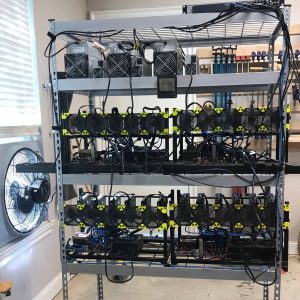 I have several friends who are doing what I would call crypto "garage mining". Meaning we have small mines running in our garages, basements, attics, etc. In my case, I have ~200 sqft room off the back of my garage that has a rack of mining hardware. I am currently running three Antminer ASICs, and four 6 GPU Ethereum miners.
This setup serves me well: It's profitable, easy to manage (using Awesome Miner), and secure. And to top it off, my electricity cost is only 6.5c/kw. Sounds like a win-win situation right?
It is not however without its problems!  Let's talk about them!
DFW Crypto-Mining: Garage Issue #1: Space!
I want my garage back! Yes.  As silly as it sounds, I just want my garage space back. I like to do woodworking other other projects in my garage and doing so is a huge ordeal! I have to shut down all of my miners, turn them off, let them cool down, and then cover them with tarps.  Only then can I do my projects.
Afterwards I have to spend two hours sweeping and cleaning up the dust so that my miners don't ingest it all when I start them up again. It sucks, and it really puts a dent in the amount of work I can get done.
DFW Crypto-Mining: Garage Issue #2: Noise!
If you've been in Dallas Fort Worth Crypto-Mining for very long then you know what I am about to say next.  The noise!  Holy smokes those Antminers are loud! Antminers running at max fan speed are around 80 db each.  This noise level is equivalent to a vacuum cleaner (or three of them in my case) running 24/7.  Other things that operate at 80 db include lawn mowers, weed eaters, and blowers. Imagine three lawnmowers running in your garage all day and all night. We have spray foam walls and you can still hear them inside the house at times. Very annoying!
DFW Crypto-Mining: Garage Issue #3: Power!
The next major issue for me is that I am basically out of electricity.  I have two L6-30R receptacles in my garage. These are 208 volt 30 amp circuits. With all seven miners running this leaves me with about 3-4 amps to spare on those circuits. That's not enough to add even one more miner.
DFW Crypto-Mining: Garage Issue #3: Cooling!
The last issue is cooling. I have a 2,200 CFM window fan in the window.  This fan is bolted solidly in place, and also has a window alarm sensor connected to it.  Should the fan be dismantled or tampered with the alarm would go off.  Security isn't the concern.  Its cooling. During the hot summer months of July-September it is very difficult to keep the room cool enough. In fact, I fully expect during the hottest days I will have to stop mining (or at least stop the ASIC miners) during the heat of the day.
Dallas Fort Worth Crypto-Mining Solutions!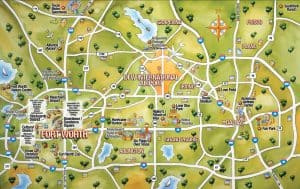 My friends who are garage mining are running into the same issues as I am. In fact, some have it far worse.
The solution to all of these problems is the reason I am writing this blog post. I am looking to partner with like minded (and trustworthy) people who are interested in working together on a joint mining facility in the Dallas/Fort Worth area. I am looking for people who already have miners in their homes/garages/workplaces who would like to join forces and create "DFW Mining Central"!
I'm not sure of the logistics. I have many ideas. In fact many of them I would have already executed if we had enough people or mining rigs. Today, we have slightly more than 20 rigs between us. The profits of 20 rigs would be almost completely eaten up by $2500 or more in monthly rent.  Even more so when you add on all of the incidental costs like insurance, IP transit (bandwidth), security, etc.
Dallas Fort Worth Crypto-Mining: Solution #1: Colocation!
Solution number one is to find a building together and rent it. Inside the building, we could install cages and/or racks. Similar to what you would find in a colocation data-center. Each person or group who participates would get access to their particular cage or rack.  We would install a multi-unit alarm, video surveillance, and logging.
Dallas Fort Worth Crypto-Mining: Solution #2: Join forces!
If we're like minded enough we might be able to simply join forces and form a mining company.  This would require us to get to know and trust each other completely. We might have to start with #1, and move to this later.
Dallas Fort Worth Crypto-Mining: Solution #3: We could host others!
We could simply have a facility that is locked up tight, and charge others a monthly fee to host their mining equipment. They would have little to no access to the facility without staff present. In many cases customers might never even know the location their miner is hosted. Especially if they are out of state. Each miner would have the ability to access their miner remotely via VPN or some other secure means.
Calling All DFW Crypto-Miners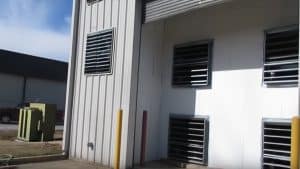 If you're interested in Dallas Fort Worth Crypto-Mining, then reach out to me by commenting below or by using our contact form. If the right people are out there we will find each other. I am confident with enough like minded people we can build the most bad ass DFW crypto-mining facility yet as far as I know exists today.  The picture to the left is Block Operations facility in Alpharetta, Georgia for an example of one operation who has done just this in their area.
I would hope together to acquire a building in the 2500 to 5000 sqft size that will have the following requirements:
Availability of large scale commercial electric.  You might be surprised how hard this is to find!  Most warehouses we've looked at only have 200 amps or less.  For this scale we're talking 1000+ amp service, with the option to order larger service in the future.
Highly secure.  This shouldn't be too hard. Warehouse or industrial districts generally have good fencing and security measures. We'd of course add alarm systems, cameras, etc.  We wouldn't be looking for locations in bad parts of town though.
Access to decent IP Transit. Preferably in a location with fiber-to-the-premises. We'd be looking for commercial service with static IP addresses.  We don't need gobs of bandwidth, but access to AT&T Gigapower (Business class) would be a huge plus.
P.S. If you're a scammer looking to make a quick buck this is not the group of people you are looking for. Anyone considered will require background checks and will be asked to participate with their own hardware, labor, and capital.