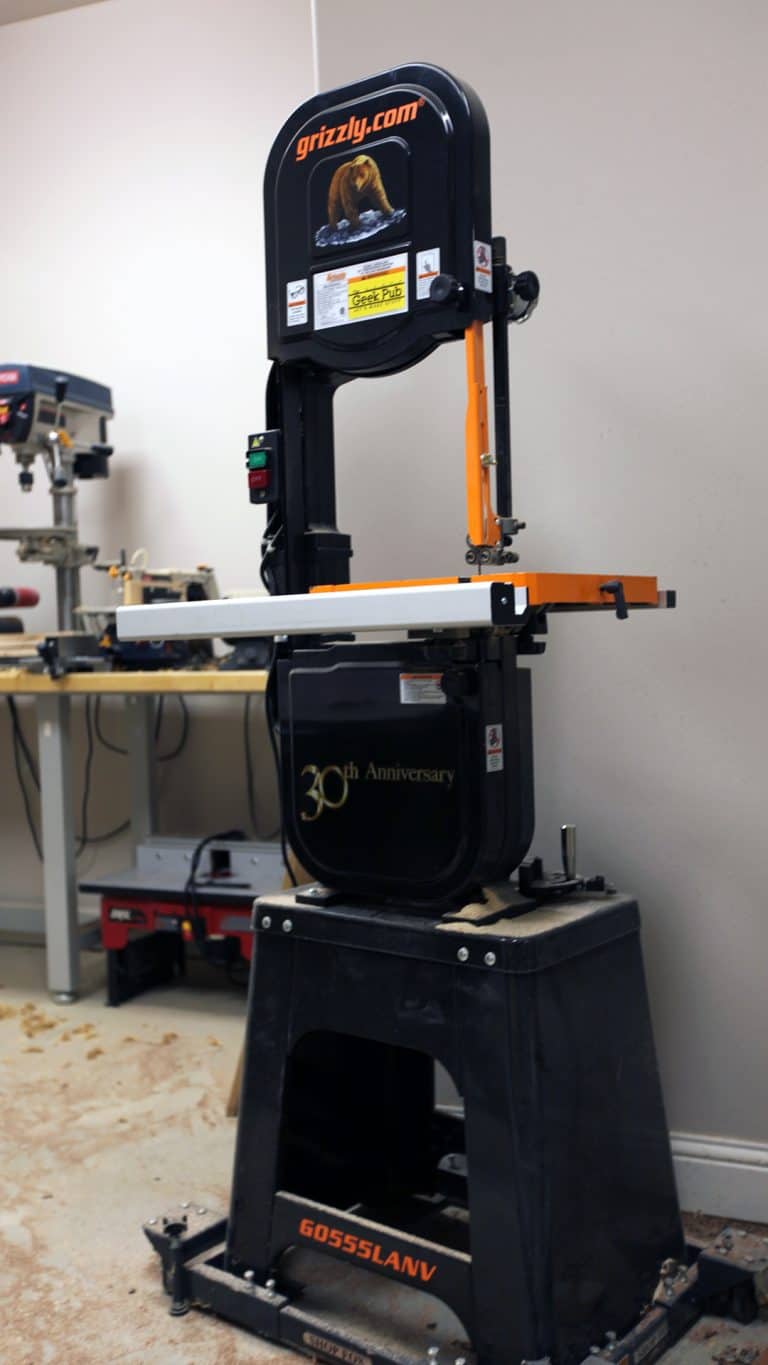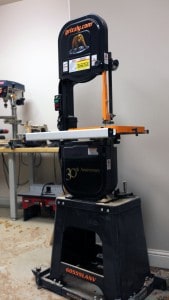 The Grizzly G0555LANV Bandsaw
The Grizzly G0555LANV is an awesome bandsaw.  I bought mind direct from Grizzly in November of 2014.  Grizzly makes a lot of great products and this Anniversary Model of the G0555 bandsaw is no exception.  It's the same saw they've always made, its just in black and orange instead of white and green.
The saw has the 6″ riser block assembly installed for a full 12″ of resaw capacity.  I've also installed a Shop Fox Heavy Duty Mobile Base for my saw so that I can easily move it around the shop and into the garage proper should I need additional workspace.  It's got a 13 1/2″ throat, cast iron top, and the 1HP motor is wired for 110v electrical.
I've got several different blades for all kinds of different operations, but I mostly just run the 3/8″ blade for day to day use.  I must admit that the 3/4″ Timberwolf 3 TPI blade is a monster in the re-sawing department.  If you're going to break lumber down, get one of those!  I also keep this unit attached to a Grizzly Dust Collector using the 4″ port on the back of it.
A Great Bandsaw for the Money
The Grizzly G0555LANV is a fantastic saw.  I use it just about every time I am in the shop.  It's high quality, has a lots of great features out of the box, and its priced very reasonably.  The saw has a cast iron top rather than aluminum like some of the cheaper made saws.  It has a nice stand with no wobble to worry about.  The dust collection port actually works, sending more dust to the collector than to the floor.  That being said, I won't tell you it is the best bandsaw, or even the highest of quality.  There are other better options if you want to spend more money.  But I think you'd be hard pressed to find a better saw that the Grizzly G0555LANV that is priced similarly.
[divider]Watch Grizzly's Video on the G0555 Series Bandsaws[/divider]