Sale!
Bartop Arcade Two Plan Bundle
All new version 4.0 PLATINUM EDITION plans! These plans include the materials list and detailed dimensions for the Arcade Cabinet. Included is a set of drilling templates for the control panel and speaker holes. Also included is the electronics parts lists, wiring instructions, and and tips and tricks!
Description
Description

[alert type=yellow]All New Version 4.0 Plans as of February 2019! If you bought the version 1-3 plans, just log in to your account and re-download the latest version FREE![/alert]
The new 4.0 PLATINUM EDITION of these plans are the best plans yet!  We continuously update these plans to make sure they are the best on the Internet. Plan include both Inches and Millimeters to support bartop arcade builders worldwide!
This Arcade Plan Bundle includes the plans for the original Bartop Arcade Cabinet and the Pacade Bartop Arcade Cabinet at discount when purchased together!
NOT CONVINCED? Learn why you should choose our arcade plans!

If you're not sure which cabinet you want to build, you can explore your options with both sets, or if you are like me you'll just have to build both cabinets! One arcade cabinet is never enough!  The Arcade Plan Bundle let's you have the best of both worlds!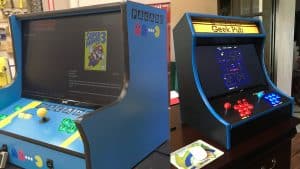 The arcade plan bundle includes all of the detailed dimensions and cut lists for all of the components, drilling templates as appropriate for each arcade cabinet, and Amazon links (where appropriate) to the components I purchased as part of my cabinet build.
Includes the following spray and stick templates:
Single Player Control Panel
Two Player Control Panel
Left and Right Speakers Grills
Optional front USB Ports
Optional Cooling Fan Grill
Also included is the Sketchup files for both bartop arcade cabinets which will allow you to modify the cabinet to your exact specifications, or help you find a precise angle or measurement should the PDF plans not suit your specific needs.