The classic Commodore 64 is back and better than ever!  The old C-64 enclosure is being fitted with modern day horsepower for retro-coolness!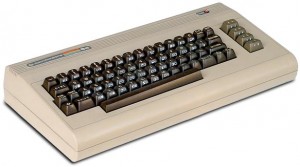 The most popular selling computer in the world in 1985 was the Commodore 64.  Launched in 1982 by Commodore Business Machines (CBM), the C64 quickly become the computer to own and made computer and gaming history. The 8-bit Commodore 64 had some gems inside it.  It had a 1Mhz 6510 MOS processor (a close relative of the 6502) and the amazing for it's time SID sound chip.  But what made the complete package was the price.  For the first time in computing history a high powered system with excellent graphics capability and amazing sound capabilities was available for less than USD $600!  It was an instant success.
Many of the games live on today through emulation, or revisions for the PC, Nintendo or other hardware.  Well it appears now that the hardware, at least in style, will live on as well.  Commodore USA has announced the Commodore PC64, a classic C64 with modern day components on the inside!
According to Commodore USA's press release the PC64 will contain an Intel Atom 525 CPU, an NVidia Ion2 video card (with HDMI out), 4GB of DDR3 RAM and a 1TB hard drive.  If that weren't enough, the PC64 will also contain a DVD/Blu-ray optical drive, a 802.11n Wi-Fi, Bluetooth, 6 USB ports and a 6-in-1 card reader.
You'll probably think to yourself "But this is easy.  People have been doing this forever."  That's true, but this will be the first fully licensed and Commodore sanctioned machine.
I can't wait to buy mine!